GratiEks Perkebunan, SYL Inginkan Eksportir Pertanian Buka Lapangan Kerja
Indonesian Govt Encourage Agricultural Exporters to Increase Volume Export
Editor : M. Achsan Atjo
Translator : Dhelia Gani

PUBLISHED: Kamis, 09 Januari 2020 , 03:11:00 WIB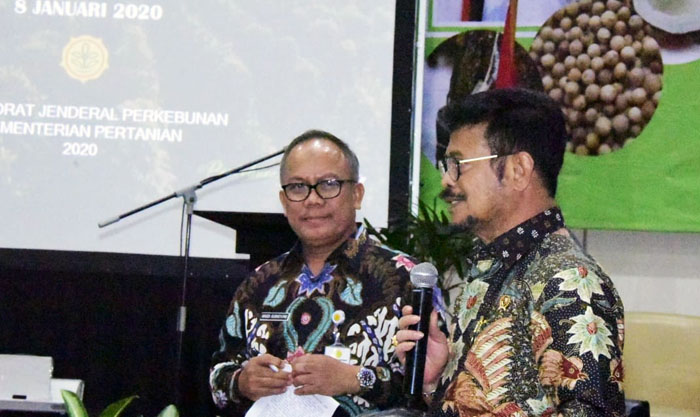 KOMODITAS PERKEBUNAN: Menteri Pertanian Syahrul Yasin Limpo [SYL] dan Dirjen Perkebunan, Kasdi Subagyono pada pertemuan dengan para eksportir komoditas perkebunan [Foto: Biro Humas Kementan]
Jakarta [B2B] - Gerakan ekspor komoditas pertanian harus dimulai dengan kehadiran eksportir di tengah rakyat sekaligus membuka lapangan kerja secara luas, dengan meningkatkan gerakan tiga kali ekspor [GratiEks] sehingga GratiEks menjadi bagian dari gerakan rakyat untuk menunjukkan bahwa Indonesia merupakan negara kuat yang berpotensi besar dan disegani dunia, termasuk dari sektor perkebunan.
Hal itu dikemukakan oleh Menteri Pertanian Syahrul Yasin Limpo [SYL] didampingi Dirjen Perkebunan, Kasdi Subagyono pada pertemuan dengan para eksportir komoditas perkebunan di Jakarta, Rabu [8/1].
"Saya menitipkan pesan kepada eksportir, agar kalian membuka lapangan pekerjaan secara luas. Kami butuh tangan eksportir agar rakyat kita banyak yang kerja. Caranya tingkatkan ekspor kalian menjadi tiga kali lipat," kata Mentan SYL.
Menurutnya, GratiEks adalah bagian dari gerakan rakyat untuk menunjukan bahwa Indonesia merupakan negara kuat yang memiliki potensi besar dan derajat tinggi di mata dunia. Gerakan ini harus menjadi titik balik bangkitnya pertanian Indonesia.
"Kalau begitu pertanian di tangan kita tidak boleh mundur. Yang ada adalah maju. Pertanian di tangan kita harus berjalan efektif dan maksimal. Harus berkembang dan lebih baik," katanya.
Syahrul menambahkan, Indonesia merupakan negara subur yang seluruh kekayaan alamnya selalu dibutuhkan penduduk dunia. Lebih dari itu, sektor pertanian menjadi bagian penting dalam meningkatkan ekonomi bangsa dan menekan angka kemiskinan.
"Coba resapi sedikit. Negara ini butuh kita semua. Apa gunanya kita menjadi eksekutif tapi sebenarnya negara melayang dari tangan kita. Toh saya sangat yakin kita cukup memiliki kemampuan, hanya membutuhkan sedikit lagi kemauan yang tidak kalah dengan negara lain. Intinya kita tidak boleh berpura-pura mengurus negara ini," katanya.
Dirjen Perkebunan Kasdi Subagyono menambahkan bahwa saat ini pihaknya tengah menyisir dan memperbesar pemanfaatan sejumlah komoditas yang memiliki potensi ekspor cukup besar.
"Kami memang sedang merancang satu program gerakan potensi ekspor di antaranya kopi, kakao, jamu mete sampai vanila. Ini sudah punya target. Jadi lima tahun ke depan pertumbuhannya harus lebih dari tiga kali lipat. Kita akan menaikan produksinya dan memiliki dampak terhadap penyerapan lapangan kerja serta PDB pertanian," katanya.
Menurutnya, Dirjen Perkebunan juga sudah menetapkan target jangan panjang, yakni peningkatan capaian hingga Rp1.000 triliun ekspor pada 2024. Target ini meliputi angka produksi yang ditargetkan naik sebesar 7% dan PDB sebesar 25%.
"Kita juga akan membangun milenial menjadi enterpreneurship dan mengenal pertanian secara dalam. Kemudian sektor perkebunan diharapkan menekan losess. Untuk itu, kami mohon eksportir dan pengusaha juga turun sampai level kecamatan," tukasnya.
Jakarta [B2B] - The movement of Indonesian agricultural commodity exports must begin with the presence of exporters among the people, at the same time opening up employment opportunities widely, by increasing the movement three times exports [GratiEks] so GratiEks became part of the people's movement to show that Indonesia is a strong country in the agricultural sector, according to Agriculture Minister Syahrul Yasin Limpo.