Realisasi Bali 45.076 Ha, Kementan Optimistis Target LTT Padi Okmar Tercapai
Indonesia`s Bali Rice Extensification Program is Hampered by People`s Habits
Editor : M. Achsan Atjo
Translator : Dhelia Gani

PUBLISHED: Jum'at, 26 Januari 2018 , 22:54:00 WIB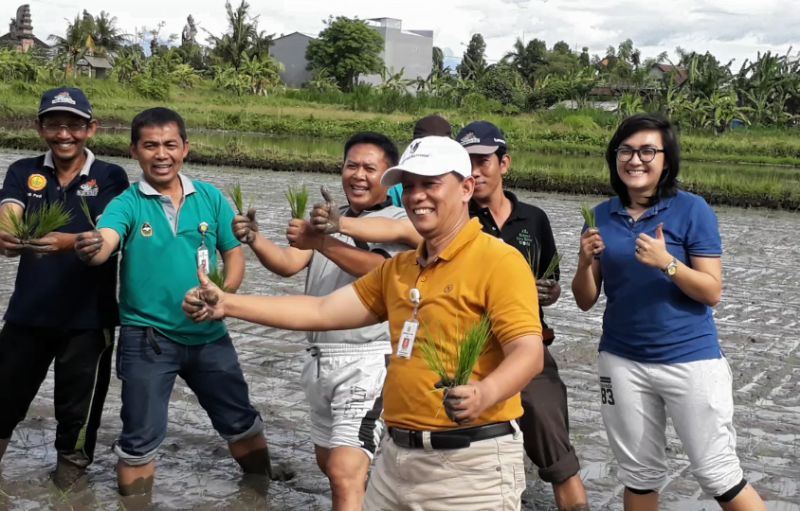 BERAS GIANYAR: Kepala Balai Pelatihan Pertanian - BBPP Ketindan Kresno Suharto (topi putih ) tanam perdana di Gianyar tandai pencapaian target luas tambah tanam Provinsi Bali (Foto: B2B/M. Achsan Atjo)
Gianyar, Bali (B2B) - Kementerian Pertanian RI menargetkan luas tambah tanam (LTT) padi 73.730 hektar di Provinsi Bali untuk Oktober 2017 - Maret 2018 disingkat Okmar, dan realisasi hingga akhir Januari 2018 mencapai 45.076 hektar atau 58% dari target. Kresno Suharto sebagai Penanggung Jawab Upsus Pajale Bali mengingatkan semua pihak terkait karena ´sisa waktu´ 60 hari mulai saat ini hingga dua bulan ke depan atau minimal tanam padi rata-rata 800 hektar per hari.

"Kalau melihat trennya seperti kegiatan tanam hari ini di Gianyar, kami yakin target itu dapat dicapai. Waktunya sudah mepet, sekarang akhir Januari, tinggal 60 hari lagi, setelah kami hitung bersama kadis provinsi dan kabupaten berarti dalam sehari harus tanam rata-rata 800 hektar per hari untuk mencapai target LTT 73.730 hektar," kata Kresno Suharto usai tanam padi perdana di Kabupaten Gianyar yang dipusatkan di Subak Getas di Desa Buruan, Kecamatan Blahbatuh pada Jumat pagi (26/1).

Dia mengingatkan bahwa target LTT harus tercapai sesuai instruksi Menteri Pertanian Andi Amran Sulaiman, dan kembali diingatkan oleh Kepala Badan SDM Pertanian, Momon Rusmono saat panen padi di Kabupaten Tabanan, kemarin (25/1) agar dinas pertanian provinsi dan kabupaten, penyuluh pertanian, Babinsa dari TNI AD dan para pemangku kepentingan mendukung pencapaian target LTT di Bali.

Dia menambahkan kegiatan LTT merupakan kebijakan Kementan untuk mengatasi masa paceklik selama tiga bulan yakni Desember, Januari dan Februari setelah masa tanam pada Juli hingga September. Tujuannya adalah penguatan cadangan beras saat paceklik khususnya pada Desember hingga Februari, dan meningkatkan cadangan beras Bulog agar jaminan ketersediaan cadangan mencukupi untuk delapan bulan berikutnya.

"Saya yakin kita mampu bekerja sama mendukung petani mengatasi masa paceklik ke depan," kata Kresno Suharto, yang juga menjabat Kepala Balai Pelatihan Pertanian - BBPP Ketindan.

Kepala Dinas Pertanian Bali yang diwakili Kepala Bidang (Kabid) Sunarta WY menegaskan dukungannya pada target LTT namun pihaknya lebih concern pada peningkatan indeks pertanaman (IP) mengungat tradisi pertanian di Bali lekat dengan kehidupan keagamaan Hindu, agama yang dianut oleh para petani Bali dan mereka menghitung ´hari baik dan bulan baik´ untuk bercocok tanam maupun panen.

"Kami akan berupaya keras mendukung target pemerintah pusat mencapai ketahanan pangan dan mandiri pangan," kata Sunarta yang juga hadir pada tanam perdana di Gianyar.

Kendala serupa dikemukakan Kepala Dinas Pertanian Gianyar, Made Raka terkait pada kebiasaan petani Bali tentang ´pantangan menanam padi´ pada hari atau bulan tertentu seperti dia buktikan di Kecamatan Tegallalang baru-baru ini.

"Memang kita tidak bisa tabrak budaya, setelah diberi bantuan benih, kemudian kami ke Tegallalang, dan memang sawahnya kosong. Tidak ada padi yang ditanam," kata Made Raka.

Kendati begitu, Kresno Suharto optimistis target LTT Bali akan tercapai karena komitmen dari dinas pertanian provinsi dan kabupaten, penyuluh pertanian, dan Babinsa TNI untuk kepentingan petani dan warga setempat memenuhi kebutuhan pangan pokok.

Gianyar of Bali (B2B) - Indonesian government is target rice extensification of 73,730 hectares in Bali province from October 2017 to March 2018, realization until the end of January 2018 reached 45,076 hectares, 58% of target. Kresno Suharto as the person in charge of Bali program reminds the parties to reach the target within the next two months.

"As in today´s rice planting activities in Gianyar, we believe the target is achieved. The time is deadline, only 60 days," said Mr Suharto after the first rice planting in Gianyar district located in Buruan village of Blahbatuh subdistrict on Friday morning (January 26).

He said extensification targets should be achieved according to the instructions of agriculture minister, and reminded again by Director General of Agricultural Human Resources Agency, Momon Rusmono during rice harvest in Tabanan regency yesterday.

Extensification program are government policy to overcome the famine for three months ie December, January and February after the planting period from July to September. The purpose of extensification is to support rice stocks during famine, especially December to February.

"I am sure we can work together to support farmers overcoming famine in the future," said Mr Suharto who also serves as the Director General of East Java´s Ketindan Agricultural Training Center.

The head of Bali agriculture office represented by Sunarta WY affirmed his support for extensification targets, but it is more concerned with increasing the index of cropping considering the agricultural tradition in Bali with Hindu religious life.

"We will support the central government´s goal of achieving food security and self-sufficiency of food, "said Sunarta who joined the rice planting activities in Gianyar.

Similar opinion was said by Head of Gianyar agriculture office, Made Raka related to Balinese farmer habits about the abstinence of planting rice on certain days or months as he proved in Tegallalang subistrict recently.

"Indeed we can not break tradition, despite being given free seed they still refuse to plant rice," Mr Raka said.

Nevertheless, Mr Suharto is optimistic Bali extensification targets will be achieved because of the commitment of the provincial and district agricultural agencies, agricultural extension workers to farmers and local people to meet basic food needs.