Valentino Rossi Menang untuk Keenam Kalinya di MotoGP Australia
Valentino Rossi Won the Sixth Australian Grand Prix of His Career
Editor : Ismail Gani
Translator : Novita Cahyadi

PUBLISHED: Minggu, 19 Oktober 2014 , 19:23:02 WIB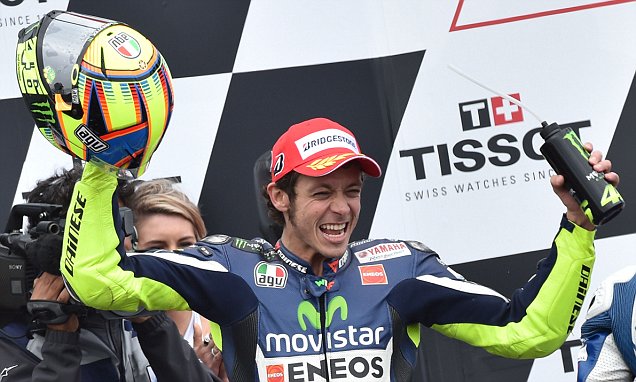 Kemenangan Rossi ini mengerek selisih poinnya dari Lorenzo menjadi delapan poin pada peringkat kedua kejuaraan dunia di bawah Marquez dengan masih tersisa dua balapan di Sepang dan Valencia (Foto: MailOnline)
Philip Island, Australia (B2B) - Pebalap veteran dari Italia Valentino Rossi menjuarai MotoGP Australia yang diwarnai insiden kecelakaan setelah juara dunia Marc Marquez terjatuh selagi memimpin balapan yang berlangsung hari ini di Sirkuit Phillip Island itu.

Rossi mengambil alih pimpinan setelah Marquez jatuh dari sepeda motornya pada lap ke-18 untuk menyisihkan rekannya di Yamaha Jorge Lorenzo dan pebalap Inggris Bradley Smith.

Ini adalah kemenangan menghebohkan bagi legenda Italia berusia 35 tahun yang ke-250 kalinya berpacu di balapan elite untuk kemenangan ke-82 kalinya, seperti dilansir Yahoo Sports.

Marquez, yang sudah memastikan menjadi juara dunia akhir pekan lalu di Jepang, tampak akan dengan mudah menjuarai balapan Phillip Island dengan perbedaan waktu besar empat detik bersama motor Repsol Honda-nya.

Namun pebalap Spanyol itu kehilangan kendali pada lap 18 dan kandas sehingga membuat Rossi mengambil alih dan memenangkan balapan ini dengan selisih waktu 10,836 detik.

Kemenangan Rossi ini mengerek selisih poinnya dari Lorenzo menjadi delapan poin pada peringkat kedua kejuaraan dunia di bawah Marquez dengan masih tersisa dua balapan di Sepang dan Valencia.

Rekan Marquez di Repsol Honda yang sama-sama dari Spanyol, Dani Pedrosa, sudah terpental dari sirkuit pada awal-awal balapan dan tampaknya akan kehilangan peluang untuk finis di urutan dua kejuaraan dunia yang kini disalip Rossi menjadi berselisih 25 poin di tempat keempat.
Phillip Island - Italian legend Valentino Rossi won his first Australian MotoGP in nine years after world champion Marc Marquez crashed out while holding a big lead at Phillip Island on Sunday.

Rossi, one of the sport's greats with nine world championships across all classes, swept to the front when Marquez came off his bike on the 18th lap, to beat home teammate Jorge Lorenzo and Britain's Bradley Smith in an all-Yamaha podium.

It was a popular victory for the 35-year-old Italian, who celebrated his 250th premier-class race with his 82nd victory at one of his favourite tracks.

It was Rossi's sixth premier-class win at Phillip Island and his first since 2005 to extend his phenomenal record to 15 podium finishes in 18 trips to Australia.

Marquez, who clinched back-to-back world titles last weekend in Japan, had looked set to comfortably win his first MotoGP at Phillip Island with a massive four-second advantage on his dominant Repsol Honda bike.

But the Spanish ace lost control of his front wheel on lap 18 of the 27-lap race and crashed out, leaving Rossi to take over and go on and win by 10.836 seconds.

Rossi's victory pushed him out to an eight-point lead over Lorenzo in the fight for second place in the world championship standings behind Marquez, with two races remaining at Sepang and Valencia.

Marquez's Spanish Repsol Honda teammate Dani Pedrosa retired from the race in the early stages to finish with zero points. He looks to have lost his chance of finishing second overall, currently trailing Rossi by 25 points in fourth spot.