Sirkuit Mandalika Sukses Gelar WSBK 2021 Disorot Dunia
Indonesia Hosts World Superbike Finale on Brand-new Circuit
Editor : Kemal A Praghotsa
Translator : Novita Cahyadi

PUBLISHED: Senin, 22 November 2021 , 21:40:00 WIB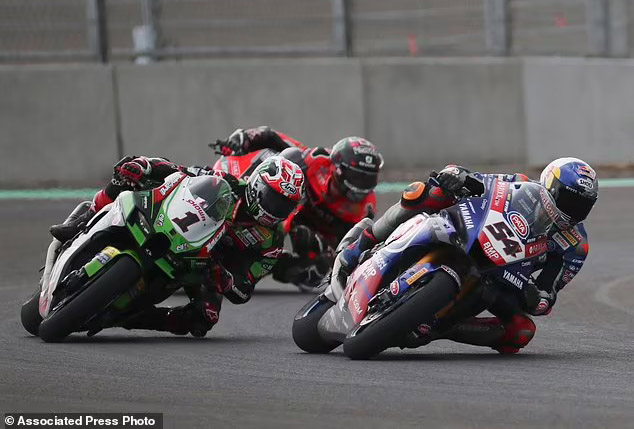 MOTOGP 2022: Balapan MotoGP yang ditunggu-tunggu akan digelar di Mandalika pada Maret mendatang sebagai Grand Prix kedua musim 2022 [Foto: Associated Press/MailOnline]
SERI PENUTUP World Superbike Championship [WSBK] di Pertamina Mandalika International Street Circuit, Kabupaten Lombok Tengah, Nusa Tenggara Barat pada 19-21 Nopember 2021 menarik puluhan ribu penggemar pada Minggu [21/11]. Pebalap Toprak Razgatlioglu menjadi pembalap Turki pertama yang memenangkan gelar.
Toprak Razgatlioglu, pebalap Yamaha, meraih trofi juara WorldSBK setelah finis kedua di belakang juara dunia enam kali Jonathan Rea pada balapan pertama di Sirkuit Mandalika yang berada di tepi pantai. Balapan pertama dan balapan kedua digelar Minggu setelah badai petir pada Sabtu memaksa balapan pertama dijadwal ulang.
Pada balapan terakhir, Razgatlioglu memimpin dengan nyaman 30 poin atas juara bertahan Rea, pebalap Kawasaki. Kemenangannya menjadikannya pebalap pertama yang mengalahkan Rea untuk gelar WorldSBK sejak 2015.
Kerumunan di Sirkuit Mandalika yang baru dibangun melampaui 20.000 penonton pada hari terakhir pada Minggu dan sekitar 15.000 penonton selama sesi latihan bebas pada Jumat, kata Cahyadi Wanda, Wakil Presiden Direktur Asosiasi Grand Prix Mandalika.
Sirkuit baru sepanjang 4,3 kilometer yang diresmikan Presiden RI Joko Widodo pekan lalu, memiliki 17 tikungan dan 40 garasi serta lintasan start-to-finish sepanjang 507 meter. Tribun dapat menampung hingga 50.000 orang dan total kapasitas 200.000 penonton.
Kejuaraan dunia itu adalah balapan motor internasional besar pertama di Indonesia dalam lebih dari dua dekade yang menurut pemerintah, dilihat sebagai landasan untuk kebangkitan pariwisata di salah satu tujuan paling populer di Indonesia.
Hanya penonton yang divaksinasi penuh atau mereka yang tes Covid-19 negatif yang diizinkan masuk ke sirkuit.
Indonesia adalah salah satu negara Asia yang paling terpukul oleh pandemi. Beban kasus Covid-19, yang mencapai puncaknya sekitar 56.000 kasus harian pada Juli, telah menurun jauh, dengan sekitar 500 kasus sehari dalam seminggu terakhir.
MotoGP adalah salah satu olahraga yang paling banyak ditonton di Indonesia, tetapi sudah 24 tahun sejak negara tersebut menjadi tuan rumah putaran MotoGP di Sentul, Bogor, Jawa Barat.
Balapan MotoGP yang ditunggu-tunggu akan digelar di Mandalika pada Maret mendatang sebagai Grand Prix kedua musim 2022.
Indonesia telah mencari inklusi dalam kalender balapan tetapi berjuang untuk mendapatkan sirkuit kelas dunia sampai pemerintahan Widodo pada 2015 memilih Mandalika di pulau Lombok yang indah, di sebelah Bali, untuk membangun trek balap baru dari awal.
Seperti Bali, Lombok dikenal dengan pantai dan pegunungannya yang masih asli seperti dikutip Associated Press.
Proyek klaster olahraga seluas 130 hektare yang mencakup hotel dan fasilitas lainnya ini terletak di kawasan ekonomi khusus Mandalika. Ini adalah bagian dari program pembangunan ekonomi yang didukung pemerintah pusat senilai US$3 miliar, sekitar US$1 miliar dialokasikan untuk membangun lintasan balap guna mendukung pariwisata lokal dan mempercepat pembangunan di bagian timur negara itu.
Sebelumnya, sirkuit WorldSBK Indonesia sempat diragukan bisa selesai tepat waktu karena pembangunannya menghadapi beberapa kendala, mulai dari masalah lingkungan dan virus corona hingga laporan penduduk setempat yang kehilangan rumah, tanah, dan mata pencaharian mereka.
Sekitar 43 KK di Dusun Bunut yang menolak untuk menjual tanahnya masih tinggal di sebidang tanah di tengah sirkuit, sementara 300 lainnya telah dipindahkan ke daerah lain yang jauh dari hingar bingar sirkuit atau telah kembali ke kampung halamannya, kata Rahmat Panye. kepala lingkungan dusun Bunut.
Indonesia mengadakan balapan MotoGP pada 1996 dan 1997 dan Superbike dari 1994 hingga 1997, tetapi setelah krisis keuangan Asia 1997-1998, negara itu terpaksa menangguhkan penyelenggaraan olahraga motor yang dilansir MailOnline.
THE FINAL Superbike World Championship round on the Indonesian tourist island of Lombok drew tens of thousands of fans on Sunday, the biggest crowd for any event in the country since the start of the coronavirus pandemic, as Toprak Razgatlioglu became the first-ever Turkish rider to win the title.
Razgatlioglu, a Yamaha rider, secured the WorldSBK championship after finishing second behind six-time world champion Jonathan Rea in race one at the beachside circuit. Race one and race two were both held Sunday after heavy thunderstorms on Saturday had forced race one to be rescheduled.
In the final race, Razgatlioglu held a comfortable lead of 30 points over the reigning champion Rea, a Kawasaki rider. His win makes him the first rider to beat Rea for the WorldSBK title since 2015.
The crowd at the newly built Pertamina Mandalika International Street Circuit surpassed 20,000 on the final day on Sunday and about 15,000 during a free practice session on Friday, said Cahyadi Wanda, the vice president director of the Mandalika Grand Prix Association.
The new 4.3-kilometer (2.6 miles) circuit, inaugurated by President Joko Widodo last week, has 17 corners and 40 garages and a 507-meter start-to-finish straight. The grandstand can accommodate up to 50,000 people and the total capacity is 200,000.
The world championship was Indonesia´s first big international motorbike race in more than two decades in what authorities said was being eyed as a launchpad for the revival of tourism in one of the country´s most popular destinations.
Only fully vaccinated spectators or those with negative COVID-19 tests were allowed into the circuit.
Indonesia was one of Asia´s hardest-hit countries by the pandemic. Its COVID-19 caseload, which peaked around 56,000 daily cases in July, has declined considerably, with around 500 cases a day in the past week.
MotoGP is one of Indonesia's most-watched sports but it has been 24 years since the country hosted a MotoGP round in West Java´s Sentul city.
A much-awaited MotoGP race will be held in Mandalika next March as the second Grand Prix of the 2022 season.
Indonesia has been seeking inclusion in the race calendar but struggled to get a world-class circuit until Widodo´s administration in 2015 picked Mandalika on the picturesque Lombok island, next to Bali, to build a new racing track from scratch.
Like Bali, Lombok is known for its pristine beaches and mountains.
The sports cluster project, which measures 130 hectares and includes hotels and other facilities, is located in the Mandalika special economic zone. It is part of a $3 billion central government-backed economic development program, from which $1 billion was allocated to building the race track to support local tourism and accelerate development in the eastern part of the country.
Previously, there were doubts that the circuit could be completed in time for the WorldSBK Indonesian round as construction faced several obstacles, ranging from environmental issues and the coronavirus to reports of locals being dispossessed of their homes, land and livelihoods.
About 43 families in Bunut hamlet who refused to sell their land still live on a plot in the middle of the circuit, while 300 others have been relocated to another area far from the frenetic circuit or have moved back to their hometowns, said Rahmat Panye, the neighborhood head of Bunut hamlet.
Indonesia held MotoGP races in 1996 and 1997 and the Superbike from 1994 to 1997, but after the 1997-1998 Asian financial crisis, the country was forced to suspend hosting motorsports.