Marquez Pecahkan Rekor, Menang 13 Kali Satu Musim
Marquez Targets Record 13th Win in Finale
Editor : Ismail Gani
Translator : Novita Cahyadi

PUBLISHED: Minggu, 09 November 2014 , 23:47:16 WIB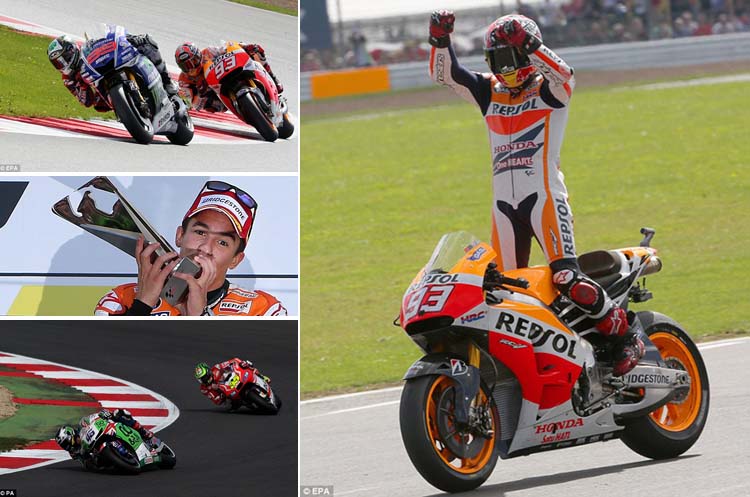 Marquez tercatat telah menjadi empat kali juara dunia, yakni satu kali balap motor 125cc, satu kali Moto2 dan dua kali Moto GP. Marquez langsung menjadi juara MotoGP di saat pertama kali mengikutinya pada 2013 (Foto2: MailOnline)
Valencia, Spanyol (B2B) - Marc Marquez, pebalap tim Repsol Honda, yang sudah memastikan juara dunia MotoGP 2014, berhasil memenangi lomba pamungkas MotoGP Valencia, Spanyol, Minggu malam, sehingga memenangi lomba sebanyak 13 kali dalam satu musim.

Dengan jumlah kemenangan tersebut berarti Marquez berhasil memecahkan rekor Mick Doohan yang memenangi lomba sebanyak 12 kali dalam satu musim pada 1997. Sejak mengikuti MotoGP tahun 2013, Marquez telah menjadi juara sebanyak 19 kali.

Marquez sendiri telah memastikan menjadi juara MotoGP 2014 sejak lomba ke-15 di Jepang. Saat itu Marquez hanya menduduki urutan kedua di bawah Jorge Lorenzo, namun nilainya sudah tidak dapat terkejar lagi, seperti dilansir Yahoo Sports.

Marquez tercatat telah menjadi empat kali juara dunia, yakni satu kali balap motor 125cc, satu kali Moto2 dan dua kali Moto GP. Marquez langsung menjadi juara MotoGP di saat pertama kali mengikutinya pada 2013.

Pada lomba di Valencia, berada di urutan kedua adalah pebalap Movistar Yamaha MotoGP, Valentino Rossi, yang sebenarnya memulai balapan dari urutan pertama. Sementara berada di urutan ketiga adalah Dani Pedrosa yang juga rekan satu tim Marquez.

Marquez memulai lomba dari urutan kelima karena pada sesi kualifikasi sempat terjatuh. Namun di awal lomba, pebalap Spanyol ini berhasil menyodok ke urutan ketiga. Sementara Andrea Iannone dari Pramac Racing yang memulai balap dari urutan kedua berhasil naik menjadi yang pertama menggeser Rossi yang turun menjadi kedua.

Marquez baru berhasil naik ke posisi kedua pada putaran kesembilan dari lomba sebanyak 30 putaran tersebut. Satu putaran kemudian (putaran kesepuluh), Marquez kembali menyalib Iannone, sehingga mendudukui urutan pertama. Bahkan kemudian Iannone juga dikejar oleh Rossi. Setelah itu posisi Iannone terus turun.

Setelah itu, Marquez terus memimpin dan tidak terkejar lagi.

Pada lap ke-19, terjadi hujan rintik. Lorenzo dan Iannone memutuskan masuk ke pit untuk ganti motor dengan ban basah. Namun kemudian cuaca cerah kembali sehingga kedua pebalap itu makin keteteran. Bahkan pada lap 25 atau saat balapan tinggal lima putaran lagi, Lorenzo memutuskan keluar dari lomba.
Valencia, Spain - Already assured of his second successive world title, Marc Marquez targets a record 13th win in one season when the 2014 campaign ends in Valencia on Sunday.

Marquez wrapped up the MotoGP crown in Japan in October while his victory in Malaysia last time out equalled Australian rider Mick Doohan's mark of 12 in 17 races in a season from 1997.

As well as a record victory on Sunday, the 21-year-old Marquez and teammate Dani Pedrosa can also deliver Honda back-to-back team and constructors titles in the season's 18th and final race.

Sunday's race will also witness Yamaha duo Valentino Rossi and Jorge Lorenzo battling for second place while Japanese manufacturer Suzuki field one machine ahead of a full-time return to the grid in 2015 after a four-year absence.

Marquez clinched the 2013 title in Valencia with a third place finish while a year earlier he won the Moto2 world championship coming from last place on the grid to first.

Pedrosa has nine podiums in Valencia which include six victories -– 2012, 2009, 2007 (MotoGP), 2005, 2004 (250cc) and 2002 (125cc).

Rossi, a seven-time world champion in the elite division, and double winner Lorenzo are separated by just 12 points in their duel for second spot.

The 27-year-old Spaniard won the Valencia round in 2013 having also won in 2010.

The Moto2 title has already been decided with Spain's Esteve Rabat, on a Kalex, ensuring the honours in Malaysia.

In Moto3, Spanish Honda rider Alex Marquez, the younger brother of Marc Marquez, has an 11-point lead over Australian Jack Miller on a KTM ahead of the final race.

If the 18-year-old Marquez wins on Sunday he will ensure a Spanish sweep of the three world titles in the same season for the first time.