Ramos Bela Diri dari Tuduhan Ganjal Sterling via Video di Twitter
Ramos Hits Back at Fans Claiming He Stamped on Sterling in Nations League clash by Twitter
Editor : Ismail Gani
Translator : Novita Cahyadi

PUBLISHED: Rabu, 17 Oktober 2018 , 22:34:00 WIB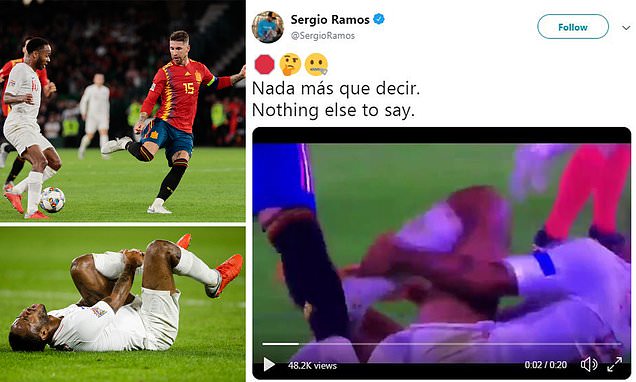 Ramos menyertai klip dengan komentar ´tidak ada yang lain untuk dikatakan´ dan emoji mulut zip - jelas dari pandangan bahwa ia telah dibebaskan dan bahwa pengadilan media sosial salah sangka setelah menuduhnya bersalah (Foto2: MailOnline)
SERGIO RAMOS membela diri dari tudingan mengganjal keras Raheem Sterling pada pertandingan Senin malam, dengan mengunggah video tentang insiden tersebut secara online.
Ramos dikecam setelah diduga mengganjal Sterling setelah Inggris mening 3-2 pada Liga Nasional UEFA atas Spanyol, striker Manchester City mencetak dua gol di babak pertama.
Di babak kedua, kapten Real Madrid itu seolah-olah bentrokan Sterling di area penalti.
Sementara Sterling tidak menuduh Ramos melakukan kesalahan, bintang Spanyol itu dikecam oleh pendukung Inggris via online yang mengklaimnya sebagai contoh lain dari fisiknya, gaya permainan yang sering brutal.
Namun pada Rabu pagi Ramos menanggapi dengan klip video yang diposting ke halaman Twitter-nya, menawarkan sudut kamera yang berbeda dengan pandangan televisi yang digunakan oleh tuduhan dari pendukung Inggris.
Videon online tersebut memperlihatkan Sterling tampak menderita kram karena Ramos berdiri di sampingnya - sementara striker Inggris terlihat tidak nyaman, dan Ramos bukan pemain yang disalahkan tampaknya.
Bahkan, Sterling memegang pergelangan kakinya sebelum Ramos muncul di sebelahnya, dengan dua kejadian itu terlihat tidak terhubung.
Ramos menyertai klip dengan komentar ´tidak ada yang lain untuk dikatakan´ dan emoji mulut zip - jelas dari pandangan bahwa ia telah dibebaskan dan bahwa pengadilan media sosial salah sangka setelah menuduhnya bersalah.
Setelah ´insiden´ itu disorot di media sosial, penggemar melabelinya ´memalukan´ dan mendesak UEFA untuk mengambil tindakan.
Pemain berusia 32 tahun itu, yang membuat marah para penggemar Liverpool karena tekelnya pada Mohamed Salah di final Liga Champions, memiliki sejarah permainan dan permainan kotor.
Salah akhirnya berakhir dengan bahu terkilir setelah dihantam Ramos di paruh pertama final pada Mei saat Real melanjutkan untuk memenangkan pertandingan 3-1.
Dia memegang rekor untuk kartu terbanyak yang diterima di La Liga - 173 - dengan 19 kali diusir wasit dari pertandingan dan rekor tertinggi sepanjang masa.
Dari semua itu, Ramos mendapat kartu hukuman lebih banyak daripada pemain lain dalam sejarah tim nasional Spanyol.
Ramos mengalami malam tak terlupakan di Seville, karena Spanyol kebobolan tiga gol pada babak pertama - dan Sterling mencetak dua gol hasil umpan Marcus Rashford.
Spanyol membalas dua gol di babak kedua tetapi itu tidak cukup setelah Inggris berhasil meraih tiga poin seperti dilansir MailOnline.
SERGIO RAMOS has defended himself from accusations he stamped on Raheem Sterling on Monday night by posting a video of the incident online.
Ramos was given a torrid night by Sterling during England´s 3-2 UEFA Nations League victory over Spain, the Manchester City forward scoring twice in the first half.
In the second half, the Real Madrid captain seemed to to stamp on Sterling in the penalty area.
While Sterling did not accuse Ramos of wrongdoing, the Spaniard was soon vilified by fans online who claimed it as another example of his physical, often brutal style of play.
However on Wednesday morning Ramos responded with a video clip posted to his Twitter page, offering a different camera angle to the television view used by the accusing supporters.
It shows Sterling appearing to suffer from cramp as Ramos stands next to him - while the England star is in obvious discomfort, the Spaniard is not the one to blame it seems.
In fact, Sterling is holding his ankle before Ramos appears in shot next to him, with the two occurrences looking to be unconnected.
Ramos accompanied the clip with the comment ´nothing else to say´ and a zipped mouth emoji - clearly of the view that he has been exonerated and that the court of social media has wrongly found him guilty.
After the ´incident´ was highlighted on social media, fans labelled it ´disgraceful´ and urged UEFA to take action.
The 32-year-old, who angered Liverpool fans for his tackle on Mohamed Salah in the Champions League final, has a history of gamesmanship and foul play.
Salah ended up with a dislocated shoulder after a challenge from Ramos in the first half of the final in May as Real went on to win the match 3-1.
He holds the record for the most cards received in La Liga - 173 - with his 19 sendings-off also an all-time league high.
On top of this, Ramos has received more bookings than any other player in the history of the Spanish national team.
Ramos endured a night to forget in Seville, as Spain conceded three first-half goals - with Sterling scoring either side of Marcus Rashford´s effort.
Spain pulled two goals back in the second half but it wasn´t enough as England held on for all three points.