Polisi India Desak Warga Stop Kubur Jenazah Covid-19 di Tepi Sungai
Police Urge Villagers in India to Stop Dumping Dead Bodies in Rivers
Editor : Kemal A Praghotsa
Translator : Dhelia Gani

PUBLISHED: Senin, 17 Mei 2021 , 00:51:00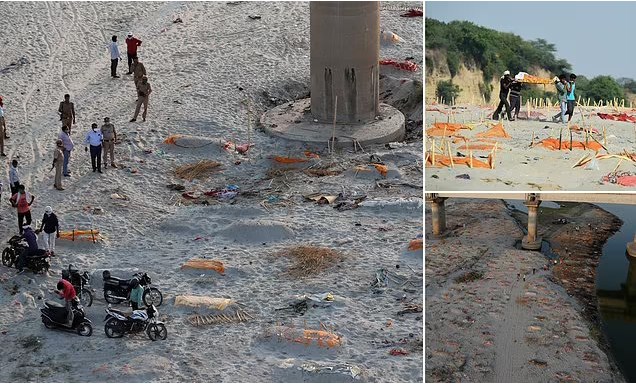 PANDEMI CORONA: polisi telah mendesak penduduk desa di India utara untuk tidak mengubur jenazah mereka di sungai setelah sejumlah mayat terdampar di tepi Sungai Gangga di tengah gelombang kedua virus Corona [Foto2: MailOnline]
POLISI India memukuli warga yang melanggar aturan karantina total [Lockdown] dengan tongkat, setelah negara itu berjuang keras mengatasi gelombang kedua pandemi Covid-19 yang mematikan.
Sementara itu, penduduk desa di India utara didesak oleh petugas untuk tidak menguburkan jenazah mereka di sungai setelah puluhan mayat terdampar di tepi Sungai Gangga.
Di negara bagian utara Assam, petugas polisi terlihat memukuli orang-orang agar patuh setelah mereka kedapatan melanggar aturan jam malam baru di tengah lonjakan kasus Covid-19.
Foto-foto menunjukkan petugas yang mengenakan masker wajah dan memegang tongkat besar untuk menghukum pelanggar aturan setelah Assam memberlakukan pembatasan Covid baru, yang membuat jam malam diperpanjang dua jam di daerah perkotaan.
Karantina total melarang pergerakan warga dan kendaraan dari tengah hari hingga pukul 5 pagi untuk mengekang penyebaran virus yang cepat, pemerintah mengumumkan pada Sabtu.
Toko-toko sebelumnya diizinkan buka hingga pukul 13 sementara jam malam mulai berlaku dari pukul 14 selama 15 jam, lapor NDTV.
Perubahan tersebut berarti warga hanya diizinkan keluar selama tujuh jam antara pukul 5 pagi hinggal 12 siang sementara aturan ganjil-genap untuk kendaraan akan terus berlanjut, sesuai aturan yang ditandatangani oleh Sekretaris Utama Assam Jishnu Baruah.
Aturan tersebut menyatakan bahwa kendaraan dengan nomor registrasi ganjil akan diizinkan pada hari ganjil sedangkan nomor registrasi genap akan diberikan pergerakan pada hari genap.
Pembatasan tersebut dilaporkan juga membuat pembukaan toko minuman keras digeser dari pukul 10 pagi ke 9 pagi dalam upaya untuk mencegah 'kepadatan berlebih'.
Perpanjangan dua jam jam malam terjadi setelah negara bagian mencatat 5.347 kasus Covid-19 baru pada Sabtu. Sementara itu, jam malam akan tetap berlaku mulai pukul 18.00 di daerah pedesaan, seperti dilansir MailOnline.
Aturan pembatasan baru dikeluarkan dalam upaya untuk mengatasi penyebaran Covid-19, karena Assam saat ini telah mencatat lebih dari 41.947 kasus aktif, sementara 2.060 orang telah meninggal di negara bagian itu akibat virus tersebut.
Hal itu terjadi ketika polisi telah mendesak penduduk desa di India utara untuk tidak mengubur jenazah mereka di sungai setelah sejumlah mayat terdampar di tepi Sungai Gangga di tengah gelombang kedua virus Corona.
Puluhan mayat juga ditemukan di kuburan pasir dangkal, mendorong polisi untuk menyelidikinya.
Di jip dan perahu, polisi menggunakan pengeras suara portabel untuk meminta penduduk desa agar tidak membuang mayat di sungai. 'Kami di sini untuk membantu Anda melakukan penguburan,' kata polisi.
Pada Jumat, hujan menyingkap kain penutup jenazah yang dimakamkan di kuburan dangkal di pasir tepi sungai di Prayagraj, sebuah kota di negara bagian Uttar Pradesh.
Itu terjadi ketika India mencatat 4.077 kematian lainnya pada Minggu, menjadikan total kematian menjadi 270.294 kematian.
POLICE beating people who are breaking lockdown rules with batons in India as the country grapples with a deadly second wave of coronavirus.
Meanwhile, villagers in northern India are being urged by officers not to bury their dead in rivers after scores of bodies washed up on the shore of the Ganges.
In the northern state of Assam, police officers were seen beating people into compliance after they were caught breaking new curfew rules amid a surge in Covid-19 cases.
Photographs showed officers wearing face masks wielding large batons to punish rule breakers after Assam imposed new Covid restrictions, which saw the curfew extended by two hours in urban areas.
The new restrictions ban movement of people and vehicles from midday until 5am to curb the rapid spread of the virus, the Government announced on Saturday.
Shops were previously allowed to open until 1pm while the curfew came into force from 2pm for 15 hours, NDTV reported.
The changes now mean people will only be allowed movement for seven hours between 5am and 12pm while the odd-even rule for vehicles will continue, the order signed by Assam Chief Secretary Jishnu Baruah said.
The rule states that vehicles with odd registration numbers will be allowed on odd days while even registration numbers will be granted movement on even days.
The restrictions have reportedly also seen the opening of liquor shops be moved from 10am to 9am in a bid to prevent 'overcrowding'.
The two-hour extension of the curfew came after the state recorded 5,347 new Covid-19 cases on Saturday. Meanwhile, the curfew will remain effective from 6pm in rural areas.
The new restrictions come in a bid to curb the spread of Covid-19, as Assam has currently recorded more than 41,947 active cases, while 2,060 people have died in the state from the virus.
It comes as police have urged villagers in northern India not to bury their dead in rivers after scores of bodies washed up on the shore of the Ganges amid a second wave of coronavirus.
Dozens of bodies were also discovered in shallow sand graves, prompting police to investigate.
In jeeps and boats, the police used portable loudspeakers to ask villagers not to dispose of the bodies in rivers. 'We are here to help you perform the last rights,' they said.
On Friday, rains exposed the cloth coverings of bodies buried in shallow graves in the sand of the riverbank in Prayagraj, a city in Uttar Pradesh state.
It comes as India registered another 4,077 deaths on Sunday, taking the total fatalities to a devastating 270,294.