Hari Pertama Charles Proklamirkan Raja di Istana St James
Day 1 of Charles Proclaimed King at St James´s Palace
Editor : Ismail Gani
Translator : Novita Cahyadi

PUBLISHED: Sabtu, 10 September 2022 , 11:32:00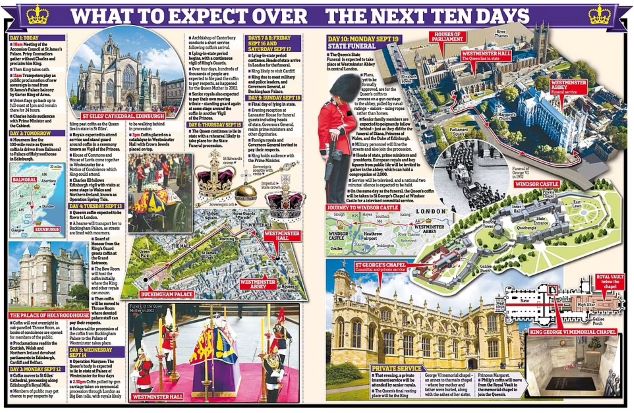 MONARKI INGGRIS: Hari kematian secara tradisional adalah D-Day atau D+0, tetapi karena pengumuman datang pada sore hari, maka diundur sehari, yang berarti hari ini adalah D +1. (Foto: MailOnline)
RAJA Charles III sekarang menjadi raja baru Inggris, usai Ratu Elizabeth II meninggal pada usia 96 pada hari Kamis dan.
Grafik foto di atas merinci laporan harian tentang apa yang diharapkan terjadi selanjutnya, menjelang pemakaman Ratu yang direncanakan pada 19 September.
Hari kematian secara tradisional adalah D-Day atau D+0, tetapi karena pengumuman datang pada sore hari - pada pukul 18:30 - rencana untuk pengaturan kompleks, yang dikenal sebagai Operation London Bridge, diundur sehari, yang berarti hari ini adalah D +1.
Hari pertama Charles memproklamirkan Raja di Istana St James sebelum dia bertemu dengan Liz Truss dan Kabinetnya dan mengadakan Dewan Penasihat pertamanya, seperti dilansir MailOnline.
Kemarin, Raja Charles III dan Permaisuri Camilla kembali ke London dari tempat tidur Ratu di Balmoral, di mana Charles bertemu dengan perdana menteri baru, Liz Truss, dan dia berbicara kepada bangsa untuk pertama kalinya sebagai raja.
THE QUEEN died aged 96 on Thursday and King Charles III is now the new monarch. Below is a graphic that details the day-by-day account of what is expected to happen next, leading up to the Queen´s funeral planned for September 19.
The day of death is traditionally D-Day or D+0, but since the announcement came late in the day - at 6.30pm - plans for the complex arrangements, known as Operation London Bridge, were shifted back a day, meaning today is D+1.
Day 1 will see Charles proclaimed King at St James´s Palace before he meets with Liz Truss and her Cabinet and holds his first Privy Council.
Yesterday, King Charles III and Queen Consort Camilla returned to London from the Queen´s bedside in Balmoral, where Charles had an audience with the new prime minister, Liz Truss, and he addressed the nation for the first time as king.