16.000 Pekan Lalu, 788 Kematian di Inggris pada Selasa akibat Covid-19
More than One in Five of the Record 16,000 Deaths Last Week in Britain
Editor : Ismail Gani
Translator : Novita Cahyadi

PUBLISHED: Rabu, 15 April 2020 , 12:22:00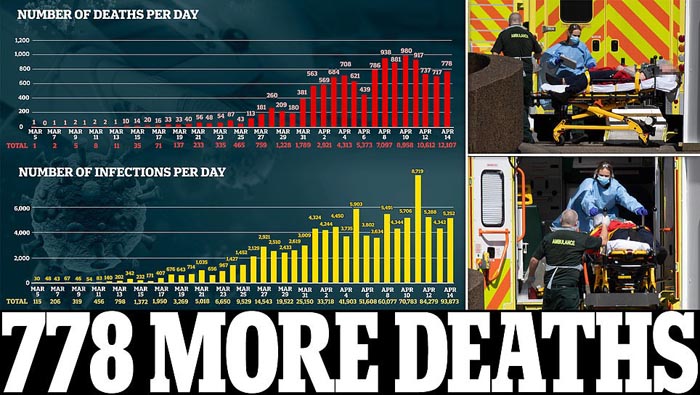 Jumlah kematian yang diumumkan hari ini - 778 - hanya peningkatan kecil dari hari Senin mencapai 717 dan secara signifikan lebih rendah dari sebagian besar hari pekan lalu [Foto & Data: MailOnline]
LAYANAN Kesehatan Masyarakat Britania Raya [NHS] Selasa waktu setempat merilis kematian lebih 744 pasien Covid-19 di sejumlah rumah sakitnya, lebih dari seperempatnya berada di London, dan Kementerian Kesehatan mengonfirmasi setidaknya lebih 34 pasien meninggal dunia di Skotlandia, Wales dan Irlandia Utara.
Badan Kesehatan Publik Inggris melakukan tes kesehatan terhadap 11.879 orang, Selasa waktu setempat dan 5.252 dari mereka dinyatakan positif Covid-19, berarti saat ini ada 93.873 pasien virus Corona, dulu dan sekarang, di Inggris setelah wabah melanda sejak Februari.
Jumlah kematian yang diumumkan hari ini - 778 - hanya peningkatan kecil dari hari Senin mencapai 717 dan secara signifikan lebih rendah dari sebagian besar hari pekan lalu namun hal itu terjadi pada akhir empat hari libur bank akhir pekan, yang berarti banyak kematian yang terjadi sejak Rabu pekan lalu diperkirakan terjadi akibat kelambatan data yang menurut para ahli terjadi setiap akhir pekan.
Statistik hari ini muncul di tengah pertikaian tentang peran rumah perawatan dalam krisis yang sedang berlangsung karena angka-angka dari Kantor Statistik Nasional menunjukkan jumlah korban sebenarnya bisa 15 persen lebih tinggi ketika ratusan korban 'bersembunyi' di rumah menjalani isolasi mandiri seperti dilansir MailOnline.
NHS ENGLAND this afternoon announced the deaths of 744 more COVID-19 patients in its hospitals, more than a quarter of them in London (pictured right, paramedics working in the capital), and the Department of Health confirmed at least 34 more people have died in Scotland, Wales and Northern Ireland.
Public Health England tested a total of 11,879 people yesterday and 5,252 of them tested positive, meaning there have now been 93,873 coronavirus patients, past and present, in Britain since the outbreak began in February.
The number of deaths announced today - 778 - is only a small increase on the 717 yesterday and significantly lower than most days last week but it comes at the end of a four-day bank holiday weekend, meaning many fatalities which happened since Wednesday last week may be caught up in the data lag that experts say happens every weekend.
Today's statistics come amid a row over care homes' role in the ongoing crisis as numbers from the Office for National Statistics show the true death toll of the outbreak may be 15 per cent higher when the hundreds of 'hidden' victims in residential care homes are counted.