Pendukung Trump Tuntut Gubernur dari Kubu Demokrat Buka `Lockdown`
Hundreds across the Nation Answer Trump`s Call to `Liberate´ States from Stringent Virus Lockdown
Editor : Ismail Gani
Translator : Novita Cahyadi

PUBLISHED: Sabtu, 18 April 2020 , 14:31:00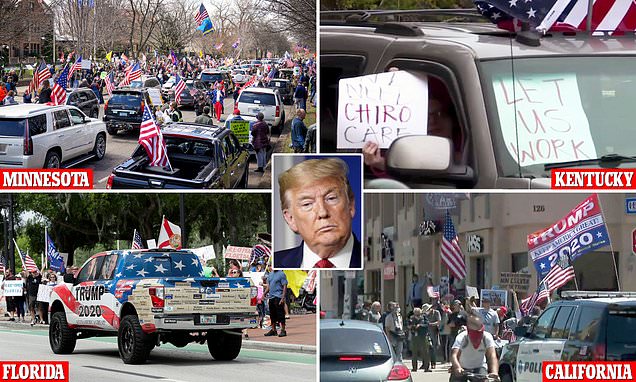 ´Bebaskan Minnesota!´ ´Bebaskan Michigan!´ "Bebaskan Virginia," kata Trump dalam serangkaian cuitan di Twitter di mana dia juga mengecam Gubernur New York Andrew Cuomo karena mengritik respons federal [Foto2: MailOnline]
PRESIDEN AS Presiden Donald Trump mendesak para pendukung untuk ´Membebaskan´ tiga negara yang dipimpin oleh para gubernur Demokrat, Jumat waktu setempat [17/4], yang memancing unjuk rasa terhadap ´kewajiban tinggal di rumah´ yang bertujuan menghentikan virus Corona.
Sehari setelah menyusun peta jalan untuk secara bertahap membuka kembali perekonomian yang lumpuh, Trump menggunakan Twitter dengan semacam retorika yang digunakan sebagian pendukungnya dalam menuntut pencabutan perintah yang telah membuat jutaan orang Amerika kehilangan pekerjaan.
´Bebaskan Minnesota!´ ´Bebaskan Michigan!´ "Bebaskan Virginia," katanya dalam serangkaian cuitan di Twitter di mana dia juga mengecam Gubernur New York Andrew Cuomo karena mengritik respons federal.
Cuomo ´harus menghabiskan lebih banyak waktu "bekerja" dan mengurangi waktu "mengeluh"," kata Trump.
Menanggapi permintaan dari gubernur untuk bantuan dari Washington dalam meningkatkan pengujian untuk virus, Trump mengembalikan kewajiban tersebut pada mereka: ´Amerika harus meningkatkan kegiatan riset!"
Trump telah berulang kali menyatakan keinginannya untuk melihat bisnis dibuka kembali dengan cepat dan mengklaim awal pekan ini bahwa ia memiliki wewenang total atas masalah ini, meskipun lockdown dan langkah-langkah sosial jarak jauh telah dipaksakan oleh para pemimpin negara bagian dan lokal, bukan Washington.
Gubernur Washington Jay Inslee mengatakan pada Jumat menyatakan bahwa komentar Trump tentang ´membebaskan´ bagian dari negara dari anjuran tinggal di rumah untuk meredam penyebaran virus Corona mengakibatkan jutaan orang Amerika dalam risiko tertular Covid-19 seperti dilansir MailOnline.
PRESIDENT Donald Trump urged supporters to ´LIBERATE´ three states led by Democratic governors Friday, apparently encouraging the growing protests against the stay-at-home restrictions aimed at stopping the coronavirus.
A day after laying out a roadmap to gradually reopen the crippled economy, Trump took to Twitter with the kind of rhetoric some of his supporters have used in demanding the lifting of the orders that have thrown millions of Americans out of work.
´LIBERATE MINNESOTA!´ ´LIBERATE MICHIGAN!´ ´LIBERATE VIRGINIA,´ he said in a tweet-storm in which he also lashed out at New York Gov. Andrew Cuomo for criticizing the federal response.
Cuomo ´should spend more time "doing" and less time "complaining",´ the president said.
Responding to pleas from governors for help from Washington in ramping up testing for the virus, Trump put the burden back on them: ´The States have to step up their TESTING!´
Trump has repeatedly expressed his desire to see businesses reopen quickly and claimed earlier this week that he possesses total authority over the matter, even though the lockdowns and other social-distancing measures have been imposed by state and local leaders, not Washington.
Washington Governor Jay Inslee said on Friday that Trump's comments about ´liberating´ parts of the country from coronavirus stay-at-home orders put millions of Americans at risk of contracting COVID-19.