Lukisan Picasso Ditemukan Kembali Setelah 9 Tahun Hilang
Picasso Painting Stolen from Greece´s National Gallery in 2012 is Found Hidden in a Ravine
Editor : Kemal A Praghotsa
Translator : Novita Cahyadi

PUBLISHED: Selasa, 29 Juni 2021 , 22:24:00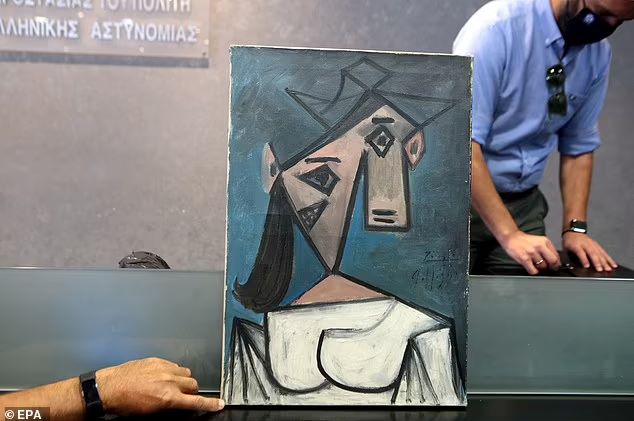 PENCURIAN LUKISAN: Lukisan `Kepala Wanita` dan diberikan oleh Pablo Picasso ke Yunani pada tahun 1949. [Foto: MailOnline]
LUKISAN karya Picasso dicuri dari Galeri Nasional Yunani telah ditemukan hari Selasa, [29/6], tersembunyi di jurang setelah hampir sembilan tahun menghilang
Lukisan yang secara pribadi disumbangkan oleh maestro Spanyol kepada orang-orang Yunani - dicuri bersama dua karya seni lainnya dalam pencurian pada tahun 2012.
Lukisan itu, yang disebut `Kepala Wanita` dan diberikan oleh Pablo Picasso ke Yunani pada tahun 1949, ditemukan di Keratea, daerah pedesaan sekitar 28 mil tenggara Athena, kata para pejabat Yunani pada konferensi pers.
Hingga saat ini, pelaku sempat mengelak dari petugas, namun seorang pria berusia 49 tahun yang dikabarkan tinggal di antara Yunani dan Inggris kini telah ditangkap.
Sebuah video yang dibagikan secara online oleh polisi Yunani menunjukkan di mana pria itu menyembunyikan lukisan-lukisan itu. Mereka ditemukan di jurang, dibungkus dengan lembaran plastik untuk perlindungan dan disembunyikan di bawah semak belukar yang lebat dan kering di dasar sungai, menurut rekaman itu.
Dua lukisan lain dicuri dalam perampokan yang sama pada Januari 2012. Satu, yang disebut ´Kincir Angin Gagap´ oleh pelukis Belanda Piet Mondrian, juga ditemukan bersama Picasso.
Sebuah sketsa oleh seniman Italia abad ke-16 Guglielmo Caccia, lebih dikenal sebagai Moncalvo, juga dicuri, tetapi televisi pemerintah melaporkan bahwa lukisan itu rusak dalam pencurian itu dan menyiram toilet galeri, sesuatu yang dilaporkan telah diakui oleh tersangka.
"Hari ini adalah hari yang istimewa, (hari) kegembiraan dan emosi yang luar biasa," kata Menteri Kebudayaan Lina Mendoni.
Mendoni mengatakan lukisan itu ´mustahil´ untuk dijual karena memiliki tulisan pribadi Picasso di bagian belakang ´Untuk orang Yunani, sebuah penghargaan oleh Picasso,´ seperti dilansir MailOnline.
A PICASSO painting stolen from Greece´s National Gallery has been found hidden in a ravine nearly nine years after it vanished, officials announced on Tuesday.
The painting - which was personally donated by the Spanish master to the Greek people - was stolen alongside two other artworks in an audacious heist in 2012.
Until now, the perpetrator had evaded officials, but a 49-year-old who is said to have lived between Greece and England has now been arrested.
The painting, called ´Head of a Woman´ and gifted by Pablo Picasso to Greece in 1949, was recovered in Keratea, a rural area some 28 miles southeast of Athens, officials told a news conference.
A video shared online by the Greek police showed where the man had hidden the paintings. They were found in a ravine, wrapped in plastic sheets for protection and hidden beneath some dense and dry shrubbery in a riverbed, the footage shows.
Two other paintings were stolen in the same heist in January 2012. One, called ´Stammer Windmill´ by Dutch painter Piet Mondrian, was also found with the Picasso.
A sketch by 16th-century Italian artist Guglielmo Caccia, better known as Moncalvo, was also stolen, but state television reported it was damaged in the heist and flushed down a gallerey toilet, something the suspect has reportedly confessed to.
´Today is a special day, (a day of) great joy and emotion,´ Culture Minister Lina Mendoni told reporters.
Mendoni said the painting would have been ´impossible´ to sell as it had a personal inscription by Picasso on the back - ´For the Greek people, a tribute by Picasso.´