Vaksin Massal Lamban, 2,8 Juta Warga AS Divaksin dari Distribusi 12,4 Juta Dosis
Just 2.8 Million People have Received Vaccine Out of the 12.4 Million Doses Distributed to the States
Editor : Kemal A Praghotsa
Translator : Novita Cahyadi

PUBLISHED: Jum'at, 01 Januari 2021 , 04:07:00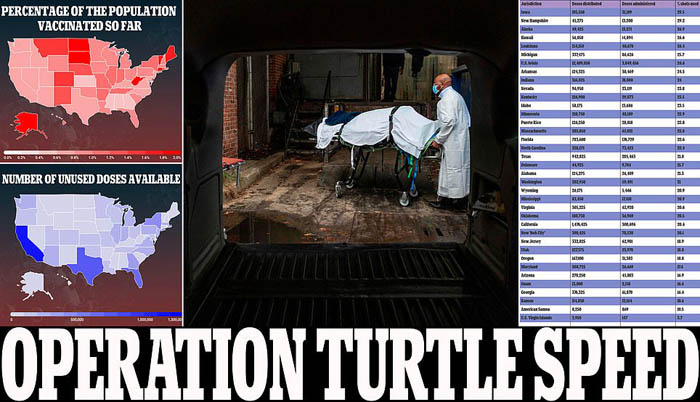 NEGARA BAGIAN: Persentase populasi di seluruh AS yang telah divaksin [kiri atas], vaksin yang didistribusikan ke sejumlah negara bagian yang belum digunakan [kiri bawah] AS catat rekor kematian tertinggi akibat Covid-19 [Foto & Data: MailOnline]
PROGRAM vaksinasi massal dalam sejarah AS telah memasuki hari ke-20, yang memicu pertanyaan mengapa program tersebut berjalan begitu lambat, sementara pandemi virus Corona mengakibatkan kematian bagi warga AS yang tertinggi dunia akibat Covid-19.
Pada Malam Tahun Baru 2021, sekitar 12,4 juta dosis vaksin Pfizer dan Moderna telah didistribusikan ke sejumlah negara bagian, namun hanya 2,8 juta dari dosis tersebut yang benar-benar telah diberikan, menurut otoritas di AS, CDC.
Jumlah tersebut masih jauh di bawah 20 juta dosis yang telah dijanjikan Menteri Kesehatan dan Layanan Kemanusiaan Alex Azar pada akhir tahun ini - dan hal yang disesalkan di balik 100 juta dosis yang dibanggakan oleh Presiden Donald Trump akan diberikan pada 1 Januari. seperti tabel [kanan] menunjukkan persentase vaksinasi yang telah dilakukan di setiap negara bagian, terdaftar dari yang paling efisien hingga yang paling sedikit.
Pejabat kesehatan publik federal, termasuk Dr Anthony Fauci dan Ahli Bedah Umum Jerome Adams, menuding kantor kesehatan negara bagian dan lokal yang menyediakan dana minim berdampak buruk terhadap peluncuran vaksin yang berjalan lamban.
"Kami selalu kekurangan dana untuk kesehatan masyarakat selama beberapa dekade," kata Adams pada Good Morning America, Kamis [31/12] seperti dilansir MailOnline.
TWENTY days into the largest mass vaccination program in U.S. history, questions are mounting about why the rollout is proceeding so slowly, even as the coronavirus pandemic kills Americans at record rates.
As of New Year´s Eve, roughly 12.4 million doses of the Pfizer and Moderna vaccines have been distributed to states, and only 2.8 million of those doses have actually been administered, according to CDC data.
Both numbers are far below the 20 million doses that Secretary of Health and Human Services Alex Azar had vowed to have administered by the end of the year - and woefully behind the 100 million doses that President Donald Trump boasted would be administered by January 1. Indeed, the table (right) shows the percentage of refrigerated shots that have been administered in each state, listed from the most efficient to the least.
Federal public heath officials, including Dr. Anthony Fauci and Surgeon General Jerome Adams, have blamed poorly funded state and local health offices for the sluggish vaccine rollout.
´We´ve always underfunded public health going back several decades,´ Adams told Good Morning America on Thursday.