Tersungkur di Darat, Uber Incar Pasar Taksi Udara mulai 2020
Uber Unveils Its Self-flying Taxi that could Hit City Skies as Soon as 2020
Editor : Ismail Gani
Translator : Novita Cahyadi

PUBLISHED: Senin, 11 Juni 2018 , 00:58:00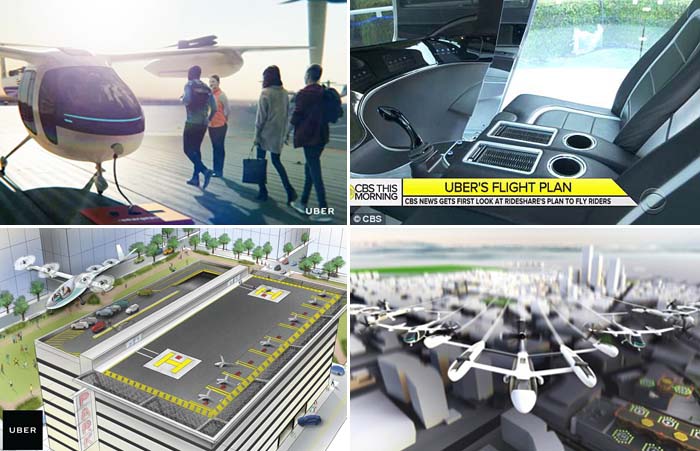 Uber berencana meluncurkan layanan taksi udara pada 2020, dengan pesawat terbangnya sendiri untuk lima hingga 10 tahun ke depan (Foto2: MailOnline)
UBER membulatkan tekad untuk mengembangkan salah satu jaringan taksi terbang untuk perkotaan yang pertama di dunia.
Penyedia transportasi online ini meluncurkan model desain Uber Air untuk pertama kalinya di Elevate Summit di Los Angeles hari ini, mengungkap tentang pesawat mini yang mampu lepas landas dan mendarat secara vertikal disingkat VTOL, yang dapat mengangkut penumpang di atas kota-kota padat dalam dua tahun ke depan.
Model pesawat dengan ukuran aktual atau sebenarnya dan prototipe disain miniatur yang diperlihatkan kepada CBS News memperlihatkan tentang kemampuan ´taksi terbang´ bertenaga listrik dapat mengangkut hingga empat penumpang per unit, langkah awalnya dengan pesawat yang dikendalikan pilot dan kemudian sepenuhnya otonom.
Uber berencana meluncurkan layanan taksi udara pada 2020, dengan pesawat terbangnya sendiri untuk lima hingga 10 tahun ke depan.
Selama pertemuan puncak, para eksekutif Uber juga mengungkapkan bahwa perusahaan tersebut memiliki rencana untuk mengambil hampir 10 kali jumlah penerbangan harian kepada otoritas penerbangan Amerika Serikat (FAA) untuk satu kota - dan, itu dapat menghemat biaya transportasi dengan perkiraan tarif US$2 (Rp26 ribuan) per bisa menghabiskan biaya pengendara kurang dari $ 2 per 1,6 km.
Model pesawat yang ditampilkan di LA sekilas mirip dengan konstruksi helikopter yang akan lepas landas menggunakan serangkaian rotor. Namun, suara mesin pesawat bertenaga listrik diperkirakan tidak berisik.
Rencananya akan bergantung pada jaringan 'Skyports,' yang akan memungkinkan pesawat VTOL Uber Air untuk lepas landas dan mendarat di atap di seluruh negeri.
Saat peluncuran, menurut Kepala Program Penerbangan Eric Allison, perjalanan dengan sistem akan menetapkan tarif Rp75 ribuan per 1,6 km untuk setiap penumpang.
Setelah jumlah penumpang memenuhi rasio bisnis, Uber berencana untuk menerapkan tarif lebih terjangkau, yang ditargetkan hanya Rp22 ribuan per 1,6 km untuk setiap penumpang seperti dilansir MailOnline.
UBER is stepping up its bid to create one of the first urban flying taxi networks.
The firm unveiled its Uber Air design models for the first time at the Elevate Summit in Los Angeles today, revealing a look at the vertical take-off and landing (VTOL) craft that could be ferrying passengers above congested cities in just two years.
A full-size model and miniature design prototype showed off to CBS News show how the electric flying taxis could fit up to four riders per vehicle, at first for piloted flights before ultimately becoming fully autonomous.
Uber plans to launch the air-taxi service in 2020, with its self-flying craft to follow in the next five to 10 years.
During the summit, Uber execs also revealed the firm has plans to take on nearly 10 times the number of daily flights than the FAA for a single city – and, it could cost riders less than $2 per mile.
The models in LA offer a glimpse at the helicopter-like craft that will lift off using a series of rotors. But, the electric vehicles will be far quieter than a helicopter.
The plan will rely on a network of 'Skyports,' which will allow the VTOL Uber Air craft to take off and land on rooftops across the country.
At launch, according to Head of Aviation Programs Eric Allison, a trip with the system will cost about $5.73 per passenger mile.
As ridership increases, the firm plans to make it more affordable, with an ultimate goal of achieving costs of about $1.84 per mile.