Go-Jek Berniat Ekspansi Bisnis ke Empat Negara di Asia Tenggara
Indonesia Ride App Go-Jek to Add 4 Southeast Asian Nations
Editor : Ismail Gani
Translator : Novita Cahyadi

PUBLISHED: Kamis, 24 Mei 2018 , 22:49:00 WIB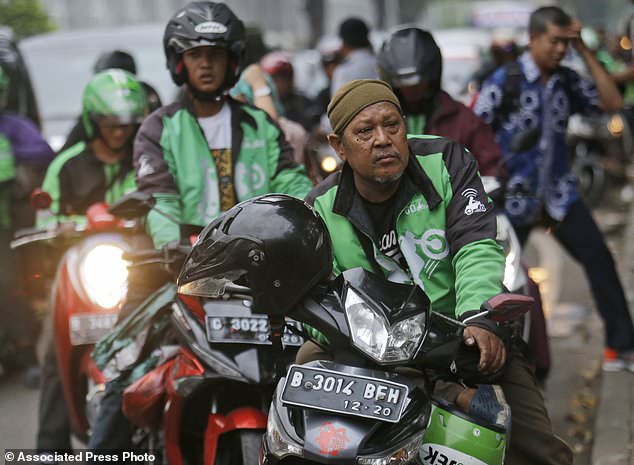 Foto: Associated Press/MailOnline
G0-JEK, penyedia jasa ojek online akan ekspansi bisnis ke Thailand, Vietnam, Singapura, dan Filipina dalam beberapa bulan ke depan, katanya Kamis, diperkirakan meningkatkan persaingan dengan rivalnya, Grab untuk pelanggan di Asia Tenggara.
Go-Jek, yang saat ini hanya beroperasi di Indonesia, mengatakan akan menghabiskan US$500 juta untuk ekspansi regional. Ekspansi ini berpotensi menjadi berita baik bagi konsumen di Asia Tenggara setelah persaingan antara aplikasi online atas kesepakatan Uber pada Maret untuk menjual bisnisnya yang gagal di kawasan Asia Tenggara ke Grab yang berbasis di Singapura.
Go-Jek, yang mendapat suntikan dana dari investor termasuk Google dan Tencent awal tahun ini, mengatakan bisnis luar negerinya pada awalnya akan fokus pada ojek online tetapi akhirnya memperluas ke layanan lain seperti pengiriman makanan.
Dikabarkan ekspansi tersebut untuk meniru dominasi yang telah dicapai di Indonesia, negara Asia Tenggara yang paling padat penduduknya dan ekonomi terbesar. Go-Jek, plesetan ´ojek´ kata Indonesia untuk ojek, telah dianut oleh penduduk kota di Indonesia sebagai solusi untuk mengatasi jalan-jalan yang macet secara kronis.
Go-Jek dan Grab mencoba untuk mendapatkan lebih banyak pendapatan dari pelanggan mereka yang bepergian dengan mengubah aplikasi mereka menjadi one-stop shop untuk berbagai layanan termasuk belanja, pengiriman, pembayaran dan peminjaman.
Go-Jek mengatakan pihaknya masih koordinasi dengan regulator di Indonesia untuk memuluskan langkah ekspansi bisnis di Asia Tenggara. Dikatakan bahwa masing-masing bisnis di luar negeri Go-Jek akan melibatkan pengusaha setempat dan mengembangkan merek mereka sendiri, "untuk memastikan daya tarik di setiap pasar baru."
Grab sudah beroperasi di delapan negara di Asia Tenggara, wilayah dengan lebih dari 600 juta orang.
"Konsumen paling bahagia ketika mereka memiliki pilihan dan pada saat ini, warga di Vietnam, Thailand, Singapura, dan Filipina tidak merasa mereka mendapatkan layanan optimal ketika mereka memilih layanan aplikasi online," kata pendiri Go-Jek, Nadiem Makarim seperti dikutip Associated Press yang dilansir MailOnline.
INDONESIAN ride-hailing app Go-Jek will expand into Thailand, Vietnam, Singapore and the Philippines in the next few months, it said Thursday, stepping up competition with rival Grab for Southeast Asian customers.
Go-Jek, which currently only operates in Indonesia, said it will spend $500 million on the regional expansion. It´s potentially good news for consumers in Southeast Asia after competition between ride-hailing apps lessened with Uber´s agreement in March to sell its failing business in the region to Singapore-based Grab.
Go-Jek, which got a cash injection from investors including Google and Tencent earlier this year, said its overseas businesses will initially focus on ride hailing but eventually expand to other services such as food delivery.
It said it wants to replicate the dominance it has achieved in Indonesia, Southeast Asia´s most populous nation and biggest economy. Go-Jek, a play on "ojek," the Indonesian word for motorcycle taxi, has been embraced by citydwellers in Indonesia as a solution to chronically congested roads.
Both it and Grab are trying to extract more revenue from their ride-hailing customers by transforming their apps into one-stop shops for an array of services including shopping, deliveries, payments and lending.
Go-Jek said it is still working with regulators to smooth the way for its new operations. It said each of the overseas businesses will have local founders and develop their own brands "to ensure good traction in each new market."
Grab already operates in eight countries in Southeast Asia, a region of more than 600 million people.
"Consumers are happiest when they have choice and at the moment, people in Vietnam, Thailand, Singapore and the Philippines don´t feel they´re getting enough when it comes to ride-hailing," said Go-Jek´s founder Nadiem Makarim.