September 1968 Diluncurkan, Boeing 747 Rayakan 50 Tahun Mengudara
The Boeing 747 as it Celebrates its 50th Anniversary
Editor : Ismail Gani
Translator : Novita Cahyadi

PUBLISHED: Minggu, 30 September 2018 , 01:47:00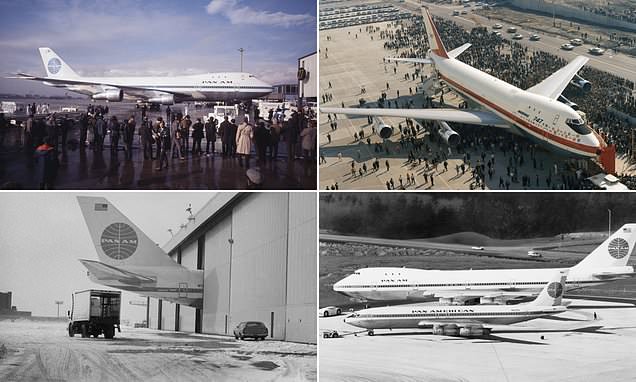 Sejak bergulir dari jalur produksi pada 30 September 1968, lebih dari 1.500 unit 747 telah mengudara, dan 500 di antaranya masih beroperasi (Foto2: MailOnline)
TIDAK HERAN kalau dijuluki sebagai ´Ratu di Langit´ yang menjadi pelopor perjalanan udara ke pasar massal, ditunjang dua dek dan kecepatan jelajah tertinggi dari setiap pesawat jet komersial saat ini, 0,855 mac atau setara hampir 1.046 km per jam.
Boeing 747 telah mengokohkan posisinya di tempat terhormat dalam sejarah penerbangan - dan foto-foto luar biasa ini menunjukkan awal dari kisahnya saat merayakan ulang tahun ke 50 peluncurannya akhir pekan ini.
Tampil model pertama untuk mengantisipasi lonjakan penumpang pesawat terbang, penerbangan komersial pertama dan, lucunya, lebar dan panjang bodinya membuatnya tidak cukup masuk beberapa hanggar.
Asal-usul pengembangannya ke awal 1960-an ketika Boeing setelah dipimpin CEO Bill Allen didekati oleh Juan Trippe, bos dari Pan Am Airlines, maskapai AS yang sudah ´almarhum´, untuk membangun sebuah pesawat yang lebih besar untuk mengatasi masalah yang berkembang kemudian setelah penumpang perjalanan udara melonjak drastis.
Boeing awalnya dianggap sebagai pesawat yang sepenuhnya memiliki dua dek, tetapi perusahaan-perusahaan khawatir bahwa akan sulit untuk mengevakuasi jika terjadi keadaan darurat, sebaliknya memilih desain ´tubuh lebar´ lorong ganda dengan dek depan atas. Jet besar itu membutuhkan pembangunan pabrik perakitan besar 747 di Everett, Washington, gedung terbesar di dunia berdasarkan volume.
Sejak bergulir dari jalur produksi pada 30 September 1968, lebih dari 1.500 unit 747 telah mengudara, dan 500 di antaranya masih beroperasi. Sekarang 50 tahun berlalu, 747 tengah ´terancam punah´ dari layanan dalam mendukung Boeing 777, yang biaya operasionalnya diyakini lebih efektif untuk maskapai penerbangan seperti dilansir MailOnline.
NO WONDER they call it the Queen of the Skies - it brought air travel to the mass market, has two decks and has the highest cruising speed of any current airliner (mach 0.855/650mph).
The Boeing 747 has definitely cemented its place in aviation history - and these incredible pictures show the beginning of its story as it celebrates the 50th anniversary of its launch this weekend.
They show the very first model to roll off the production line, the first commercial flight and, comically, how it was too big for some hangars.
The origins of the aircraft date to the early 1960s when Boeing´s then chief Bill Allen was approached by Juan Trippe, head of now-defunct Pan Am Airlines, to build a bigger plane to address the growing problem of airport crowding.
Boeing originally considered a fully double-decked aircraft, but the companies were concerned that it would be difficult to evacuate it in case of an emergency, opting instead for a twin-aisle ´wide body´ design with an upper forward deck. The massive jet required the construction of the enormous 747 assembly plant in Everett, Washington, the world´s largest building by volume.
Since it rolled off the production line on September 30, 1968, more than 1,500 747s have been delivered, and 500 are still in service. Now 50 years on, the 747 is being phased out of service in favour of the Boeing 777, which is believed to be more cost effective for airlines.