Diduga Sisa PD II, Nelayan Temukan Bangkai Pesawat Tempur di Laut Lamongan
Fishermen Find Wreckage of Fighter Plane in Lamongan Sea
Editor : Cahyani Harzi
Translator : Novita Cahyadi

PUBLISHED: Selasa, 23 Mei 2023 , 14:52:00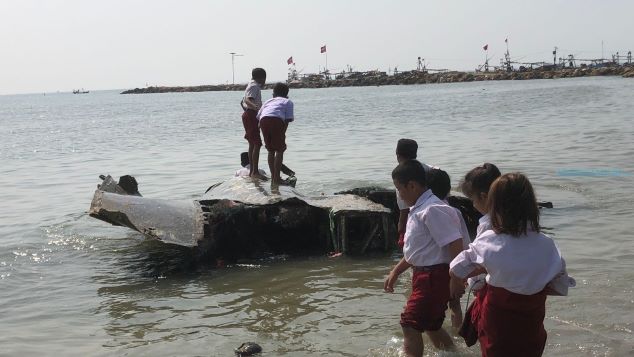 PESAWAT TEMPUR: Bangkai pesawat tempur sisa Perang Dunia II yang ditemukan nelayan menjadi tontonan warga di Lamongan. (Foto: Istimewa)
Lamongan, Jatim [B2B] - Seorang nelayan bernama Miftah menemukan puing pesawat diduga sisa Perang Dunia II di kedalaman kurang lebih 30 meter di utara pantai Kecamatan Pacitan, Kabupaten Lamongan.
Miftah mengatakan bahwa bangkai pesawat tersebut ditemukan sudah tidak dalam kondisi utuh.
"Iya, ditemukan pertama kali oleh Bapak Miftah yang waktu itu sedang melaut untuk menangkap ikan, pada Minggu lalu," ujar Ma'mun Murod, Sekretaris DPC Himpunan Nelayan Seluruh Indonesia [HNSI] Kabupaten Lamongan, Selasa [23/5].
Murod menjelaskan bahwa Miftah saat itu sedang menabung jaring ikan. Akan tetapi, setibanya di titik yang tak jauh dari lokasi pengeboran minya, jaringnya tiba-tiba menyangkut suatu benda yang ada di dasar laut.
Kemudian, Miftah mengecek jaring penangkap ikan miliknya tersebut dan mencoba menariknya sendirian. Awalnya, Miftah belum mengetahui jika jaring itu menyangkut pada bagian bangkai pesawat tempur yang sudah tenggelam di dasar laut sejak lama.
Selain itu, Miftah juga berniat akan menyingkirkan benda yang tersangkut itu agar tidak menggangu para nelayan lain saat melaut. Selang sejenak, Miftah baru mengetahui jika benda yang tersangkut di jaring itu adalah puing atau bangkai pesawat.
Miftah mencoba untuk menariknya ke bibir pantai. Nahasnya, saat Miftah berada di jarak sekitar 2 mil dari pantai, perahunya kehabisan solar. Akhirnya Miftah memutuskan untuk memasang tanda dan meminta bantuan kepada warga nelayan setempat.
"Bangkai pesawat tempur tersebut ditemukan tidak jauh dari jagrak [pengeboran minyak] yang lokasinya sekitar 12 mil dari bibir pantai. Bangkai pesawat itu menyangkut alat tangkap nelayan," terang Murod.
Murod membenarkan bahwa saat ini kondisi pesawat itu sudah tak utuh. Pasca ditemukan pada Minggu kemarin, lalu sehari setelahnya bangkai itu baru bisa dibawa menepi dan ditarik ke daratan oleh warga nelayan.
"Ditemukan hari Minggu, Bapak Miftah pukul 06.30 WIB, meminta bantuan kepada nelayan lainnya untuk melakukan penarikan bangkai pesawat. Kondisinya tak utuh. Hanya ada bagian depan, baling-baling dan sayap pesawat, ekornya tak utuh. Lalu hari Senin sekira pukul 14.00 ditarik ke daratan," bebernya.
ebih lanjut, Murod meyakini bahwa bangkai pesawat itu masih ada hubungannya dengan Desa Weru. Pasalnya, dulu di Desa Weru pernah ada pangkalan militer yang diduga didirikan oleh pasukan sekutu. Tempat itu kini dikenal oleh masyarakat dengan sebutan Tangsi.
"Dulu di Desa Weru pernah ada pangkalan militer yang cukup besar. Namanya Tangsi, yang kini lokasinya berada di sekitaran pasar atau TPI Desa Weru," jelasnya.
Sementara itu, Danramil 0812/17 Paciran, Kapten Kav Sumaji saat dikonfirmasi menyatakan bahwa bangkai pesawat terbang jenis pesawat tempur itu diperkirakan telah digunakan oleh pasukan sekutu saat Perang Dunia II tahun 1942.
Danramil Paciran itu juga menyebut bahwa kawasan pesisir pantai utara ini kerap dijadikan sebagai jalur peperangan saat Perang Dunia Ke II meletus. Sehingga, saat itu banyak pesawat serupa yang melintasi perairan Laut Jawa.
"Kami menganalisa bahwa pesawat itu adalah pesawat peninggalan perang dunia kedua. Pesawat itu diperkirakan dipakai oleh pasukan sekutu, yakni Angkatan Udara Hindia Belanda," paparnya.
Lamongan of East Java [B2B] - A fisherman named Miftah found a plane wreckage suspected to be left over from World War II at a depth of approximately 30 meters on the north coast of Pacitan District, Lamongan Regency.
Miftah said that the wreckage of the plane was found not in its intact condition.
"Yes, it was first discovered by Mr. Miftah, who at that time was out at sea to catch fish, last Sunday," said Ma'mun Murod, Secretary of the DPC All Indonesian Fishermen's Association [HNSI] Lamongan Regency, Tuesday [23/5].
Murod explained that at that time Miftah was saving fishing nets. However, upon arrival at a point not far from the oil drilling site, the net suddenly caught on an object on the seabed.
Then, Miftah checked his fishing net and tried to pull it out alone. Initially, Miftah did not know if the net was connected to the wreckage of a fighter plane that had sunk to the bottom of the sea for a long time.