Bangkai Pesawat Boeing 737 Disulap Menjadi Villa di Bali
Abandoned Boeing 737 on a Bali Clifftop Transformed into a Stunning £6k-a-Night Holiday Villa
Editor : Ismail Gani
Translator : Novita Cahyadi

PUBLISHED: Jum'at, 23 Desember 2022 , 15:40:00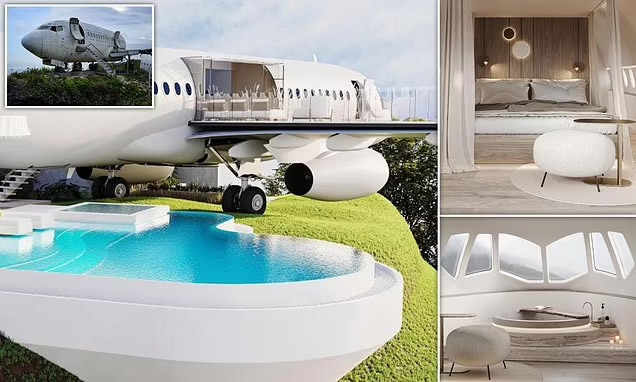 PARIWISATA INDONESIA: Pengusaha Rusia Felix Demin membeli model terlantar tahun lalu dan membongkarnya, mengangkutnya dengan truk dan derek ke titik tebing pada September 2021. (Foto: MailOnline)
BOEING 737 yang terbengkalai telah diubah menjadi villa persewaan liburan menakjubkan yang bertengger di tebing setinggi 150 m di dekat pantai Nyang Nyang di Bali, Indonesia.
Rendering mengungkapkan beberapa fitur persewaan yang menarik, yang meliputi kolam renang dan jalan bertepi kaca di sayap pesawat, yang sebagian ditopang di atas tepi tebing.
Disebut ´Vila Jet Pribadi oleh Hanging Gardens Air´, persewaan unik adalah sesuatu yang bisa dihemat - harganya £6.000 [Rp112 juta] per malam di Booking.com.
Pesawat tersebut awalnya dimiliki oleh perusahaan Indonesia Mandala Airlines, yang berhenti beroperasi pada tahun 2014.
Pengusaha Rusia Felix Demin membeli model terlantar tahun lalu dan membongkarnya, mengangkutnya dengan truk dan derek ke titik tebing pada September 2021. Butuh waktu seminggu untuk mengangkut bagian-bagian pesawat ke tebing setelah mendapatkan izin akses yang diperlukan, ungkapnya.
Warga Bali itu mengatakan, pesawat yang sudah dibongkar itu akan dijual sebagai besi tua ke China saat dibeli. Saat itu, dia memperkirakan tempat itu akan menjadi tempat yang populer bagi para fotografer.
Para tamu memasuki pekarangan vila melalui gapura kayu, berjalan di sepanjang tangga batu yang mengarah ke dalam pesawat.
Di dalam, ada dua kamar tidur yang dilengkapi dengan warna krem ​​netral dan warna batu, dengan tirai yang menutupi tempat tidur dan lantai kayu.
Ada ruang tamu berwarna krem ​​dan dapur lengkap untuk menyiapkan makanan, serta dua kamar mandi terpisah.
Gambar menunjukkan bahwa ada bak batu bergaya yang ditempatkan di hidung pesawat, terselip di bawah jendela kokpit.
AN ABANDONED Boeing 737 has been transformed into a stunning holiday rental that's perched on a 150m- (492ft) high cliff near Nyang Nyang beach in Bali, Indonesia.
Renderings reveal some of the rental´s eye-catching features, which include a swimming pool and a glass-edged walkway on the wing of the plane, which is partially cantilevered over the cliff edge.
Called 'Private Jet Villa by Hanging Gardens Air', the unique rental is something to save up for - it's priced at £6,000 ($7,280) per night on Booking.com.
The plane was originally owned by Indonesian company Mandala Airlines, which ceased operations in 2014.
Russian entrepreneur Felix Demin bought the derelict model last year and disassembled it, hauling it by truck and crane to the cliffside spot in September 2021. It took a week to transport the plane´s parts to the cliff after securing the necessary access permits, he revealed.
The Bali resident said that the disassembled plane was about to be sold as scrap metal to China when he purchased it. At the time, he anticipated that it would become a popular spot for photographers.
Guests enter the villa grounds via a wooden archway, walking along a stone staircase that leads the way inside the aircraft.
Inside, there are two bedrooms furnished in neutral beige and stone tones, with curtains draped by the beds and wooden flooring.
There's a cream-toned living area and a fully-equipped kitchen for preparing meals, as well as two separate bathrooms.
Pictures show that there's a stylish stone tub positioned at the nose of the plane, tucked below the cockpit windows.