Hotel Mewah di Udara, Four Seasons Segera Luncurkan Jet Pribadi Terbaru
Four Seasons Unveils its Stunning New Private Jet
Editor : Ismail Gani
Translator : Novita Cahyadi

PUBLISHED: Senin, 13 Mei 2019 , 01:00:00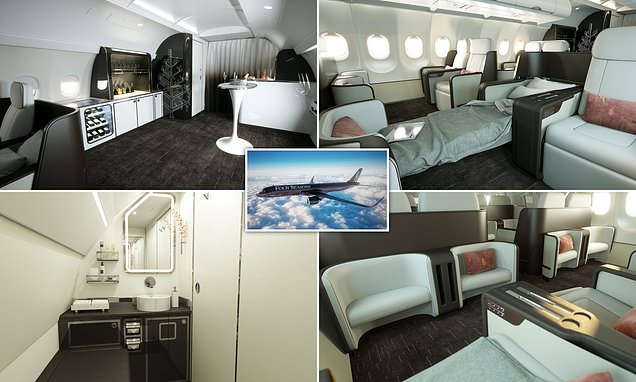 Tersedia ruang untuk 48 penumpang di pesawat, yang akan dapat bersantai di kursi yang dirancang oleh Optimares dan dilapisi kulit yang dipasok oleh produsen Italia Poltrona Frau [Foto2: MailOnline]
JARINGAN hotel mewah Four Seasons sedang meningkatkan layanan jet pribadinya dengan pesawat anyar yang akan dilengkapi kursi dari kulit buatan tangan, ruang rapat dan juru masak eksekutif di dalam pesawat.
Perusahaan perhotelan terkemuka di dunia mengumumkan bahwa Four Seasons 'merenovasi' interior Airbus A321LR seperti halnya hotel bintang lima sehingga dapat membawa pelancong kaya dalam tur keliling dunia - dan merilis serangkaian kabin mewah untuk memuaskan selera mereka.
Pesawat jet komersial akan mengudara pada awal 2021 dengan Four Seasons menjanjikan bahwa pesawat akan 'membangkitkan perjalanan udara glamor seperti di masa lalu' dengan suasana terkini.
Pesawat ini sedang dibangun untuk menggantikan jet pribadi Four Seasons, Boeing 757, yang diluncurkan pada 2015.
Menurut Four Seasons, jet barunya akan memiliki kabin tertinggi dan terluas di kelasnya, dengan fitur utama sebagai area lounge baru yang luas.
Di sini, para tamu akan memiliki kesempatan untuk bersosialisasi dengan penumpang lain di dalam pesawat, serta mengambil bagian dalam pertemuan interaktif dengan master chef, pembuat koktail, pakar kesehatan dan pecinta seni dan budaya.
Tersedia ruang untuk 48 penumpang di pesawat, yang akan dapat bersantai di kursi yang dirancang oleh Optimares dan dilapisi kulit yang dipasok oleh produsen Italia Poltrona Frau. Setiap kursi juga didukung fasilitas pribadi.
Selain itu, kamar mandi di dalam kapal dibuat lebih besar dengan Four Seasons mengatakan mereka akan menambahkan 'kenyamanan dan fleksibilitas, mencerminkan gaya ekslusif dan mewah'.
Dalam hal makanan, koki eksekutif Four Seasons yang berada di atas kapal akan memiliki area dapur yang luas untuk menyiapkan menu yang terinspirasi oleh perjalanan itu sendiri.
Koki eksekutif akan bergabung dengan pramugari, direktur khusus melayani tamu, dokter dan kru penerbangan terlatih Four Seasons.
Jadwal perjalanan dengan jet Four Seasons sedang disiapkan dan akan dirilis akhir tahun ini.
Namun, tentunya semua fasilitas tersebut tidaklah murah. Sebagai contoh, sebuah tempat di perjalanan Four Seasons World of Adventures pada 2020 di atas pesawat jet pribadinya saat ini, untuk mengunjungi elapan negara dalam 24 hari, dikenai biaya Rp2 miliar seperti dilansir MailOnline.
Christian Clerc, presiden operasi hotel di seluruh dunia untuk Four Seasons Hotels and Resorts, mengatakan: 'Pengalaman jet pribadi Four Seasons mendefinisikan perjalanan udara mewah modern, mendorong koneksi yang bermakna antara orang-orang dan tempat-tempat sambil memberikan perjalanan yang ekslusif dan sangat personal.'
LUXURY HOTEL chain Four Seasons is upgrading its private jet service with a brand new aircraft that will have hand-crafted leather seats, in-flight workshops and an on-board executive chef.
The hospitality firm has announced that it is fully customising a new long-range Airbus A321LR aircraft so it can take wealthy travellers on round-the-world tours - and released a set of renderings of the new cabin to whet their appetites.
The jet will take flight in early 2021 with Four Seasons promising that the plane will 'evoke the bygone glamour of air travel'.
The aircraft is being built to replace the current Four Seasons private jet, a Boeing 757, that launched in 2015.
According to Four Seasons, the new jet will have the tallest and widest cabin in its class, with a key feature being a spacious new lounge area.
Here, guests will have a chance to socialise with the other passengers on board, as well as take part in interactive workshops with the likes of master chefs, cocktail makers, wellness experts and arts and culture aficionados.
There will be space for 48 passengers on board the aircraft, who will be able to relax in seats designed by Optimares and covered in leather supplied by Italian producer Poltrona Frau. Each seat also has its own personal ottoman.
In addition, the on-board bathrooms are being made bigger with Four Seasons saying they will have added 'comfort and flexibility, reflecting a more residential style'.
When it comes to food, an on-board Four Seasons executive chef will have an expanded galley area in which to prepare menus that are inspired by the journey itself.
The executive chef will be joined by a concierge, director of guest experience, a physician and Four Seasons trained in-flight crew.
Travel itineraries aboard the new Four Seasons jet are currently in development and will be released later this year.
However, they probably won't come cheap. For example, a place on the Four Seasons World of Adventures trip in 2020 on board its current private jet, which takes in eight countries in 24 days, costs $155,000 (£120,000).
Christian Clerc, president of worldwide hotel operations for Four Seasons Hotels and Resorts, said: 'The Four Seasons private jet experience defines modern luxury air travel, encouraging meaningful connections between people and places while delivering a seamless and highly personalised journey.'