Nilai Perusahaan Rp49,5 Triliun, Transformasi Delta Airlines sejak 1924
Delta Air Line`s Transformation over 10 Decades into a Titan of Aviation worth $37b
Editor : Ismail Gani
Translator : Novita Cahyadi

PUBLISHED: Rabu, 15 Mei 2019 , 01:29:00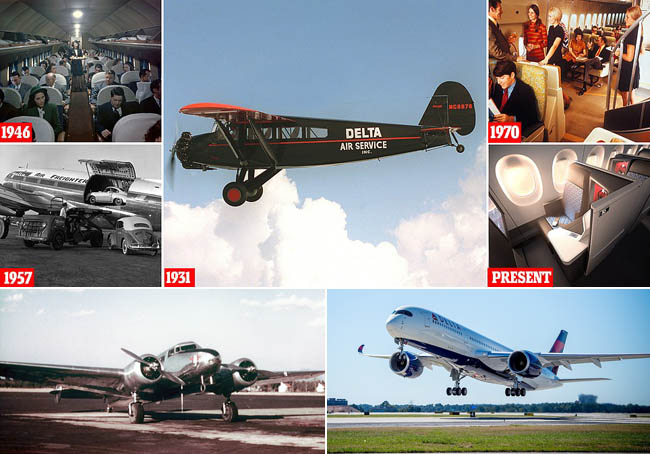 Dari tahun 1970 revolusi terus berlanjut, dengan Boeing 747-100, 727 dan 757. Melaju cepat ke 1999 mengandalkan TV kursi belakang berteknologi tinggi pada Boeing 777 milik maskapai [Foto2: MailOnline]
DELTA AIR LINES yang bermarkas di Atlanta bernilai 49,5 triliun dan menerbangi 370 destinasi di enam benua dengan pesawat jet mutakhir.
Ini benar-benar maskapai raksasa.
Awalnya adalah maskapai kecil yang menapak karier pada 1924. Ketika meluaskan layanannya menggunakan pesawat yang hanya berkecepatan 144 km per jam, diikuti setumpuk problem. Delta telah melakukan perjalanan panjang - dan foto-foto menarik ini memperlihatkan transformasi dramatis maskapai dunia ini selama beberapa dekade.
Tampak beberapa pesawat penumpang paling awal, model 1931 yang menyediakan lima kursi penumpang, kemudian pada 1940 mengandalkan Douglas DC-3, yang menampung 21 penumpang dengan kecepatan maksimal 273 km per jam, memasuki 1946 diperkuat DC-4, yang menyediakan 44 kursi dan kecepatan maksimal 346 km per jam.
Menjelang akhir 1950-an, perjalanan udara dengan Delta adalah proposisi yang sama sekali berbeda. DC-8 melaju dengan kecepatan lebih dari 804 km per jam dan menawarkan kursi kulit dan lounge kelas satu di masanya.
Dari tahun 1970 revolusi terus berlanjut, dengan Boeing 747-100, 727 dan 757. Melaju cepat ke 1999 mengandalkan TV kursi belakang berteknologi tinggi pada Boeing 777 milik maskapai. Hari ini, armada Delta termasuk Airbus A350 yang mengesankan, yang memiliki suite kelas bisnis dengan pintu privasi dan dek penerbangan yang terlihat sangat fiksi ilmiah seperti dilansir MailOnline.
ATLANTA-BASED Delta Air Lines is worth $37billion (£28billion) and flies to 370 destinations on six continents with state-of-the-art aircraft.
Truly, it's a titan of aviation.
But it started life as a crop-dusting outfit in 1924. And when it expanded to passenger transportation it used planes that could only hit 90mph, with the wind behind them. Delta has been on quite a journey, then – and these fascinating pictures illustrate the carrier's dramatic transformation over the decades.
They show some of its earliest passenger planes, a restored 1931 model with five passenger seats, a 1940 Douglas DC-3, which had 21 seats and was capable of 170mph, and a 1946 DC-4, which had 44 seats and a brisk-for-the-time top speed of 215mph.
By the late 1950s, air travel with Delta was an entirely different proposition. Its DC-8s cruised at over 500mph and offered leather first-class seats and lounges.
From 1970 the revolution continued apace, with Boeing 747-100s, 727s and 757s. Fast forward to 1999 and there are hi-tech seat-back TVs on board the airline's 777s. Today, Delta's fleet includes the impressive Airbus A350, which has business-class suites with privacy doors and flight decks that look distinctly sci-fi.