Sepatu Kets Lama Tampak Baru, Ini Kiatnya dari Reddit
Transform Your Old Sneakers in Seconds
Editor : Ismail Gani
Translator : Novita Cahyadi

PUBLISHED: Rabu, 19 Desember 2018 , 15:19:00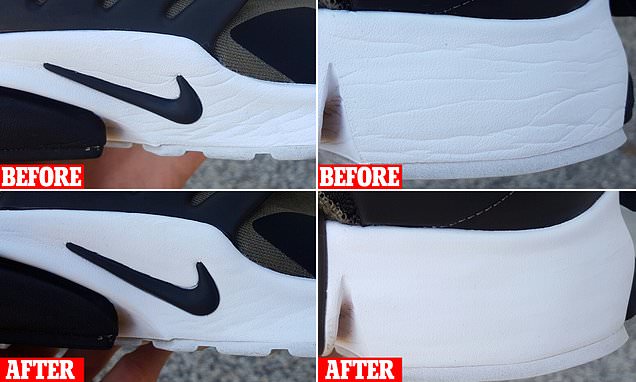 Foto2: MailOnline
SEPATU baru sangat bagus, tetapi hanya ketika sepatu baru dibeli dan merupakan merek baru.
Begitu sepatu mulai terlihat sedikit usang, sol karet bisa menjadi kusut dan keriput, mengakibatkan sepatu Anda tampak lelah, usang dan tua.a
Namun Anda tidak harus mengabaikannya dalam kondisi begitu. Cukup, dengan bantuan satu alat rumah tangga sederhana Anda dapat menghilangkan kerutan dan membuat sepatu kets Anda kembali tampak baru.
Pengguna Reddit PartyxDirtyDan berbagi foto sebelum dan sesudah sepatu ketsnya dipoles dan mengungkapkan bahwa ia menggunakan pengering rambut untuk menyetrika kerutan pada sol sepatunya.
Perbedaannya jelas terlihat: pada sepasang foto pertama, sepatu tampak kusut dan lusuh.
Pada yang kedua, sepatu telah benar-benar berubah dan terlihat seolah-olah baru dibeli.
'Dicoba menggunakan pengering rambut pada Acronym Prestos setelah saya melihat posting tentang blok NMD yang tidak dikeraskan. Hasilnya luar biasa!, 'Dan dia mengunggahnya pada forum Reddit.
Dia kemudian menjelaskan dengan tepat bagaimana dia melakukan proses yang sederhana.
'Ketika Anda melakukan ini, pastikan untuk memanaskan bintik-bintik selama satu menit pada satu waktu dan pindah ke bagian lain,' dia menjelaskan.
'Tentukan area yang Anda kerjakan untuk memastikan Anda tidak mencairkan lem pada outsole dan bagian atas. Saya hanya melakukan beberapa putaran di setiap tempat dan hasilnya bagus.'
Dia menambahkan bahwa pengering tentu harus di 'panas' pengaturan sebagai 'phylon pasti perlu cukup panas untuk membuat busa lentur'.
'Setelah Anda mengoleskan panas jangan letakkan jari Anda di area yang panas sampai mereka mendingin atau Anda bisa meninggalkan jejak,' Dan diposting.
"Ini adalah proses yang membosankan, tetapi berhati-hatilah di mana Anda meletakkan tangan Anda dan arahkan pengering pukulan [hati-hati]."
Sejak tips dan trik itu diunggah, ribuan pengguna Reddit telah mencoba trik - dengan hasil bagus.
'Sh*t hal seperti ini yang membuat saya suka Reddit,' kata pengguna Reddit seperti dilansir MailOnline.
NEW SNEAKERS are great, but only when they look sparkling and brand new.
As soon as they start to look a little worn, the rubber soles can become squished and wrinkled, leaving your shoes looking tired, worn out and old.
But you don't have to leave your trainers this way. In fact, with the help of one simple household item you can remove the wrinkles and leave your sneakers looking brand new.
Reddit user PartyxDirtyDan shared a before and after photo of his sneakers and revealed that he used a hairdryer on the foam of his shoes to help to iron out the crinkles.
The difference is clear to see: in the first pair of photos, the shoes look wrinkled and worn.
In the second, the shoes have been totally transformed and look as though they have come straight from the shops.
'Tried using a blow dryer on my Acronym Prestos after seeing the post about un-creasing NMD blocks. Worked great!,' Dan posted on a Reddit forum.
He then explained exactly how he carried out the simple process.
'When you do this make sure to heat spots for about a minute at a time and move on to another section,' he explained.
'Switch off on the areas you work on to make sure you don't melt the glue on the outsole and upper. I just did a few rounds on each spot and it turned out great.'
He added that the dryer certainly needs to be in the 'hot' setting as the 'phylon definitely needs to get hot enough to become a pliable foam'.
'After you apply heat don't put your fingers on the hot areas until they have cooled down or you could leave an imprint,' Dan posted.
'It's a tedious process, but just be careful of where you put your hands and aim the blow dryer [carefully].'
Since he posted, thousands have tried the trick - with successful results.
'Sh*t like this is why I love Reddit,' one person posted.