Turbulensi Picu Nervous, Simak Posisi Nyaman Tanpa Guncangan di Pesawat
Want to Know where to Sit on a Plane to Minimise the Effects of Turbulence?
Editor : Ismail Gani
Translator : Novita Cahyadi

PUBLISHED: Minggu, 01 April 2018 , 16:23:00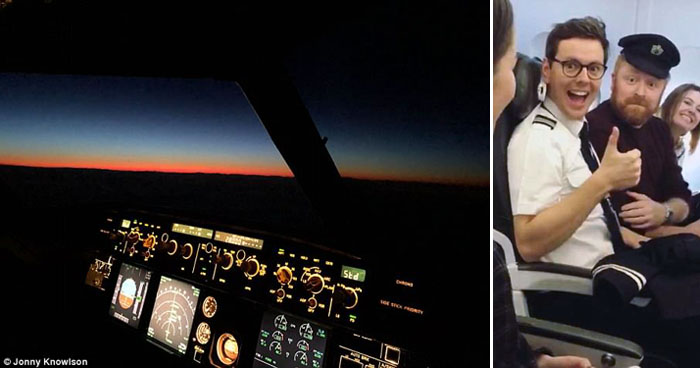 Foto2: MailOnline
PILOT KOMERSIAL Jonny Knowlson mengungkapkan tips posisi ´kursi terbaik´ di pesawat untuk perjalanan tanpa guncangan turbulens, tidur nyenyak di malam hari, dan keluar cepat dari kabin. Para penumpang pun mengakuinya sebagai pilot berpengalaman yang faham hampir semua tipe seat di pesawat.

Anda mungkin terkejut setelah mengetahui bahwa tidak semua penumpang di pesawat terbang komersial merasakan dampak turbulensi dengan cara yang sama.

Hal itu terjadi lantaran ada beberapa bagian dari pesawat yang tidak terlalu terguncang meski dihantam turbulensi.

Dan melalui artikel ini, pilot komersial Jonny Knowlson - alias Jonny the Pilot, nama ini yang populer di media sosial - mengungkapkan rahasia tersebut bagi siapa pun di mana pun berada. Selain itu, dia juga mengungkap tentang posisi kursi terbaik untuk lelap tidur malam dan penumpang yang kepingin cepat keluar dari kabin.

Kursi Anti-turbulensi
Penumpang yang penakut, simak ini baik-baik ya, katanya.

"Jika Anda ingin terbang mulus tanpa guncangan keras," kata Jonny, "apakah Anda tahu bahwa duduk di atas sayap pesawat besar di ketinggian maksimal ternyata tempat paling ideal dan nyaman dari ancaman turbulensi."

"Menjadi lebih dekat dengan pusat massa pesawat, sementara kekuatan seperti lift, torsi, angin, gravitasi, dan lainnya ketika Anda berada di atasnya berarti Anda berada di tempat terbaik di kabin untuk menikmati perjalanan yang mulus dari penumpang lain."

Tidur Lelap
"Untuk mendapatkan kursi yang paling tenang adalah sejauh mungkin dari mesin pesawat itu pun tergantung dari kemampuan kantong Anda," kata kata Jonny, yang mengatakan bahwa sebagai pilot dan frequent flyer, ia duduk di hampir setiap kursi. 'Jika Anda tidak kebagian kursi di barisan depan, maka duduklah di kursi lorong. Posisi tersebut lebih tenang ketimbang dekat jendela, meskipun pemandangannya kurang menarik.´

"Tempat terbaik untuk tidur mungkin di tengah kabin karena Anda jauh dari kebisingan toilet dan pramugari yang bekerja keras di dapur kabin."

Renggangkan Kaki
´Untuk para orangtua, dengan sedikit kesempatan untuk beristirahat, harus selalu mencoba untuk mengambil kursi sekat tetapi berhati-hatilah semua yang perlu disimpan untuk lepas landas dan mendarat,´ kata Jonny.

"Saya merekomendasikan Seat Guru, situs web luar biasa yang memberikan saran terbaik. Yang dibutuhkan hanyalah mencantumkan nama maskapai Anda, nomor penerbangan dan tanggal yang Anda rencanakan untuk bepergian."

"Misalnya, saya baru-baru ini terbang ke Jenewa dengan Airbus A319. Menurut website Seat Guru sebaiknya di baris 10, kursi B, C, D dan E sangat bagus karena keempat kursi memiliki "ruang untuk kaki ekstra karena berada di pintu darurat" - sudah dapat! Konsekuensinya, Anda harus siap untuk menyimpan tas tangan Anda di loker di atas kepala karena dilarang menaruh tas di bawah kursi.

'Contoh lain, jika Anda terbang dengan pesawat Dreamliner (787), maka setiap kursi di baris 30 adalah yang menyediakan ruang untuk kaki lebih luas.

"Namun, tantangan yang perlu dipertimbangkan termasuk meja baki dan monitor video di sandaran tangan mungkin mengurangi lebar kursi, kata Seat Guru.

'Juga bisa membuat frustrasi jika sesama penumpang berkumpul di sekitar toilet di depan Anda.

´Sadarilah bahwa baris 12 dan 13 pada pesawat yang sama memiliki tempat duduk yang mungkin memiliki batasan berbaring, menurut website tersebut.

'Jika Anda melakukan perjalanan bisnis dengan Queen of the Skies, Boeing 747, maka di lantai atas di kursi 62a sangat bagus. Akses mudah, ruang untuk kaki ekstra, dan layanannya luar biasa."

Tetap di Kiri
'Jika Anda penumpang yang membawa tas besar ke kabin untuk ditaruh di loker atas nah ini yang penting," kata Jonny. "Berada di kerumunan, tentunya menyebalkan, sebagian besar pesawat mengharuskan penumpang dari belakang harus kembali ke pintu depan untuk keluar kabin
sembari menyeret barang-barang Anda. Segera tenteng barang bawaan Anda menuju pintu keluar."

"Karena itu, kiri depan dan kiri belakang pada banyak penerbangan jarak pendek bekerja dengan baik seperti yang biasanya kita turun dari sisi pesawat, depan dan belakang.

"Dan dengan keluar di sisi kiri pesawat yang lebih besar sangat penting jika Anda ingin menghindari berada di belakang antrian paspor, terutama pada A380."

'Ingat, maskapai penerbangan mengonfigurasi kabin secara berbeda, jadi pastikan untuk memperhitungkannya.'

Kursi Terbaik?
"Tanpa pertanyaan, kursi terbaik di pesawat adalah milik saya," kata Jonny. 'Jangan percaya saya? Datang dan beri salam pada penumpang entah sebelum lepas landas atau ketika kami mendarat dan Anda akan membuktikannya sendiri," seperti dilansir MailOnline.
COMMERCIAL PILOT pilot Jonny Knowlson reveals his insider tips about the top seats. He reveals the best seats for a smooth ride, a good night´s sleep and a quick exit. The high-flyer says that he´s experienced almost every type of airliner seat

You may be surprised to learn that not everyone on a flight feels the effects of turbulence in the same way.

That's because there are some parts of the aircraft that shake less as it's buffeted by the wind.

And here, commercial airline pilot Jonny Knowlson – aka Jonny the Pilot, as he's known on social media – reveals where they are. And more besides, from the best place to sit for a good night's sleep to the optimum side of the plane for a quick exit.

Anti-turbulence Seating
Nervous flyers, pay close attention.

'If you're looking for the smoothest ride,' says Jonny, 'did you know sitting over the wings on a big aircraft that flies at a higher altitude will work in your favour?

'Being closer to the centre of the plane's mass while forces such as lift, torque, wind, gravity, drag and thrust act upon it will mean you'll be well placed for a smooth ride.'

Silent Night
'For the quietest seat sit as far forward and as far away from the engines as your budget allows,' says Jonny, who says that as a pilot and frequent flyer, he's sat in almost every seat. 'If you miss out on the front row then plump for an aisle seat. It will be marginally quieter than by the window, though the view is less appealing.

'The best spot for sleeping is probably towards the middle of your cabin away from the noise of toilets and my hard-working colleagues in the galley.'

Leg Stretcher
'Parents, with little chance of rest, should always try to nab a bulkhead seat but beware everything needs to be stowed for take off and landing,' says Jonny.

'Let me recommend Seat Guru, a superb website that offers top advice. All you need is your airline name, flight number and date you plan to travel.

'For example, I recently flew to Geneva on an Airbus A319. According to Seat Guru row 10, seats B, C, D and E are great as they have "extra legroom due to the emergency exit" – winner! Remember though that you'll need to be prepared to store your hand luggage in overhead lockers in exchange for this space.

'Another example, if you're flying aboard a Dreamliner (787), then any seat in row 30 is an extra legroom winner.

'However, challenges to consider include the tray table and video monitor in the armrest perhaps reducing the seat width, says Seat Guru.

'Also it can be frustrating if fellow passengers congregate around the loo in front of you.

'Be aware that rows 12 and 13 on the same aircraft have seats that may have limited recline, according to the website.

'If you're flying business on the Queen of the Skies, a 747, then upstairs in 62a is great. Easy access, extra legroom and the service is superb.'

Stick to the left, if you're turning right
'If you're a hand baggage passenger then overhead lockers are important,' says Jonny. 'Communal, of course, but most airlines board back-to-front so being on first offers the chance to have all your belongings close by. Handy for a quick exit once you reach the gate.

'With that in mind, front left and back left on many short haul flights works nicely as we normally disembark from that side of the aircraft, front and back.

'And being by an exit on the left-hand side of the bigger planes is crucial if you want to avoid being at the back of that passport queue, especially on the whopping A380.

'Remember, airlines configure cabins differently so be sure to take that into account.'

The Absolute Best Seat?
'Without question, the very best seat on the plane is mine,' says Jonny. 'Don't believe me? Come and say hello either before take-off or when we've landed and you'll see.'