Pilot Heli Cantik Pukau lebih 170 Ribu Followers
Meet the Helicopter Pilot whose Stunning Cockpit Shots with 170,000 Instagram Followers
Editor : Ismail Gani
Translator : Novita Cahyadi

PUBLISHED: Sabtu, 10 Agustus 2019 , 19:19:00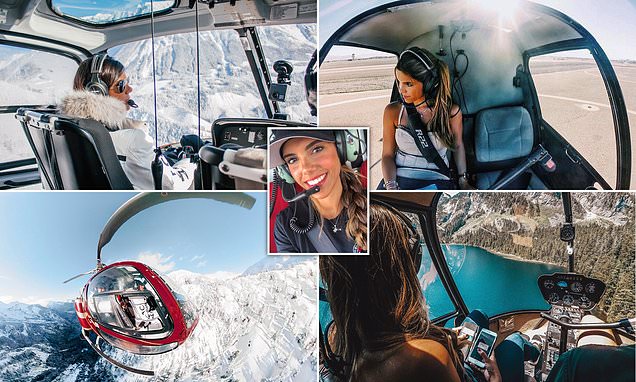 Luana Torres, 29, mengungkap bagaimana dia mengejar mimpinya menjadi pilot helikopter dan sekarang menerbangkan helikopter di beberapa wilayah paling menakjubkan di dunia [Foto2: MailOnline]
LUANA TORRES, 29, mengatakan menerbangkan helikopter adalah ´pengalaman sangat luar biasa´ dan merupakan cara terbaik untuk melihat dunia.
Wanita asal Brasil ini diilhami oleh saudara lelakinya untuk menempuh pendidikan sebagai penerbang, karena juga bekerja sebagai pilot helikopter.
Dia sekarang berbasis di Kanada dan mimpinya adalah bekerja sebagai pilot helikopter pencarian dan penyelamatan [SAR] untuk menyelamatkan nyawa manusia.
Tentunya bekerja di kokpit helikopter merupakan ´kantor dengan pemandangan terindah dan terluas´ ......
Luana Torres, 29, mengungkap bagaimana dia mengejar mimpinya menjadi pilot helikopter dan sekarang menerbangkan helikopter di beberapa wilayah paling menakjubkan di dunia.
Pilot wanita asal Brasil ini juga sukses menjadi bintang Instagram dengan lebih dari 171.000 followers berkat foto-foto yang dikagumi banyak orang - melayang di atas pegunungan terjal, berkelana melewati danau gletser dan melayang di atas hutan bersalju.
Luana mengatakan menerbangkan helikopter adalah ´sangat luar biasa mengagumkan´ dan cara terbaik untuk melihat dunia.
Dia mengatakan kepada MailOnline Travel bahwa dia diperkenalkan ke dunia penerbangan oleh kakaknya.
Dia menjelaskan: ´Saya selalu berpikir saudara saya adalah orang paling keren di planet ini karena dia bekerja sebagai pilot helikopter. Itu sampai saudara ipar saya datang ke kehidupan kami.´
"Dia juga seorang pilot helikopter dan pada waktu itu saya pikir sungguh menakjubkan dia melakukan itu. Itu sangat tidak umum karena kebanyakan gadis menerbangkan pesawat sebagai gantinya. ´
Sementara ia memiliki minat dalam terbang, Luana memilih untuk menyelesaikan gelar di bidang ekonomi.
Kemudian, ketika dia melakukan program pertukaran pelajar di Australia selama dua bulan, dia mengalami sensasi menerbangkan helikopter untuk pertama kalinya.
Dia berkata pada saat itu, dia memutuskan bahwa dia ingin menjadi pilot.
Dia melanjutkan: ´Saya memulai pelatihan pada 2014 di Brasil di mana saya mendapatkan lisensi helikopter pertama saya.´
´Saya kemudian pindah ke AS dan berlatih di sana sebentar, mendapatkan lisensi kedua saya.´
´Pada 2017 saya memutuskan untuk pindah dari AS ke Kanada untuk menyelesaikan pelatihan saya.´
"Pada Maret tahun ini, saya mendapat lisensi helikopter komersial."
Berkat ketekunannya, Luana sekarang bekerja di perusahaan wisata Blackcomb Helicopters di Vancouver, Kanada.
Dia harus bekerja sebagai awak darat selama dua tahun sebelum dia bisa menjadi pilot bagi mereka, tetapi sementara itu dia mengambil pekerjaan pilot yang aneh di sana-sini untuk perusahaan swasta lainnya seperti dilansir MailOnline.
LUANA TORRES, 29, said flying a helicopter is ´so freaking awesome´ and is the ultimate way of seeing the world
The Brazilian was inspired by her brother to take up aviation, as he also works as a helicopter pilot
She is now based in Canada and her dream is to work as a search and rescue helicopter pilot to save lives
The views from this office sure aren´t bad...
Luana Torres, 29, has told how she went about pursuing her dream of becoming a helicopter pilot and now flies choppers around some of the world´s most breathtaking areas.
The high-flying Brazilian has become an Instagram star with more than 171,000 followers thanks to jaw-dropping photographs that she posts from her working day - hovering over rugged mountains, whizzing past glacial lakes and soaring over snowy forests.
Luana says flying a helicopter is ´so freaking awesome´ and the ultimate way of seeing the world.
She told MailOnline Travel that she was introduced to the world of aviation by her brother.
She explained: ´I always thought my brother was the coolest person on Earth because he worked as a helicopter pilot. That was until my sister-in-law came to our lives.
´She is also a helicopter pilot and at that time I thought it was amazing that she did that. It was pretty uncommon as most girls flew airplanes instead.´
While she had an interest in flying, Luana opted to complete a degree in economics instead.
Then, while she was doing a student exchange program in Australia for two months, she experienced the thrill of flying a helicopter for the first time.
She said at that point, she decided that she wanted to be a pilot.
She continued: ´I started training in 2014 in Brazil where I got my very first helicopter licence.
´I then moved to the U.S. and trained there for a while, getting my second licence.
´In 2017 I decided to move from the U.S. to Canada to finish my training.
´In March this year, I got my commercial helicopter licence.´
Thanks to her perseverance, Luana now has a job with Blackcomb Helicopters tour company in Vancouver, Canada.
She has to work as ground crew for two years before she´s able to be a pilot for them but in the meantime she´s picking up the odd piloting job here and there for other private companies.