Concorde Baru! United Airlines Umumkan Beli 15 Pesawat Supersonik
The New Concorde! United Airlines Announces Deal to Buy 15 Supersonic Airliners
Editor : Kemal A Praghotsa
Translator : Dhelia Gani

PUBLISHED: Sabtu, 26 Juni 2021 , 22:23:00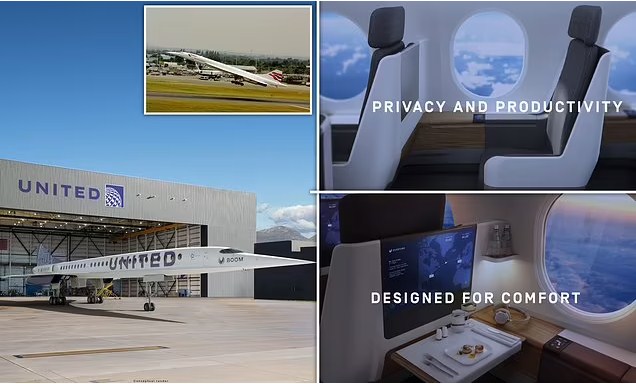 REKOR TERCEPAT: Overture juga akan dirancang dengan fitur-fitur seperti layar hiburan di kursi, ruang pribadi yang luas, dan teknologi tanpa kontak [Foto2: MailOnline]
UNITED Airlines telah mengumumkan komitmen bisnis untuk membeli pesawat supersonik berkecepatan 2.080 km/jam sebagai langkah yang disebut sebagai 'mewakili lompatan ke depan dalam mengembalikan kecepatan supersonik ke penerbangan komersial.'
United mengatakan akan membeli 15 pesawat 'Overture' dari perusahaan kedirgantaraan Boom Supersonic yang berbasis di Denver untuk menambah kekuatan armada globalnya, dengan opsi tambahan 35 pesawat.
Overture dijadwalkan akan diluncurkan pada 2025, terbang pada 2026 dan diharapkan dapat mengangkut penumpang pada 2029.
Mampu terbang dengan kecepatan Mach 1,7 - dua kali kecepatan pesawat tercepat saat ini - Overture, kata United, 'dapat menghubungkan lebih dari 500 tujuan dalam hampir separuh waktu'.
Ia melanjutkan: 'Di antara banyak rute potensial masa depan untuk United adalah Newark ke London hanya dalam tiga setengah jam, Newark ke Frankfurt dalam empat jam dan San Francisco ke Tokyo hanya dalam enam jam', seperti dilansir MailOnline.
Overture juga akan dirancang dengan fitur-fitur seperti layar hiburan di kursi, ruang pribadi yang luas, dan teknologi tanpa kontak.'
UNITED Airlines has announced a deal to buy 1,300mph supersonic airliners in a move it said 'represents a leap forward in returning supersonic speeds to aviation'.
United said it would purchase 15 'Overture' aircraft from Denver-based aerospace company Boom Supersonic to add to its global fleet, with an option for an additional 35 aircraft.
Overture is slated to roll out in 2025, fly in 2026 and expected to carry passengers by 2029.
Capable of flying at speeds of Mach 1.7 - twice the speed of today's fastest airliners - Overture, said United, 'can connect more than 500 destinations in nearly half the time'.
It continued: 'Among the many future potential routes for United are Newark to London in just three and a half hours, Newark to Frankfurt in four hours and San Francisco to Tokyo in just six hours.
Overture will also be designed with features such as in-seat entertainment screens, ample personal space, and contactless technology.'