Disain `Flying-V` Pesawat Komersial Masa Depan KLM
Flying-V was Developed by the Delft Technical University and KLM is Funding the Design
Editor : Ismail Gani
Translator : Dhelia Gani

PUBLISHED: Senin, 03 Juni 2019 , 23:21:00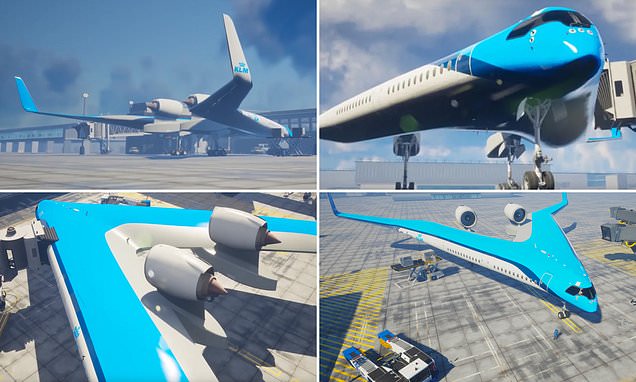 Foto2: MailOnline
MASKAPAI penerbangan Belanda KLM mendanai proyek penerbangan ´masa depan´ yang mengubah bentuk dan pelayanan pesawat komersial yang dikenal selama ini.
Konsepnya disebut ´Flying-V´ yang memukau, didukung secara finansial oleh KLM, memiliki lebar sayap yang sama dengan pesawat yang ada dan mampu mengangkut hingga 314 penumpang.
Nama pesawat diadopsi dari gitar listrik ikonik Gibson Flying-V yang digunakan oleh sejumlah gitaris rock legendaris - seperti Eddie Van Halen dari grup rock Van Halen dan Jimi Hendrix, hingga Brian May [Queen] dan Keith Richards [Rolling Stones].
Konsep bentuk, yang dikembangkan oleh para peneliti di Universitas Teknologi Delft di Belanda, berbentuk diagonal ke belakang dari hidungnya untuk menciptakan bentuk V yang mencolok.
Desainernya mengatakan konfigurasi unik ini menggunakan bahan bakar 20 persen lebih irit. Sayap-sayap itu akan menampung ruang penumpang, ruang kargo, tangki bahan bakar, dan semua infrastruktur lainnya, demikian diyakini disainer ´Flying V´.
Sepasang mesin jet turbofan akan dipasang di bagian belakang dan desain akan secara drastis mengurangi jejak karbon dari perjalanan udara dan pengeluaran bahan bakar.
Pieter Elbers, kepala eksekutif KLM, menolak untuk mengungkapkan sejauh mana persisnya proyek tersebut tetapi sedang digembar-gemborkan sebagai pemimpin potensial di bidang ´inisiatif penerbangan berkelanjutan´.
Ukurannya menjadikannya saingan yang sebanding dengan Airbus A350 tradisional dan Boeing 787 dan akan dapat menggunakan gerbang, hanggar, dan landasan pacu yang ada.
Lebar totalnya adalah 65 meter dan panjangnya akan sedikit lebih pendek, sekitar 55m.
Detail tentang bagian dalam akan terlihat langka tetapi pasti akan memungkinkan berbagai pengaturan tempat duduk yang inovatif, kamar dan perlengkapan.
Perabotan ringan akan memungkinkan pesawat memaksimalkan keuntungannya dalam efisiensi bahan bakar.
Profesor Henri Werij, dekan fakultas teknik kedirgantaraan universitas, mengatakan tujuannya adalah untuk membuat penerbangan lebih berkelanjutan, menurut The Times.
´Desain pesawat baru dan hemat energi seperti Flying-V adalah penting, seperti juga bentuk-bentuk baru tenaga penggerak. Tujuan utama kami adalah penerbangan bebas emisi,´ katanya.
Nama pesawat ini berasal dari moniker gitar listrik yang dikembangkan oleh Gibson pada 1958 seperti dilansir MailOnline.
DUTCH airline KLM are funding a pioneering aeronautical project which could see the shape and layout of commercial aeroplanes changed forever.
The stunning ´Flying-V´ design, financially backed by KLM, has the same wingspan as existing planes and is able to carry up to 314 passengers.
It is named after the iconic Gibson Flying-V electric guitar used by a number of legendary players - from Eddie Van Halen and Jimi Hendrix, to Brian May and Keith Richards.
The concept craft, developed by researchers at Delft Technology University in the Netherlands, flares diagonally backwards from it nose to create the striking V-shape.
Its designers say this unique configuration uses 20 per cent less fuel. The wings would host the passenger space, cargo hold, fuel tanks and all other infrastructure, it is believed.
A pair of turbofan jet engines will be mounted at its rear and the design would drastically reduce both the carbon footprint of air travel and the expenditure on fuel.
Pieter Elbers, the KLM chief executive, refused to reveal the exact extent of the project but it is being heralded as a potential leader in the field of ´sustainable aviation initiatives´.
Its size makes it a comparable rival to the traditional Airbus A350 and the Boeing 787 and it would be able to use existing gates, hangars and runways.
Its total width is 215ft (65m) and its length will be slightly shorter, at 180 ft (55m).
Details of what the inside will look like are scarce but it will inevitably allow for a range of innovative seating arrangements, rooms and fittings.
Lightweight furniture will enable the plane to maximise its gains in fuel efficiency.
Professor Henri Werij, dean of the university´s faculty of aerospace engineering, said the object was to make aviation more sustainable, according to The Times.
´New and energy-efficient aircraft designs such as the Flying-V are important, as are new forms of propulsion. Our ultimate aim is emission-free flight,´ he said.
The aircraft name is derived from the moniker of the electric guitar developed by Gibson in 1958.