Peti Mati Termahal! Pria Nigeria Makamkan Ayahnya dalam BMW Mewah
Highway to Heaven! Son `Buries His Father in BMW in Nigeria
Editor : Ismail Gani
Translator : Novita Cahyadi

PUBLISHED: Selasa, 12 Juni 2018 , 00:58:00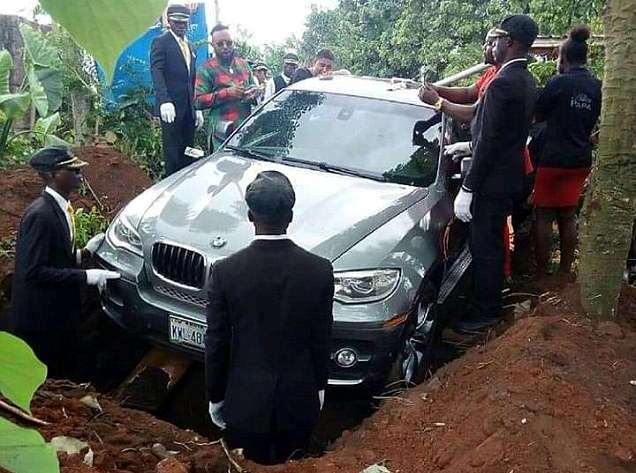 Foto tersebut kemudian menjadi viral di media sosial ketika disebar online yang menunjukkan proses pemakaman yang tidak biasa untuk memasukkan mobil BMW ke liang lahat (Foto: MailOnline)
SEORANG pria Nigeria memakamkan jenazah ayahnya dengan BMW baru, bukan dengan peti mati sebagaimana lazimnya, sehingga mengundang kehebohan setelah dimakamkan.
Anak laki-laki tajir, yang diidentifikasi dengan nama Azubuike, kehilangan ayahnya, hingga usia lanjut, tetapi menurut laporan setempat selalu menjanjikannya suatu hari ia akan memiliki mobil mewah.
Jadi setelah dia meninggal di desa terpencil Ihiala, Nigeria, Azubuike dilaporkan membeli mobil mewah seharga Rp3 miliar dari showroom untuk memasukkan jenazah mendiang ayahnya ke dalam mobil sebelum dimakamkan.
Foto mengejutkan yang difoto saat pemakaman berlangsung memperlihatkan mobil mewah dimasukkan ke dalam liang lahat besar sedalam lebih dua meterditurunkan ke kuburan besar yang digali sedalam enam kaki.
Foto tersebut kemudian menjadi viral di media sosial ketika disebar online yang menunjukkan proses pemakaman yang tidak biasa untuk memasukkan mobil BMW ke liang lahat.
Menurut NAIJ.com, sang putra kehilangan ayahnya baru-baru ini dan memutuskan untuk menghormati ayahnya dengan membelikannya mobil mewah untuk perjalanan terakhirnya dan memasukkan jenazah ayahnya ke dalam mobil sebelum dikubur.
Penduduk setempat mengatakan bahwa BMW dilengkapi dengan Sat Nav untuk membantunya menemukan jalan menuju surga.
Namun, banyak pengguna Facebook yang marah pada pemborosan uang dan menudingnya sebagai perbuatan sia-sia karena bisa dimanfaatkan untuk hal yang lebih baik.
Pengguna Facebook Sifiso Inno Makhashila bilang: ´Beli mobil untuk orang tua Anda saat ia masih hidup jika Anda punya uang dan menguburnya dengan peti mati yang layak tetapi ini hanya karena bodoh dan ingin pamer.´
Obienice Mohale menulis: ´Ini adalah hal yang membuat kita miskin sebagai orang kulit hitam´.
Calvin Cal Diamean berkata: ´Kegilaan dan keegoisan tanpa menghiraukan fakta itu adalah uang Anda.´
Pada 2015 pemakaman serupa menjadi berita utama setelah miliarder Enugu mengubur ibunya dengan Hummer baru dan pada tahun yang sama seorang pria dimakamkan di mobil favoritnya di China seperti dilansir MailOnline.
NIGERIAN MAN has buried his father in a brand new BMW instead of a coffin in order to see him off in style in the local village graveyard.
The wealthy son, identified only as Azubuike, lost his father, to old age but according to local reports had always promised him one day he would have a flash car.
So after he passed away in the remote village of Ihiala, Nigeria, Azubuike is reported to have splashed out £66,000 cash on a car from the showroom to bury his father in.
An incredible photo taken at the funeral shows the enormous car being lowered into a huge grave dug six feet deep by hand in the village.
The picture has gone viral on social media as pall bearers reportedly guided it down logs into position and then the logs were pulled out to allow the BMW to drop.
According to NAIJ.com the son lost his father recently and decided to honour his father by buying him a luxurious car for his final journey and placed him inside.
Locals quipped that the BMW is equipped with Sat Nav to help him find his way to the pearly gates.
However, many on Facebook were angered at the waste of money and said it could have been put to better use.
Sifiso Inno Makhashila said: ´Buy the car for your parent while he is still alive if you are moneyed and bury them with a decent coffin but this is just being foolish and showing off.
Obienice Mohale wrote: ´This is the sort of thing that keeps us poor as black people´.
Calvin Cal Diamean said:´Insanity and selfishness regardless of that fact that is your cash.´
In 2015 a similar burial made headlines after an Enugu billionaire buried his mother in a brand new Hummer and in the same year a man was buried in his favourite car in China.