Bakar Diri depan Gedung Putih disebut Polisi akibat Halusinasi Ganja Sintetis
Man who set Himself on Fire outside the White House `was Hallucinating on K2 and PCP`
Editor : Ismail Gani
Translator : Novita Cahyadi

PUBLISHED: Jum'at, 31 Mei 2019 , 01:23:00 WIB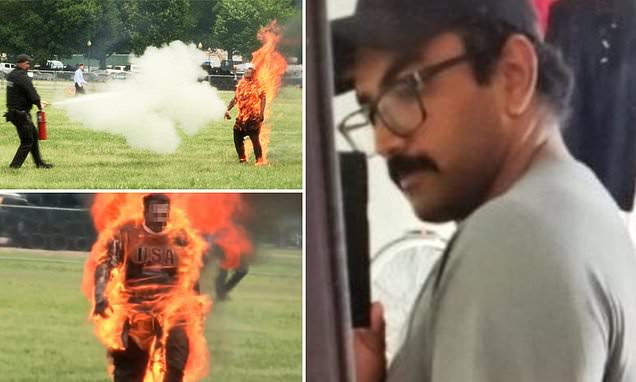 DAMPAK NARKOBA: Cuplikan video menunjukkan Gupta berjalan tenang melintasi Ellipse dekat Washington Mall, kawasan yang populer di kalangan wisatawan, dengan api menutupi tubuhnya [Foto2: MailOnline]
PRIA yang meninggal dunia setelah membakar dirinya sendiri di halaman dekat Gedung Putih pada Rabu berhalusinasi akibat menggunakan ganja sintetis dicampur obat Phencyclidine, dikenal sebagai K2 dan PCP, menurut sumber kepolisian.

Arnav Gupta, 33, diidentifikasi oleh polisi setempat US Park Police pada Kamis setelah sekarat di rumah sakit.

Pelaku sebelumnya dilaporkan hilang oleh keluarganya sekitar waktu ketika dia terlihat membakar dirinya sendiri di halaman di Ellipse Park dekat Gedung Putih.

Gupta berasal dari Bethesda, Maryland. Motifnya untuk aksi mematikan itu masih belum jelas.

Pada Kamis, TMZ mengutip sumber-sumber polisi yang tidak disebutkan namanya yang mengatakan dia berhalusinasi pada K2 - suatu bentuk ganja sintetis - dan bahwa dia juga menggunakan Phencyclidine.

Phencyclidine umumnya dikenal sebagai PCP atau angel dust, yang diketahui memicu halusinasi.

Gupta dilaporkan hilang oleh keluarganya setelah meninggalkan rumahnya pada pukul 9.20 pagi. Tiga jam kemudian, dia terekam video tengah membakar dirinya sendiri.

Dinas Rahasia Kepresidenan AS [Secret Service menolak untuk memberi keterangan lebih lanjut pada Kamis pagi, begitu pula Departemen Kepolisian Metropolitan.

K2 telah dikaitkan dengan bunuh diri grafis lain termasuk mantan pemain NFL Aaron Hernandez yang dikabarkan menggunakan obat tersebut sebelum menggantung dirinya di sel penjara.

Dia telah menulis ayat-ayat Alkitab dengan darah di dahinya.

Video insiden hari Rabu menunjukkan Gupta berjalan dengan tenang melintasi Ellipse dekat Washington Mall, sebuah daerah yang populer di kalangan wisatawan, dengan api menutupi tubuhnya.

Beberapa detik kemudian, seorang petugas Secret Service Dinas Rahasia AS terlihat berlari ke arahnya dengan alat pemadam api untuk memadamkan kobaran api di tubuhnya.

Peristiwa itu terjadi kurang dari 1,3 km dari Gedung Putih.

Dia berhasil berdiri tegak sebelum petugas mendatanginya, dikabarkan bahwa dia mengenakan pakaian pelindung yang akan memberinya perlindungan dari api.

Gupta menderita luka bakar 85 persen tubuhnya dan ada paket mencurigakan yang terbakar di dekatnya yang juga padam.

Dia kemudian dipindahkan ke rumah sakit terdekat dengan cedera ´mengancam jiwa´.

Lebih dari 70 petugas berbondong-bondong ke tempat kejadian dari berbagai agensi. Beberapa turis dan pengunjung berada di sekitarnya, tetapi tidak ada korban luka lain yang dilaporkan.

Polisi Layanan Taman Nasional dan petugas Dinas Rahasia AS juga membantu di tempat kejadian untuk mencoba dan menetapkan apa yang terjadi di Washington D.C.

Juru bicara Gedung Putih Hogan Gidley mengatakan dia tidak bisa segera berkomentar.

Menurut jadwal resminya, Donald Trump berada di Oval Office pada saat itu untuk upacara pelantikan Presiden dan Ketua Dewan Direksi Bank Ekspor-Impor Amerika Serikat seperti dilansir MailOnline.
THE MAN who died after setting himself on fire on a lawn near the White House on Wednesday was hallucinating at the time after taking the drug K2 that had been laced with PCP, according to police sources.

Arnav Gupta, 33, was identified by US Park Police on Thursday after dying in the hospital.

He had been reported missing by his family around the time that he was seen setting himself on fire on a lawn at Ellipse Park near the White House.

Gupta was from Bethesda, Maryland. His motive for the deadly stunt remains unclear.

On Thursday, TMZ cited unnamed police sources who said he was hallucinating on K2 - a form of synthetic marijuana - and that he had also taken Phencyclidine.

Phencyclidine is commonly known as PCP or angel dust. It is known to cause hallucinations.

Gupta had been reported missing by his family after leaving his home at 9.20am. Three hours later, he was filmed setting himself on fire.

The Secret Service was not immediately available for more information on Thursday morning nor was the D.C. Metropolitan Police Department.

K2 has been linked to other graphic suicides including that of former NFL player Aaron Hernandez who was said to have taken it before hanging himself in a prison cell.

He had written bible verses in blood on his forehead.

Video of Wednesday´s incident showed Gupta walking calmly across the Ellipse near the Washington Mall, an area popular with tourists, with flames covering his body.

Several seconds later, U.S. Secret Service staff could be seen towards him with a fire extinguisher to put out the blaze.

It occurred less than a mile from the White House.

He managed to stand upright before officials got to him, amid reports that he was wearing a protective suit which would have given him some protection from the flames.

Gupta suffered burns on 85 percent of his body and there was a suspicious package on fire near him which was also extinguished.

He was later transported to a nearby hospital with ´life threatening´ injuries.

More than 70 officers flocked to the scene from multiple agencies. Several tourists and visitors were in the vicinity, but there were no other injuries reported.

National Park Service police and the U.S. Secret Service officers also assisted at the scene to try and establish what happened in Washington D.C.

White House spokesman Hogan Gidley said he could not immediately comment.

According to his official schedule, Donald Trump was in the Oval Office at the time for a ceremonial swearing-in of the President and Chairman of the Board of Directors of the Export-Import Bank of the United States.