Balita Main dengan Ular Piton jadi Sorotan Dunia
I`m Not Ssscared! Little Boy Relaxes in the Giant Coils of a Deadly Python
Editor : Ismail Gani
Translator : Novita Cahyadi

PUBLISHED: Selasa, 02 April 2019 , 01:30:00 WIB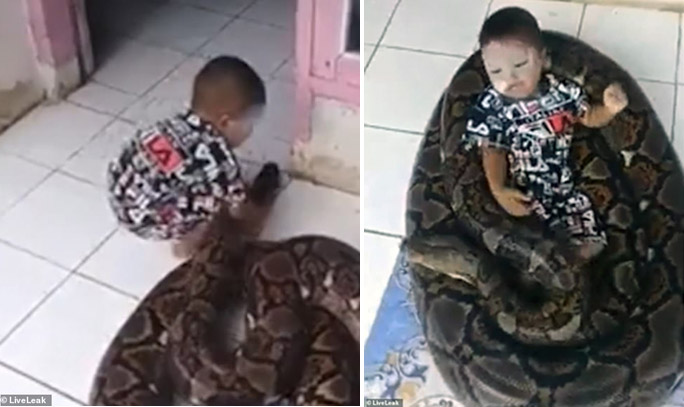 Ular besar yang melingkarkan tubuhnya seperti sofa dan diduduki sang bocah tampak sabar meski kepalanya diangkat dan tubuh besarnya digerakkan [Foto2: MailOnline]
CUPLIKAN VIDEO yang menjadi viral tentang seorana bocah balita Indonesia bermain dengan seekor ular piton besar turut disoroti dunia.
Ular besar yang melingkarkan tubuhnya seperti sofa dan diduduki sang bocah tampak sabar meski kepalanya diangkat dan tubuh besarnya digerakkan.
Sang bocah berdiri di antara gulungan ular raksasa dan duduk di atas ular piton yang melilitkan tubuhnya.
Perekam video tak pernah terlihat ikut campur terhadap ulah nekat sang bocah dan membiarkannya bermain dengan hewan berbahaya tersebut.
Kapan pun piton mulai bergerak, bocah itu mengangkat kepalanya dan menggerakkannya kembali.
Ular sejenis banyak ditemukan di Indonesia dan di seluruh Asia Tenggara.
Hewan-hewan yang mematikan membunuh mangsanya dengan penyempitan, menunjukkan betapa tidak takutnya anak itu duduk di antara tubuh ular besar tersebut.
Hewan melata ini biasanya menargetkan hewan yang lebih kecil tetapi diketahui umum kerap memangsa rusa dewasa, kijang dan bahkan manusia.
Pada 2017, jasad seorang petani Indonesia berusia 25 tahun ditemukan utuh di dalam perut ular piton sepanjang tujuh meter.
Dan seorang wanita, Wa Tiba, juga ditelan utuh oleh seekor ular piton di Kabupaten Muna, Sulawesi Tenggara seperti dilansir MailOnline.
THIS IS the terrifying moment a young child plays with a massive python in Indonesia.
The patient snake lets the boy pick up its head and move him about what appears to be a family home.
The child stands among the giant snake's coils and sits with the python wrapped around him.
The person filming the video never intervenes and appears content to let the boy play with the dangerous snake.
Whenever the python starts to slither away, the boy picks up its head and moves it back.
Pythons are commonly found in Indonesia and throughout south-east Asia.
The deadly animals kill their prey by constriction, showing how unafraid the boy was to sit among its coils.
It normally targets smaller animals but has been known to take down adult deer, antelope and even people.
In 2017, the body of a 25-year-old Indonesian farmer was found whole inside the belly of a seven-metre python.
And a woman, Wa Tiba, was also swallowed whole by a python in Sulawesi in Indonesia.