Air Mancur Kuno Berusia Ribuan Tahun Kembali Mengalir
Fountain that Stood in Turkey´s Ancient ´City of Gladiators´ 2,000 Years Ago has been Restored
Editor : Ismail Gani
Translator : Novita Cahyadi

PUBLISHED: Senin, 02 Januari 2023 , 14:54:00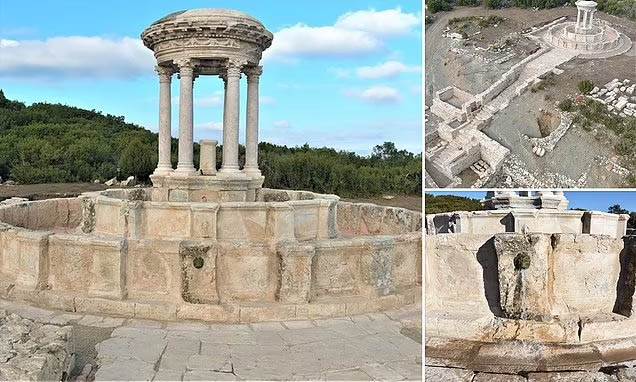 BERSEJARAH: Air mancur yang megah ini pernah mengalir dengan air yang dapat diminum 2.000 tahun yang lalu dan para arkeolog telah mengembalikan keindahan aslinya dengan menggunakan 150 batu asli yang ditemukan di reruntuhan kota. (Foto: MailOnline)
SEBUAH tim penggalian telah bekerja di kota Kibyra di Turki selama empat bulan terakhir, mengumpulkan 150 fragmen asli dari reruntuhan di daerah tersebut untuk menyatukan kembali mahakarya arsitektur tersebut.
Sukru Ozudogru, seorang arkeolog di Universitas Mehmet Akif Ersoy, mengatakan air akan mengalir melalui air mancur seperti yang terjadi 2.000 tahun lalu, dengan air menyembur dari mulut patung singa dan macan kumbang dan jatuh ke dua kolam di sekitarnya.
Air mancur, dibangun pada 23 SM, berdiameter 50 kaki, tingginya lebih dari 26 kaki dan digunakan selama lebih dari 600 tahun di Kibyra, seperti dilansir MailOnline.
Kota kuno Kibyra terletak di kotapraja Gölhisar di bagian barat daya provinsi Burdur dan masuk dalam Daftar Tentatif Warisan Dunia UNESCO.
Menurut catatan musafir Amasi Strabo, orang Kibyra awalnya adalah orang Lydia, penduduk asli bagian Asia Kecil ini.
A COLOSSAL fountain that once stood in the ancient 'City of Gladiators' has been restored and will flow with fresh water for the first time in 2,000 years.
An excavation team has been working in the city of Kibyra in Turkey for the past four months, collecting 150 original fragments from the ruins in the area to piece the architectural masterpiece back together.
Sukru Ozudogru, an archaeologist at Mehmet Akif Ersoy University, said the water will flow through the fountain as it did 2,000 years ago, with water spouting from the mouths of lion and panther statues and falling into the two surrounding pools.
The fountain, constructed in 23 BC, is 50 feet in diameter, stands more than 26 feet high and was used for more than 600 years in Kibyra.
The ancient city of Kibyra is located in the township of Gölhisar in the southwestern part of the province of Burdur and is on the UNESCO World Heritage Tentative List.
According to the records of the Amasian traveler Strabo, the people of Kibyra were originally Lydians, indigenous people of this part of Asia Minor.