Makam Bidan Salome Berusia Ribuan Tahun Ditemukan
Ancient Inscriptions and Prayer Lamps Found Inside a 2,000-Year-Old Burial Site in Jerusalem
Editor : Ismail Gani
Translator : Novita Cahyadi

PUBLISHED: Kamis, 22 Desember 2022 , 23:07:00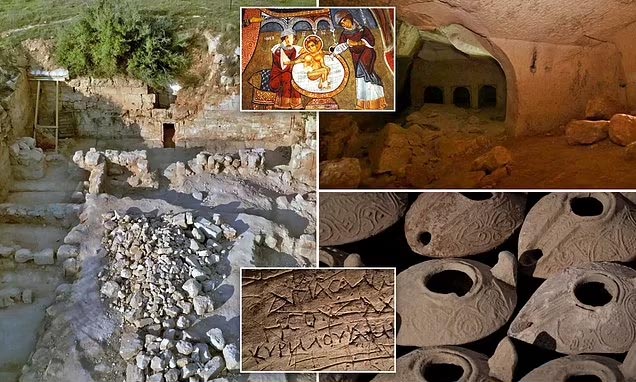 MAKAM KUNO: Ukiran ditemukan di bagian dalam gua pemakaman yang mengutip: ´Salome, bidan Maria.´ menurut para ahli membuktikan bahwa situs tersebut adalah tempat peristirahatan terakhir dari tokoh Kristen yang penting. (Foto: MailOnline)
SEBUAH GUA kuburan berusia 2.000 tahun yang ditemukan di sebuah hutan di Yerusalem diyakini sebagai makam bidan yang membantu kelahiran Yesus - setelah penggalian yang mengungkap prasasti yang mengutip 'Salome, yang adalah bidan Maria.'
Israel Antiquities Authority [IAA] mengumumkan - hanya beberapa hari sebelum dunia Kristen merayakan kelahiran Kristus - bahwa ukiran dalam bahasa Yunani dan Arab kuno cukup untuk membuktikan 'ini adalah gua suci Salome.'
Tim juga menemukan reruntuhan toko di dekatnya, yang berasal dari antara abad kedelapan dan kesembilan, yang menjual lampu minyak yang digunakan untuk sembahyang.
Ratusan lampu lengkap dan rusak ditemukan di halaman depan, 'membuktikan' bahwa gua itu adalah tempat pemujaan.
'Ini seperti hari ini ketika Anda pergi ke makam seorang rabi yang dihormati dan menyalakan lilin di sana.'
Peran Salome sebagai asisten bidan saat kelahiran Kristus diceritakan dalam Injil St Yakobus, seperti dilansir MailOnline.
Injil Yakobus, yang merupakan non-kanonik kuno, adalah Injil masa bayi abad kedua yang menceritakan tentang dikandungnya Maria, asuhan dan pernikahannya dengan Yusuf dan perjalanan pasangan itu ke Betlehem, bersama dengan perincian tentang Yesus sebagai seorang anak laki-laki. .
Ada sekitar seratus tiga puluh manuskrip Yunani yang memuat Injil Yakobus, tetapi sebagian besar berasal dari abad kesepuluh atau sesudahnya.
Pengarangnya, 'Yakobus,' dicatat dalam Perjanjian Baru sebagai putra Yusuf dan saudara laki-laki Yesus.
Namun, Yakobus akan menjadi anak dari istri pertama Yusuf.
"Nama Salome [atau dalam bahasa Ibrani: Shalom atau Shlomit] adalah nama umum Yahudi pada periode Kuil Kedua, dan juga dikenal dalam keluarga Hasmonean dan Herodian," kata Firer dalam sebuah pernyataan.
'Menurut tradisi Kristen, Salome adalah bidan dari Bethlehem yang dipanggil untuk berpartisipasi dalam kelahiran Yesus.
'Dia tidak percaya bahwa dia diminta untuk melahirkan bayi perawan, dan tangannya menjadi kering dan sembuh hanya ketika dia memegang buaian bayi itu.'
Dalam Alkitab, Salome diturunkan menjadi bidan kedua Maria.
'Dan bidan keluar dari gua dan Salome bertemu dengannya. Dan dia berkata kepadanya: Salome, Salome, pemandangan baru harus kuberitahukan kepadamu, 'tulisan suci itu berbunyi.
'Seorang perawan telah melahirkan, yang sifatnya tidak memungkinkan. Dan Salome berkata: Demi Tuhan, Allahku yang hidup, jika aku tidak menguji dan membuktikan sifatnya, aku tidak akan percaya bahwa seorang perawan telah melahirkan.'
Namanya ditampilkan beberapa kali setelah itu, dengan Maria memberi tahu Salome untuk tidak memberi tahu siapa pun tentang Yesus sampai 'dia memasuki Yerusalem.'
Perampok kuburan menemukan makam itu pada tahun 1982 dan mencuri sarkofagusnya, tetapi penggalian formal dilakukan dua tahun kemudian.
Gua itu terdiri dari beberapa ruangan dengan beberapa kokhim [ceruk pemakaman] yang dipahat dari batu dan osuarium [kotak batu] yang rusak, yang membuktikan kebiasaan penguburan Yahudi.
Tradisi Yahudi penguburan sekunder di osuarium batu terkenal dalam catatan arkeologi, tetapi yang mengejutkan adalah adaptasi gua menjadi kapel Kristen.
"Dilihat dari salib dan lusinan prasasti yang terukir di dinding gua pada periode Bizantium dan Islam Awal, kapel itu didedikasikan untuk Salome yang suci," IAA membagikan dalam sebuah pernyataan.
Arkeolog IAA Zvi Firer berkata: ' Kami percaya bahwa peziarah akan datang ke sini, menyewa lampu minyak, melakukan sholat di dalam, dan melanjutkan perjalanan mereka.
A 2,000-year-old burial cave found in a forest in Jerusalem is believed to be the tomb of the midwife who helped with the birth of Jesus - following excavations that uncovered inscriptions citing 'Salome, who was Mary's midwife.'
The Israel Antiquities Authority (IAA) announced - just days before the Christian world celebrates the birth of Christ - that the carvings in ancient Greek and Arabic are enough to prove 'this is the cave of holy Salome.'
Teams have also discovered ruins of shops nearby, dating from between the eighth and ninth centuries, that sold oil lamps used in prayer.
Hundreds of complete and broken lamps were found in the forecourt, 'proving' that the cave was a place of worship.
IAA archaeologist Zvi Firer said: ' We believe that pilgrims would come here, rent an oil lamp, perform their prayers inside, and go on their way.
'It's like today when you go to the grave of a revered rabbi and light a candle there.'
Salome's role as an assistant to the midwife at Christ's birth is recounted in the Gospel of St James.
The Gospel of James, which is ancient non-canonical, is a second-century infancy gospel telling of the conception of Mary, her upbringing and marriage to Joseph and the journey of the couple to Bethlehem, along with details of Jesus as a young boy.
There are about one hundred and thirty Greek manuscripts containing the Gospel of James, but most of these come from the tenth century or later.
The author, 'James,' is noted in the New Testament as the son of Joseph and Jesus' brother.
However, James would have been the son of Joseph's first wife.
'The name Salome (or in Hebrew: Shalom or Shlomit) was a common Jewish name in the Second Temple period, and was also known in the Hasmonean and Herodian families,' said Firer in a statement.
'According to a Christian tradition, Salome was the midwife from Bethlehem who was called to participate in the birth of Jesus.
'She could not believe that she was asked to deliver a virgin's baby, and her hand became dry and was healed only when she held the baby's cradle.'
In the bible, Salome is revealed to be the second midwife to Mary.
'And the midwife went forth of the cave and Salome met her. And she said to her: Salome, Salome, a new sight have I to tell thee,' the scripture reads.
'A virgin hath brought forth, which her nature alloweth not. And Salome said: As the Lord my God liveth, if I make not trial and prove her nature I will not believe that a virgin hath brought forth.'
Her name is shown several times after, with Mary telling Salome not to tell anyone about Jesus until 'he enters Jerusalem.'
Grave robbers discovered the tomb in 1982 and stole the sarcophagus, but formal excavations were conducted two years later.
The cave comprises several chambers with multiple rock-hewn kokhim (burial niches) and broken ossuaries (stone boxes), attesting to the Jewish burial custom.
The Jewish tradition of secondary burial in stone ossuaries is well-known in the archaeological record, but the surprise was the adaptation of the cave into a Christian chapel.
'Judging by the crosses and the dozens of inscriptions engraved on the cave walls in the Byzantine and Early Islamic periods, the chapel was dedicated to the sacred Salome,' IAA shared in a statement.