Bukan Dibunuh, Peneliti Ungkap Penyebab Tewas Raja Tutankhamun
Tutankhamun ´was Killed by Drink-Driving Chariot Crash
Editor : Ismail Gani
Translator : Novita Cahyadi

PUBLISHED: Senin, 19 Juni 2023 , 15:14:00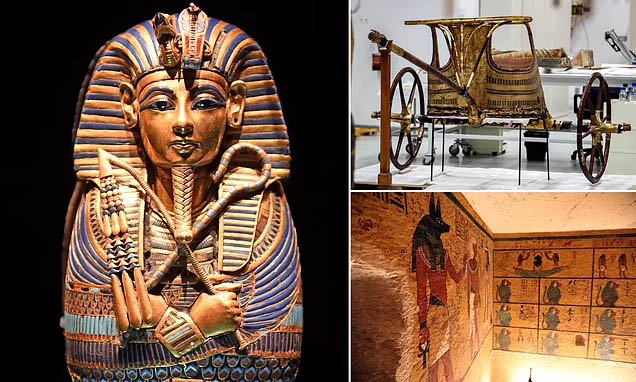 PEMBUNUHAN TUTANKHAMUN: Raja, yang baru berusia 19 tahun ketika meninggal, ditemukan tidak hanya menderita malaria tetapi juga berbagai kelainan pada saat kematiannya. (Foto: MailOnline)
SUDAH lama diyakini bahwa Tutankhamun meninggal karena luka terbuka karena ia semakin lemah akibat malaria.
Kendati demikian, seorang Egyptologist sekarang telah mengusulkan teori baru yang kontroversial, yang menyatakan bahwa Boy King mungkin telah meninggal dalam kecelakaan saat mengemudi sambil minum.
Sofia Aziz, seorang peneliti independen pemenang penghargaan, percaya bahwa 'remaja tipikal' terbunuh setelah kecelakaan kereta berkecepatan tinggi saat mabuk anggur.
"Bencana inilah yang memberinya patah tulang kaki yang mengancam jiwa yang kemudian terinfeksi dan menyebabkan kematian yang lambat," klaim Ms Aziz.
"Dia seperti remaja pada umumnya, mabuk dan mungkin mengemudikan kereta terlalu cepat," kata Ms Aziz kepada BBC Science Focus.
Pada tahun 2010, sekelompok Egyptologists secara radiologis memeriksa mumi firaun untuk lebih memahami penyebab kematiannya.
Raja, yang baru berusia 19 tahun ketika meninggal, ditemukan tidak hanya menderita malaria tetapi juga berbagai kelainan pada saat kematiannya.
Studi sebelumnya mengklaim dia membutuhkan tongkat untuk berjalan karena dia menderita penyakit Köhler yang menyakitkan selain oligodactyly di kaki kanannya dan kaki pengkor di kaki kirinya.
Namun para peneliti menyimpulkan bahwa sebenarnya patah kaki yang membunuhnya, dengan penyebab yang tidak jelas.
Sekarang, Ms Aziz telah sepenuhnya mengesampingkan teori-teori ini, menggambar harta benda di makamnya sebagai petunjuk.
Sudah lama diyakini bahwa orang Mesir Kuno dikuburkan dengan benda sehari-hari yang dapat digunakan di alam baka.
Para ahli sebelumnya mengatakan bahwa biji dan buah yang ditemukan di makam Tut mengindikasikan dia sedang menjalani perawatan medis, seperti dilansir MailOnline.
Tapi Ms Aziz menunjuk ke enam kereta, baju besi dan simpanan anggur yang juga ditemukan di sana.
Harta benda ini menunjukkan dia tidak cacat dan mengendarai kereta seperti 'prajurit raja', katanya.
IT'S long been believed that Tutankhamun died from an open wound as he was increasingly weakened by malaria.
But one Egyptologist has now proposed a controversial new theory, suggesting the Boy King may have died in a drink-driving crash.
Sofia Aziz, an award-winning independent researcher, believes the 'typical teenager' was killed in the aftermath of a high-speed chariot accident while boozed-up on wine.
It was this disaster that gave him life-threatening leg fractures which became infected and led to a slow death, she claims.
'He was like a typical teenager, drinking and probably driving the chariot too fast,' Ms Aziz told BBC Science Focus.
In 2010, a group of Egyptologists radiologically examined the pharaoh's mummy to better understand his cause of death.
The King, who was just 19 when he died, was found to have not only malaria but multiple disorders at the time of his death.
Previous studies have claimed he needed a cane to walk as he had the painful Köhler disease in addition to oligodactyly in his right foot and clubfoot on his left.
Yet researchers concluded it was actually a broken leg that killed him, with the cause of this unclear.
Now, Ms Aziz has completely ruled out these theories, drawing to possessions in his tomb as clues.
It's long been believed that Ancient Egyptians were buried with everyday objects that could be used in the afterlife.
Experts previously said that seeds and fruit found in Tut's tomb indicate he was receiving medical treatment.
But Ms Aziz points to the six chariots, armour and stash of wine which were also found there.
These possessions indicate he was not disabled and rode on chariots like a 'warrior king', she said.