Kritik Koruptor Brasil, Anggota DPR Dilantik Bergaun Seksi Picu Polemik
Brazilian Politician, Sparks Outrage by Wearing Red Jumpsuit for Her Swearing-in Ceremony
Editor : Ismail Gani
Translator : Novita Cahyadi

PUBLISHED: Sabtu, 09 Februari 2019 , 16:39:00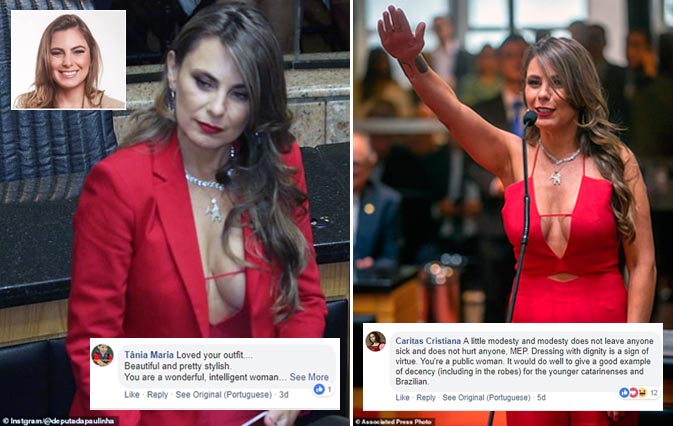 Foto2: MailOnline
ANGGOTA parlemen Brasil yang baru terpilih memicu kontroversi lantaran bergaun seksi merah saat diambil sumpahnya dan memicu kritik publik.
Ana Paula da Silva, 43, membuat gugup anggota parlemen lainnya ketika dilantik pada 1 Februari dengan gaun seksi yang memperlihatkan belahan dadanya, dan bikin heboh Brasil.
Kontroversi dimulai ketika anggota parlemen dari negara bagian selatan Santa Catarina mengenakan pakaian ketat berwarna merah yang menunjukkan belahan dadanya.
Dia membalas para pengritiknya dalam sebuah wawancara dengan jaringan tivi Brasil, NSC.
"Saya pikir orang akan membicarakan gaun saya yang berwarna merah menyala, tetapi mereka hanya fokus pada belahan dada. Wanita punya payudara dan saya punya payudara besar,´ kata da Silva.
"Saya selalu berpakaian seperti itu. Bukan saat ini saja dan setelah menjadi anggota parlemen, saya tetap seperti yang dulu. Saya masuk parlemen tanpa harus bersikap munafik. Cara saya berpakaian adalah masalah saya."
Negara terbesar di Amerika Latin tersebut sekian lama berjuang dengan kekerasan berbasis gender, dan laki-laki terus mendominasi sebagian besar ruang publik, termasuk politik.
"Perempuan berpolitik dan masyarakat harus terbiasa dengan mereka," kata da Silva menanggapi apakah pilihan pakaiannya adalah bentuk protes.
"Ada masalah yang jauh lebih penting untuk dibahas oleh Dewan Legislatif.´
´Pertentangan payudara,´ adalah judul sarkastik di kolom oleh Mariliz Pereira Jorge dari harian terkemuka Folha de S. Paulo yang dimuat Kamis.
Akun Facebook dan Instagram dari anggota DPR daerah pemilihan Santa Catarina dibombardir dengan pesan yang mengritik pilihan busananya di negara yang kontradiktif, sangat konservatif tapi juga dikenal dengan wanita berpakaian minim dan berpesta sepanjang waktu saat Rio Carnaval.
Foto upacara pelantikan dibagikan di akun Instagram-nya, deputadapaulinha, dan menarik perhatian publik dengan lebih dari 13.700 Like dan lebih 3.000 komentar, beberapa di antaranya terlalu vulgar.
Lawan politiknya, termasuk banyak wanita, menuding pilihan pakaiannya ´tidak pantas,´ ´mengejutkan´ dan ´vulgar.´
Stafnya bekerja dengan cepat untuk menghapus beberapa pesan keterlaluan yang menyerukan agar dia Silva diperkosa.
´Baju seksi ... tidak membuat orang sakit dan tidak menyakiti siapa pun,´ tulis seorang pengguna Facebook dengan nama Caritas Cristiana menulis. 'Berpakaian dengan bermartabat adalah tanda kebajikan. Anda seorang wanita figur publik."
Dalam beberapa posting di jaringan media sosial, da Silva membela pilihan pakaiannya.
"Dunia macho dan berprasangka yang kamu tinggali ini bukan milikku," tulisnya dalam menanggapi seorang pria yang bertanya bagaimana belahan dadanya berkontribusi pada demokrasi.
"Saya telah melihat banyak pria berjas dan dasi mengambil uang dari sektor kesehatan, makanan sekolah. Itu tidak bisa diterima.´
Yang lain mengatakan pakaian tidak masalah dan meminta politisi fokus pada masalah yang lebih mendesak.
´Menyukai pakaianmu. Cantik dan penuh gaya, puji Tania Maria ´.... kamu wanita yang luar biasa, cerdas.´
Sementara beberapa orang bertanya-tanya apakah perwakilan negara yang dikenal sebagai Paulinha telah melewati batas, para pendukungnya berusaha untuk memfokuskan kembali perdebatan seputar hasil pemilihan dan tindakan politiknya yang kuat.
Da Silva menerima jumlah suara terbesar kelima dalam pemilihan majelis negara tahun lalu, dan dia sebelumnya menjabat dua periode sebagai walikota setempat di kota Bombinhas seperti dilansir MailOnline.
A NEWLY-ELECTED Brazilian state representative who stirred controversy by wearing a revealing red jumpsuit to her oath of office ceremony has hit back at her critics.
Ana Paula da Silva, 43, struck a nerves when she was sworn-in on February 1 in an outfit that accentuated her breasts, causing furor in Brazil.
The controversy started when the lawmaker from the southern state of Santa Catarina wore a tight, red jumpsuit that showed deep cleavage.
She fired back at her detractors in an interview with Brazilian network NSC TV.
´I thought people were going to talk about [the] red [outfit], but they just focused on cleavage. Women have breasts and I have big breasts,´ da Silva said.
´I´ve always been like that. It´s not now that I have become [a representative] that I will become another woman. I´m not there to be evaluated for that. The way I dress is my problem.´
Latin America´s largest nation has long struggled with gender-based violence, and men continue to dominate much of the public sphere, including politics.
´Women are in politics and society has to get used to them as they are,´ da Silva added in response to whether her choice of clothing was a form of protest.
´There are much more important issues for the Legislative Assembly to discuss. ´
´Breasts of discord,´ read a sarcastic headline Thursday in a column by Mariliz Pereira Jorge from leading daily Folha de S. Paulo.
The Santa Catarina State Representative´s Facebook and Instagram accounts were bombarded with messages taking her to task for her choice of clothing in a deeply conservative country also known for skimpy swim suits and round-the-clock partying during Carnival.
A ceremony photo was shared on her Instagram account, deputadapaulinha, and it has drawn over 13,700 likes and more than 3,000 comments, some which were too vulgar.
The lawmaker´s opponents, including many women, said that her choice of clothing was ´inappropriate,´ ´´shocking´ and ´vulgar.´
Her staff worked quickly to delete some outrageous messages that called for da Silva to be raped.
´A little modesty … does not leave anyone sick and does not hurt anyone,' a Facebook user under the name of Caritas Cristiana wrote. 'Dressing with dignity is a sign of virtue. You're a public woman.'
In several posts on social media network, da Silva defended her wardrobe choice.
´This macho and prejudiced world you live in is not mine,´ she wrote in response to a man who asked how her cleavage contributed to democracy.
´I´ve seen a lot of men in suits and ties taking money out of the health sector, school meals. That´s unacceptable.´
Others said clothes shouldn´t matter and asked that politicians focus on more pressing issues.
´Loved your outfit. Beautiful and stylish,´ Tania Maria chimed in. ´You are a wonderful, intelligent woman.´
While some wondered whether the state representative known as Paulinha had crossed a line, her backers tried to refocus the debate around her strong electoral results and political action.
Da Silva received the fifth largest number of votes in last year´s state assembly election, and she previously served two terms as local mayor in the city of Bombinhas.