APD Seksi, Kiat Perawat Cantik Rusia Hibur Pasien Covid-19 di Tula
Female Nurse Pictured Wearing `Lingerie` under PPE Gown in Russian Hospital
Editor : Ismail Gani
Translator : Novita Cahyadi

PUBLISHED: Kamis, 21 Mei 2020 , 01:09:00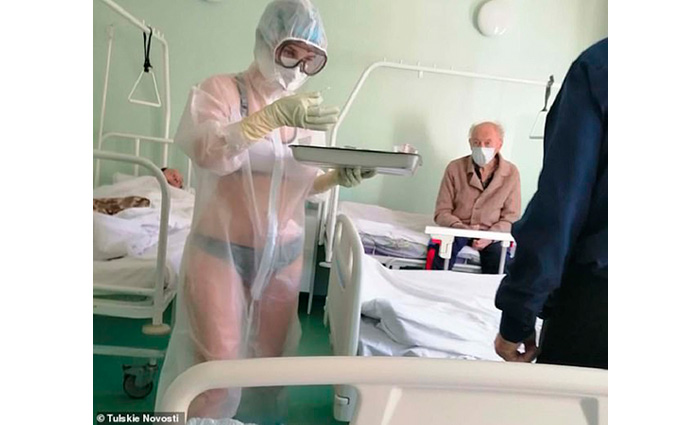 HIBUR PASIEN? Seorang pasien mengatakan tidak ada pasien pria yang menyatakan keberatan di bangsal coronavirus dan hanya ´risih´ saja menyaksikan kejadian langka tersebut [Foto: MailOnline]
SEORANG perawat wanita di ruang unit perawatan intensif [ICU] pasien pria di Rusia harus menjalani sanksi disiplin, lantaran tindakan tidak senonoh mengenakan ´pakaian dalam´ di balik alat pelindung diri [APD] yang transparan.

Foto seksi sang perawat lantas menjadi viral setelah difoto seorang pasien di sebuah rumah sakit khusus pasien Covid-19 di Tula, 160 km selatan Moskow, ibukota Rusia, yang dikatakan sang pemotret bahwa tidak ada keluhan dari rekan-rekannya sesama pasien.

Kendati begitu, kepala rumah sakit tetap gusar dan memilih menghukum sang perawat cantik karena dituding ´tidak mematuhi persyaratan untuk pakaian medis´.

Tenaga medis jelita yang tidak disebutkan namanya berusia 20-an mengatakan dia ´kepanasan´ mengenakan APD sesuai persyaratan medis penangangan Covid-19.

Dia mengatakan kepada manajernya di Rumah Sakit Klinik Regional Tula bahwa dia tidak menyadari APD yang dia kenakan ketika merawat pasien coronavirus sangat transparan.

Meskipun demikian, kementerian kesehatan daerah melaporkan bahwa ´sanksi disiplin diterapkan pada perawat departemen penyakit menular yang melanggar persyaratan [seragam]´.

Awalnya para pimpinan rumah sakit mengatakan wanita itu mengenakan ´pakaian dalam´ tetapi kemudian mengklaim bahwa dia mengenakan ´pakaian renang´ di balik gaun transparan tersebut.

Sang perawat belum berbicara secara terbuka tentang insiden tersebut dan mengungkap lebih rinci tentang tindakan indisipliner tersebut.

Seorang pasien mengatakan tidak ada pasien pria yang menyatakan keberatan di bangsal coronavirus dan hanya ´risih´ saja menyaksikan kejadian langka tersebut.

Seorang pembaca koran lokal Tula News memberi selamat kepada perawat itu. "Setidaknya seseorang memiliki selera humor dalam kenyataan yang suram dan suram ini," kata Sergey Ratnikov.

"Kenapa ditegur?" tanya Albert Kuzminov.

Pendukung aksi sang perawat seksi mengatakan: "Semua orang meneriakinya, tetapi tidak ada yang memperhatikan bahwa dia berpakaian seksi tersebut karena kepanasan."

´Mungkin kamu perlu berteriak pada manajemen rumah sakit ... karena tidak ada AC normal di sini.´

Seorang komentator wanita Marina Astakhova memposting: ´Bagus sekali, dia membangkitkan suasana gembira bagi para pasien.´

Dan Valery Kapnin menulis: ´Mengapa menghukum perawat, Anda perlu menghadiahinya. "Melihat pakaian seksi tersebut, pasien akan lebih semangat untuk bertahan hidup."

Insiden itu terjadi ketika kepala pusat pemantauan Covid-19 Rusia, seorang mantan dokter TV, Alexander Myasnikov, mengejutkan penonton dengan berbicara terus terang tentang krisis coronavirus.

"Infeksi bagaimanapun akan memakan korban," katanya. "Itu akan memakan biaya. "Lagi pula kita semua akan sakit.

"Mereka yang seharusnya mati akan mati."

Hingga Selasa, Rusia memiliki total 299.941 kasus infeksi, dengan jumlah kematian resmi 2.837.

Banyak ahli meyakini statistik Rusia menggarisbawahi tingkat sebenarnya dari kematian. Secara resmi, Tula memiliki 2.637 infeksi dengan 19 kematian seperti dilansir MailOnline.
A NURSE on an all-male coronavirus ward in Russia has been disciplined for only wearing ´lingerie´ beneath her transparent protective gown.

Her revealing picture went viral after being taken by a patient at a hospital in Tula, 100 miles south of Moscow, who said there were ´no complaints´ from his bedfellows.

But hospital chiefs were not amused and punished the nurse for ´non-compliance with the requirements for medical clothing´.

The unnamed medic in her 20s said she was ´too hot´ wearing her nurses´ uniform under the gown.

She told her managers at Tula Regional Clinical Hospital that she did not realise the PPE she wore when treating coronavirus patients was so transparent.

Despite this, the regional health ministry reported that ´a disciplinary sanction was applied to the nurse of the infectious diseases department who violated (uniform) requirements´.

Her chiefs at first said the woman was wearing ´lingerie´ but later claimed she had a ´swimming suit´ beneath the gown.

The nurse has not spoken publicly on the incident and the exact details of the discplinary action were not revealed.

One patient said there was no objection from men in the coronavirus ward while admitting there was ´some embarrassment´.

A reader of local newspaper Tula News congratulated the nurse. ´At least someone has a sense of humour in this gloomy, gloomy reality,´ said Sergey Ratnikov.

´Why the reprimand?´ asked Albert Kuzminov.

Another supporter said: ´Everyone shouted at her, but no one paid attention that she was dressed in this way because of the heat.

´Maybe you need to yell at the management … because there is no normal air conditioning here.´

A woman commenter Marina Astakhova posted: ´Well done, she raised the mood of the patients.´

And Valery Kapnin wrote: ´Why punish the nurse, you need to reward her. ´Seeing this outfit, no-one wants to die.´

The incident came as the head of Russia´s Covid-19 monitoring centre, a former TV doctor, Alexander Myasnikov, shocked viewers with his blunt speaking on the coronavirus crisis.

´The infection will anyway take its toll,´ he said. ´It´ll take its toll. ´We will anyway all get sick.

´Those who were supposed to die will die.´

By Tuesday, Russia had a total of 299,941 cases of infection, with an official death toll of 2,837.

Many experts believe the Russian statistics underscore the true level of fatalities. Officially, Tula has had 2,637 infections with 19 deaths.