Ambisi Viral, Pemotor China Ngebut 300 km/jam Ditangkap Polisi
China´s Motorcyclist is Arrested after Viral Video Shows Him Speeding at 185mph
Editor : Ismail Gani
Translator : Novita Cahyadi

PUBLISHED: Rabu, 07 Maret 2018 , 22:14:00 WIB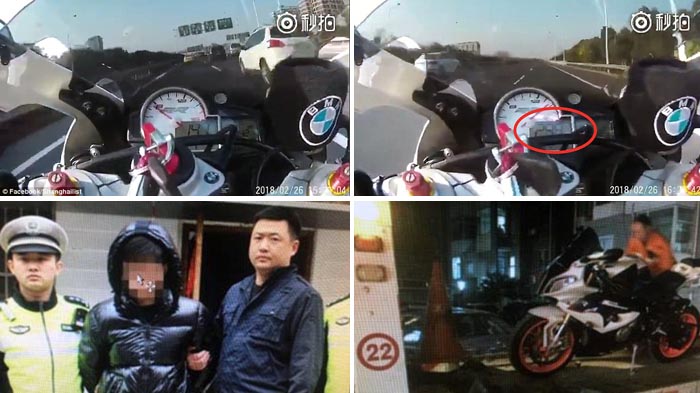 Polisi lalu lintas Nanjing melakukan investigasi saat mereka melihat video secara online. Petugas menangkap Shi pada 1 Maret di rumahnya di Daijia Gang Nanjing karena dicurigai melakukan perjalanan yang berbahaya (Foto2: MailOnline)
SEORANG pengendara motor bertindak ugal-ugalan di jalan raya yang mengakibatkan kecelakaan saat melaju di jalan raya yang sibuk di China timur.

Rekaman video yang diunggah online dan menjadi viral memperlihatkan sepeda motor BMW berlari kencang meninggalkan mobil dan truk dengan kecepatan hampir 300 km per jam.

Pria berusia 24 tahun, yang bernama Shi, ditangkap karena mengemudi dengan ugal-ugalan dan tanpa surat izin mengemudi (SIM).

Siaran tivi Kota Jiangsu melaporkan bahwa insiden tersebut terjadi di jalan raya yang terhubung ke Bandara Internasional Nanjing Lukou di Provinsi Jiangsu.

Shi kedapatan mengemudikan motor BMW S1000RR-nya di jalan raya empat jalur dan menyalip mobil pada pukul 04.25 waktu setempat pada 26 Februari.

Video klip yang diambil dari kamera yang terpasang pada helmnya menunjukkan bahwa speedometer menunjukkan Shi Shi ngebut dari kecepatan 130km menjadi 299 km per jam, sama dengan kereta Eurostar berkecepatan tinggi.

Speedometer bertahan di 299 km per jam saat motor mencapai kecepatan maksimalnya sebelum Mr Shi menguranginya.

Polisi lalu lintas Nanjing melakukan investigasi saat mereka melihat video secara online. Petugas menangkap Shi pada 1 Maret di rumahnya di Daijia Gang Nanjing karena dicurigai melakukan perjalanan yang berbahaya.

Petugas juga menyita motor BMW-nya.

Mr Shi, yang menjalankan bisnis menjual aksesoris sepeda motor, mengatakan kepada polisi bahwa dia belum memiliki SIM.

Dia mengaku telah menghabiskan Rp100 juta untuk membeli motor bekas BMW S1000RR.

Pengacara Xu Yunzhao, dari Nanjing Gaopun Chambers mengatakan kepada Liaoshen Evening Post bahwa pengendara sepeda motor telah membahayakan pengguna jalan lainnya.

Xu menjelaskan bahwa Shi telah melanggar Pasal 133 Undang-Undang Hukum Pidana China karena melanggar peraturan yang mengatur lalu lintas dan transportasi seperti dilansir MailOnline.
A RECKLESS MOTORCYCLIST came within feet of causing an accident while speeding on a busy highway in east China

Footage shared online shows a BMW motorbike is squeezing between cars and lorries, hitting a maximum speed of 185 miles per hour.

The 24-year-old, surnamed Shi, was arrested for dangerous driving and speeding without a driving licence.

Jiangsu City Channel reported that the incident took place at a highway that connects to Nanjing Lukou International Airport in Jiangsu Province.

Mr Shi can be seen driving his BMW S1000RR motorbike on a four-lane road and overtaking the cars at 4:25pm on February 26.

The clip, taken from a camera attached to his helmet, shows the speedometer indicating Mr Shi gaining the speed from 130kmh (80 mph) to 299 kmh (185 mph), same as the high-speed Eurostar train.

The speedometer stays at 299kmh as the bike reached its maximum speed before Mr Shi reduced it.

Nanjing traffic police launched an investigation as they saw the video online. Officers arrested Mr Shi on March 1 at his home in Daijia Alley of Nanjing on suspicion of dangerous driving.

The officers also confiscated his BMW motorbike.

Mr Shi, who runs a business selling motorbike accessories, told the police that he has not acquired a driving licence.

He admitted that he had spent 50,000 yuan (£5,704) to buy the second-hand BMW S1000RR.

Solicitor Xu Yunzhao, from Nanjing Gaopun Chambers told Liaoshen Evening Post that the motorcyclist had posed danger to other road users.

Mr Xu explained that Mr Shi might have already violated Article 133 of China´s Criminal Law in violating regulations governing traffic and transportation.