Perth - London, Qantas Catat Rekor Terbang Terlama 18 Jam Nonstop
Qantas Made History for the First Non-stop Perth to London Flight on Sunday
Editor : Ismail Gani
Translator : Novita Cahyadi

PUBLISHED: Minggu, 25 Maret 2018 , 22:57:00 WIB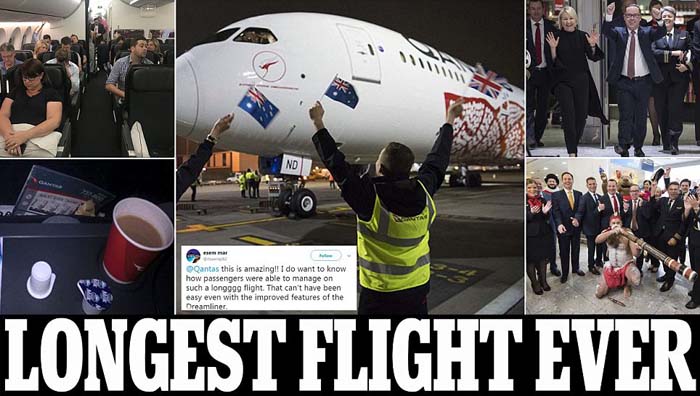 Penumpang di atas pesawat senang bisa menjadi bagian dari penerbangan bersejarah, menyebar foto menu yang dibuat melalui medsos dan hidangan prasmanan (Foto2: MailOnline)
SEJARAH telah dibuat setelah pesawat Qantas untuk pertama kalinya terbang nonstop dari Perth ke London mendarat pada Minggu pagi di Heathrow setelah bertolak dari Australia pada Sabtu malam.
Penerbangan tersebut tergolong melelahkan selama 17 jam dan 20 menit namun mendarat dengan sambutan meriah pada pukul 5:10 pagi waktu setempat setelah menempuh perjalanan bersejarah sejauh 9.000 mil.
Pesawat yang digunakan untuk penerbangan jarak jauh tersebut adalah Boeing 787-9 Dremaliner yang dimodifikasi, dua kali lebih hemat bahan bakar ketimbang Boeing 747.
Pesawat ini menawarkan sejumlah keunggulan dibandingkan model lain, termasuk kebisingan kabin yang lebih rendah, jendela yang lebih besar, peningkatan kualitas udara dan teknologi untuk mengurangi turbulensi.
Penumpang di atas pesawat senang bisa menjadi bagian dari penerbangan bersejarah, menyebar foto menu yang dibuat melalui medsos dan hidangan prasmanan, yang sarat dengan aneka makanan dan minuman gratis seperti dilansir MailOnline.
HISTORY was made when the first Qantas non-stop flight from Perth to London landed on Sunday morning at Heathrow following its departure on Saturday night.
The journey was a gruelling 17 hours and 20 minutes but it landed triumphantly at 5.10am after travelling the historical 9,000 miles.
The plane used for the long haul was the revamped Boeing 787-9 Dremaliner, which is twice as fuel-efficient as the the Boeing 747.
The aircraft boasts of a number of advantages over other models, including lower cabin noise, larger windows, improved air quality and technology to reduce turbulence.
Passengers onboard were delighted to take part of the historic ride, sharing photos of the specially crafted menu, complimentary amenity bags and the self serve pantry, that's loaded with free treats and drinks.