Gedung Tertinggi di Eropa Barat akan Terlihat dari Jarak 60 Km
Western Europe`s Tallest Building and It`ll be Visible from 40 Miles Away
Editor : Ismail Gani
Translator : Novita Cahyadi

PUBLISHED: Senin, 01 April 2019 , 23:23:00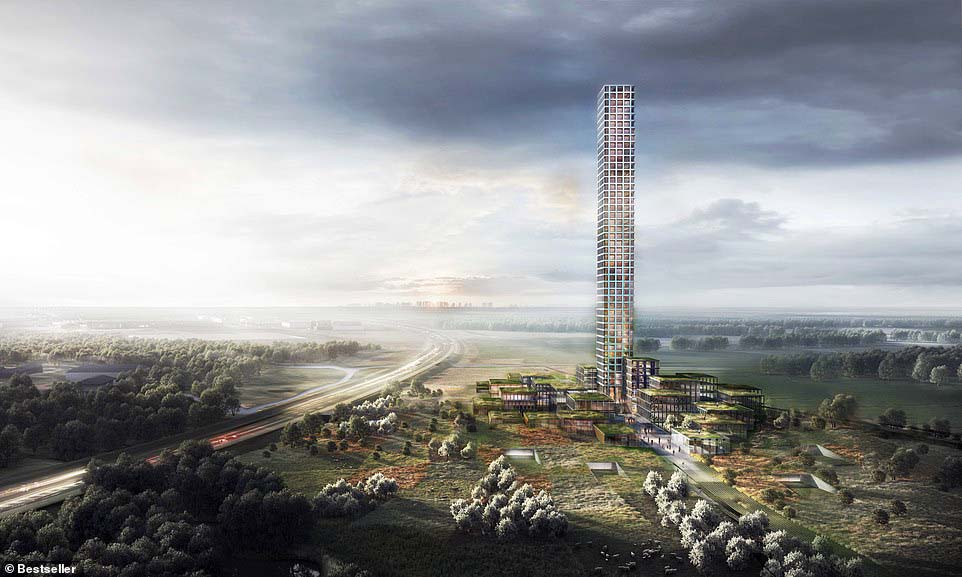 Bestseller mengatakan itu akan menjadi landmark, meskipun mungkin tidak dengan cara yang tepat. Pencakar langit bisa dibandingkan dengan Menara Sauron seperti tampil di film Lord of the Rings [Foto: MailOnline]
BANGUNAN tertinggi di Eropa Barat ini akan didirikan di kota kecil pedesaan Brande di Denmark, yang berpenduduk hanya 7.000 orang.
Gedung pencakar langit itu akan menjadi markas raksasa mode terlaris, yang didirikan di kota itu pada 1975, dan akan berdiri tegak pada ketinggian 320 meter [1.049 kaki] sepuluh meter lebih tinggi dari London Shard. Setelah diamati maka gedung pencakar langit tersebut akan mendominasi pedesaan datar di sekitarnya - itu akan terlihat dari sekitar 60 km [37 mil] jauhnya.
Bestseller mengatakan itu akan menjadi landmark, meskipun mungkin tidak dengan cara yang tepat. Pencakar langit bisa dibandingkan dengan Menara Sauron seperti tampil di film Lord of the Rings.
Perbandingan lidah-di-pipi dibuat oleh publikasi satir Denmark yang disebut Rokokoposten, menurut The Guardian, yang menulis artikel yang mengutip Sauron mengatakan: "Saya telah menawarkan untuk membiayai instalasi seni interaktif utama dalam bentuk mata menyala di bagian paling atas gedung. '
The Guardian mengatakan bahwa ada juga keberatan serius terhadap proyek tersebut.
Hal ini merujuk pada pernyataan arsitek Aarhus Trine Kammer yang mengatakan bahwa bangunan itu akan mengancam 'lanskap pedesaan di sekitarnya.'
Meskipun demikian, proyek ini telah menerima persetujuan dari dewan kota dan seorang reporter lokal dari Brande mengatakan kepada The Guardian: "Sulit menemukan orang di sini yang menentang pendiriannya."
Bestseller - yang dimiliki oleh Anders Holch Povlsen, orang terkaya Denmark - menyebut rencana proyek Tower & Village, dan mengatakan bahwa itu adalah 'pemikiran ulang' dari ide klasik sebuah markas.
Kompleks, yang dirancang oleh firma arsitek Dorte Mandrup, akan menjadi outlet bagi 30 toko, fasilitas pendidikan, akomodasi hotel dan beberapa kantor buku terlaris.
Hans Ulbrichsen, dari Brande Trade Association, mengatakan: 'Kami melihat rencana proyek Bestseller sebagai peluang besar bagi kota. Peluang yang dapat membantu menciptakan kehidupan yang dinamis di Brande - tidak hanya untuk Bestseller - tetapi sangat berdampak positif untuk bisnis lokal di Brande. Basis pelanggan yang lebih besar bermanfaat bagi semua pihak.'
'Keseluruhan proyek pembangunan dianggap sebagai investasi di Brande, dan bangunan bertingkat yang direncanakan akan berfungsi sebagai ikon untuk ekspansi baru. Ini akan menjadi landmark yang menempatkan Brande di peta, tetapi itu juga akan berfungsi sebagai daya tarik arsitektur yang menguntungkan tamu hotel, siswa, dan pengguna bangunan lainnya. "
Manajer Proyek Anders Krogh mengatakan: 'Kami sangat senang bahwa rencana tersebut sekarang telah disetujui oleh dewan kota dan kami sangat bangga dan rendah hati dengan jumlah dukungan yang telah diterima proyek kami, terutama secara lokal. Penting bagi kita untuk menggarisbawahi bahwa persetujuan dewan kota hanyalah salah satu langkah awal dari perjalanan panjang.'
Persetujuan dewan kota jelas sangat penting, tetapi masih memiliki banyak pekerjaan rumah yang harus dilakukan dan banyak yang harus dipertimbangkan sebelum proyek seperti ini dapat dihidupkan kembali. Kami masih memiliki waktu setahun ke depan sebelum memulai pembangunannya,' seperti dilansir MailOnline.
WESTERN Europe's tallest building is set to be erected in the tiny rural town of Brande in Denmark, which has a population of just 7,000 people.
The skyscraper will be the headquarters of fashion giant Bestseller, which was founded in the town in 1975, and at 320 metres (1,049 feet) will be ten metres taller than London's Shard. An eye-popping rendering shows how the building will dominate the flat countryside around it – it'll be visible from around 60km (37 miles) away.
Bestseller says it'll become a landmark, though perhaps not in a good way. It's been compared to The Tower of Sauron in Lord of the Rings.
The tongue-in-cheek comparison was made by a Danish satirical publication called Rokokoposten, according to The Guardian, which wrote a spoof article in which Sauron was quoted as saying: 'I have offered to finance a major interactive art installation in the form of a blazing eye at the very top of the building.'
The Guardian says that there are also serious objections to the project.
It quotes Aarhus architect Trine Kammer as saying that the building will destroy 'undisturbed landscape'.
The project has, nevertheless, received approval from the city council and one local reporter from Brande told The Guardian: 'It's hard to find anyone here who is opposed to the tower.'
Bestseller - which is owned by Anders Holch Povlsen, Denmark's richest man - calls the plan the Tower & Village project, and says that it is a 'rethink' of the classic idea of a headquarters.
The complex, designed by architect firm Dorte Mandrup, will become home to 30 stores, educational facilities, hotel accommodation and multiple Bestseller offices.
Hans Ulbrichsen, from Brande Trade Association, said: 'We see Bestseller's project plan as a great opportunity for the town. An opportunity that can help create a dynamic life in all of Brande – not just for Bestseller – but very much also for the local businesses in Brande. A larger customer base is beneficial for all parties.
'The overall building project is thought as an investment in Brande, and the planned high-rise building will function as an icon for the new expansion. It will be a landmark that places Brande on the map, but it will also function as an architectural attraction benefitting hotel guests, students and other users of the building.'
Project Manager Anders Krogh said: 'We are very pleased that the plans have now been approved by the city council and we are extremely proud and humbled by the amount of support our project has received, especially locally. It is important for us to underline that the city council's approval is merely one of the preliminary steps of a long journey.
'The city council's approval is obviously essential, but we still have a lot of homework to do and much to consider before a project like this can be brought to life. We still have years ahead of us before a potential start date.'