EasyJet Jaga Semangat Awak Kabin Tangkal Pandemi
Easyjet Launches Cabin Trolley Home Delivery Service using Real Crew Member
Editor : Kemal A Praghotsa
Translator : Novita Cahyadi

PUBLISHED: Senin, 28 Desember 2020 , 23:27:00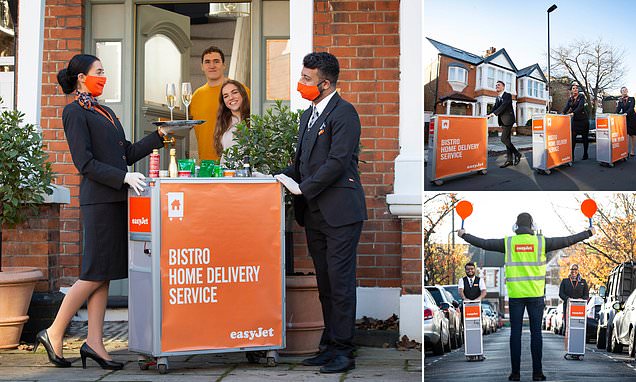 CEGAH PHK: EasyJet menyediakan layanan tersebut sebagai upaya menjaga ´semangat kerja´ awak kabin akibat larangan terbang lantaran pandemi Covid-19 [Foto2: MailOnline]
BANYAK pelancong di Inggris terpaksa mengurung niatnya untuk plesir lantaran pandemi Covid-19, hal itu diantisipasi EasyJet dengan layanan kabin di darat.
EasyJet, maskapai penerbangan bertarif rendah terbesar di Eropa meluncurkan layanan layaknya di dalam kabin pesawat, namun kali ini layanan dari rumah ke rumah. Layanan kabin door to door tersebut dilakukan pramugara dan pramugari berseragam, yang mendorong troli ke depan pintu rumah pelanggan setianya.
Jika diminta, awak kabin EasyJet bersedia memperagakan aturan keselamatan penerbangan layaknya di dalam pesawat.
Troli diisi dengan makanan ringan termasuk keripik, kacang-kacangan dan zaitun - dan gin dan tonik, Bloody Marys dan Prosecco dingin pun ada di daftar minuman.
Layanan ini dijalankan sebagai percobaan dalam kemitraan dengan Deliveroo pada 17 dan 18 Desember lalu yang diberikan secara gratis, pelanggan hanya diminta memberikan donasi ke badan amal Age UK.
EasyJet menyediakan layanan tersebut sebagai upaya menjaga ´semangat kerja´ awak kabin akibat larangan terbang lantaran pandemi Covid-19.
EasyJet yang dioperasikan easyJet Airline Company Limited. Maskapai ini berbasis di Bandar Udara London Luton yang mengoperasikan penerbangan domestik dan internasional lebih dari 300 rute di seluruh dunia.
Tina Milton, Direktur Layanan Kabin di easyJet, mengatakan: "Pelanggan kami tidak bisa terbang dalam beberapa bulan terakhir, kru kabin kami benar-benar bosan tidak dapat melakukan apa yang mereka sukai, melayani pelanggan kami, jadi uji coba ini memberi kami peluang besar untuk membawa EasyJet ke pintu pelanggan dengan layanan Trolley Deliver."
´Jadi, untuk saat ini, kami akan fokus untuk memastikan layanan kami tetap sebaik di darat seperti halnya di udara dan kami berharap dapat menyambut semua orang kembali terbang pada 2021.´
Johan Lundgren, CEO di EasyJet, mengatakan: ´Melalui uji coba ini saya senang melihat kru kami dapat memberikan sedikit kegembiraan liburan ke rumah-rumah pada Natal ini.´
Natasha Graydon dari Deliveroo menambahkan: "Jika ada satu hal yang kami lewatkan tahun ini adalah perasaan naik pesawat, duduk di kursi Anda, dan bersulang untuk liburan di depan saat Anda terbang ke lokasi yang jauh."
´Itulah mengapa kami senang bekerja dengan easyJet untuk menciptakan kembali beberapa keajaiban liburan di rumah Natal ini," katanya seperti dilansir MailOnline.
HOLIDAYMAKERS missing flying are bound to think this new delivery service is plane-ly a great idea.
Easyjet is launching what it claims is the world´s first home delivery trolley service, with real uniformed cabin crew wheeling actual inflight trolleys to customers´ doorsteps.
If requested, they´ll even perform the safety routine.
The trolleys will be loaded with snacks including crisps, nuts and olives - and gin and tonics, Bloody Marys and chilled Prosecco will be on the drinks list.
The service is being run on a trial basis in partnership with Deliveroo on December 17 and 18 in London and is complimentary, with customers asked to make a donation to the charity Age UK.
Easyjet sees the initiative as a fun way to keep the cabin crew ´match-fit´.
Tina Milton, Director of Cabin Services at easyJet, said: ´As much as our customers have missed flying in recent months our cabin crew have really missed doing what they love to do best, serving our customers, so this trial gives us a great opportunity to bring easyJet to customers´ doors with our Trolley Delivery service.
´So, for now, we will focus on ensuring our service remains as good on the ground as it does in the air and we look forward to welcoming everyone back onboard in 2021.´
Johan Lundgren, CEO at easyJet, said: ´Through this trial I´m pleased to see that our crew are able to deliver a bit of holiday cheer to homes this Christmas.´
Natasha Graydon at Deliveroo added: ´If there´s one thing we´ve missed this year it´s that feeling of boarding a plane, getting settled into your seats and toasting the holiday ahead as you jet off to a faraway location.
´That´s why we´re delighted to be working with easyJet to recreate some of that holiday magic at home this Christmas.´