Pramugari Wajib Berhijab di Aceh, AirAsia Kerahkan Awak Kabin Pria
AirAsia to Crew Aceh Flights with Men only after Hijab Rule
Editor : Ismail Gani
Translator : Novita Cahyadi

PUBLISHED: Jum'at, 02 Februari 2018 , 23:05:00 WIB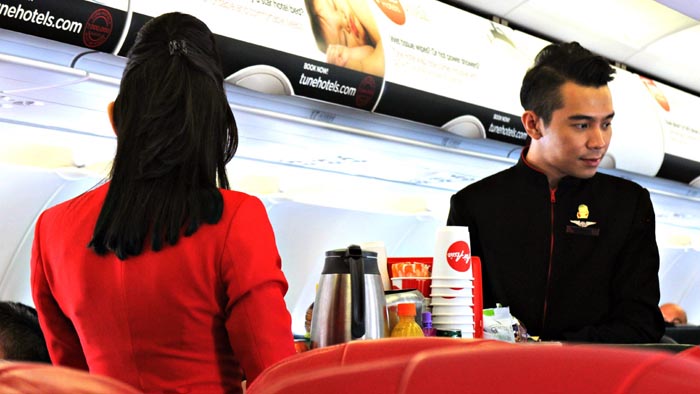 Awak kabin pria AirAsia (Foto: YouTube)
MASKAPAI bertarif murah AirAsia menyatakan bahwa penerbangan ke Banda Aceh, Provinsi Nangroe Aceh Darussalam (NAD) akan dilayani oleh awak kabin pria (pramugara) setelah pemerintah kabupaten Aceh Besar mewajibkan pramugari mengenakan hijab.

Maskapai lain mengatakan mereka akan mematuhi dan mewajibkan pramugari untuk menutup kepala mereka dengan hijab untuk rute penerbangan ke Aceh yang menjalankan hukum Syariah Islam.

Sekretaris Perusahaan AirAsia Indonesia Baskoro Adiwiyono mengatakan pada Jumat bahwa maskapai tersebut memastikan perusahaannya mematuhi peraturan daerah.

"Untuk sementara, semua penerbangan AirAsia dari dan ke Aceh akan dioperasikan oleh awak kabin pria," katanya.

Pemerintah Aceh pada Rabu mengedarkan sebuah surat dengan permintaan wajib hijab bagi pramugari yang melayani rute penerbangan dari dan ke Banda Aceh.

Surat edaran, yang dikeluarkan oleh Bupati Aceh Besar, yang mengawasi bandara di ibukota provinsi, Banda Aceh, mengatakan bahwa pramugari diwajibkan mengenakan hijab sesuai dengan Syariah Islam dan maskapai penerbangan harus mematuhi pelaksanaan undang-undang Syariah di Aceh.

Maskapai penerbangan nasional Garuda Indonesia dan anak perusahaannya Citilink mengatakan mereka "mendukung aturan tersebut."

"Garuda menghormati dan menjunjung tinggi kearifan lokal," kata juru bicaranya Ikhsan Rosan.

Aceh adalah satu-satunya provinsi di Indonesia yang berpenduduk mayoritas Muslim yang menerapkan Syariah Islam. Hukuman cambuk di depan umum berlaku pada pelaku perzinahan, perjudian, homoseksualitas, pakaian ketat dan perilaku lainnya yang dianggap bertentangan dengan Islam seperti dikutip Associated Press yang dilansir MailOnline.
BUDGET AIRLINE AirAsia said its flights to Indonesia´s conservative Aceh province will have only male cabin crew after Acehnese authorities insisted female flight attendants wear head coverings.

Other airlines have said they will comply and require female crew to cover their heads on flights to the Shariah-law practicing province.

AirAsia Indonesia´s corporate secretary Baskoro Adiwiyono said Friday that the airline was ensuring its flights adhere to regulations.

"For the time being, all AirAsia flights from and to Aceh will be operated by male cabin crew," he said.

Aceh authorities on Wednesday circulated a letter with their demand to several airlines.

The letter, issued by the chief of Aceh Besar district, which oversees the airport in the provincial capital Banda Aceh, said female flight attendants are obliged to wear the hijab in accordance with the rules of Islam and airlines should support the implementation of Shariah law in the province.

National airline Garuda Indonesia and its budget arm Citilink said they "support the suggestions."

"Garuda respects and upholds local wisdom," said its spokesman Ikhsan Rosan.

Aceh is the only province in Muslim-majority Indonesia where a strict form of Islam is mandatory. Public caning is a punishment for adultery, gambling, homosexuality, tight clothing and other behavior deemed against Islam.