Gabah Rp5 Ribu per kg, Petani Subak Jembrana Bali Sambut Gembira Panen Berlimpah
Farmers Subak in Indonesia`s Bali was Excited over the Rice Harvest in Jembrana
Reporter : Gusmiati Waris
Editor : Cahyani Harzi
Translator : Dhelia Gani

PUBLISHED: Senin, 22 Januari 2018 , 00:30:00 WIB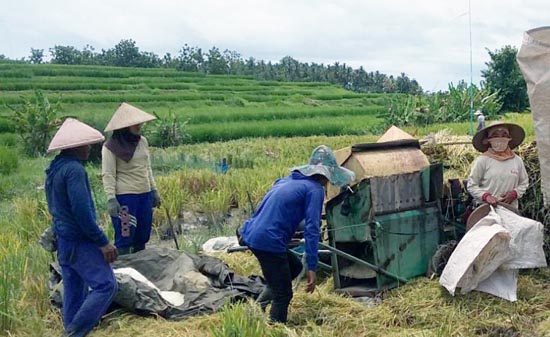 Subak Tibubeleng beranggotakan 708 orang petani, dimana pada tahun 2013 kelompok tani ini terpilih menjadi juara 1 tingkat nasional (Foto: Humas Kementan)
Jakarta (B2B) - Petani subak di Kabupaten Jembrana, Provinsi Bali tengah memulai panen padi seluas 175 hektar di hamparan seluas 395 hektar, produktivitas 6,9 ton gabah kering panen (GKP) per hektar dan harga jual gabah mencapai Rp5.000 per kg.

"Harga sekarang ini sedang bagus-bagusnya, kalau bisa bertahan pada kisaran ini karena supaya bisa nutup biaya operasionalnya, minimal bisa buat biaya sekolah anak kami," kata Gusti Ngurah Arya Wirawan, anggota Subak Tibuleleng di Desa Penyaringan, Kecamatan Mendoyo.

Subak adalah gabungan kelompok tani yang khusus mengatur sistem pengairan sawah yang digunakan dalam cocok tanam padi di Bali.

Ketua Subak Tibuleleng, I Nyoman Tehnik menyatakan syukur atas panen padi saat ini setelah memanfaatkan varietas Inpari 43, Legawa dan Ciherang.

Subak Tibubeleng beranggotakan 708 orang petani, dimana pada tahun 2013 kelompok tani ini terpilih menjadi juara 1 tingkat nasional.
Jakarta (B2B) - Subak farmers in Indonesia´s Jembrana district of Bali province has initiated rice harvest of 175 hectares of total 395 hectares, with productivity of 6.9 tons of dried grain per hectare and rice selling price reached 5,000 rupiah per kg.

"The price of grain is good, hopefully not go down to cover operational costs, and can pay for school children," said Gusti Ngurah Arya Wirawan, a rice farmer in Penyaringan village of Mendoyo subdistrict.

Subak is a combination of farmer groups with a unique irrigation system for agricultural land in Bali.

Chairman of Tibuleleng Subak, I Nyoman Tehnik expressed gratitude for the rice harvest of Inpari 43 rice varieties, Legawa and Ciherang.

708 farmers joined in Subak Tibubeleng, and in 2013 they were selected as the best farmers across the country.