Satminkal di Daerah, BPP Simpul Koordinasi Kementan dengan Penyuluh Pertanian
Indonesian Agricultural Extension in the Regions is Supported by Legislation
Editor : M. Achsan Atjo
Translator : Dhelia Gani

PUBLISHED: Senin, 03 Desember 2018 , 00:44:00 WIB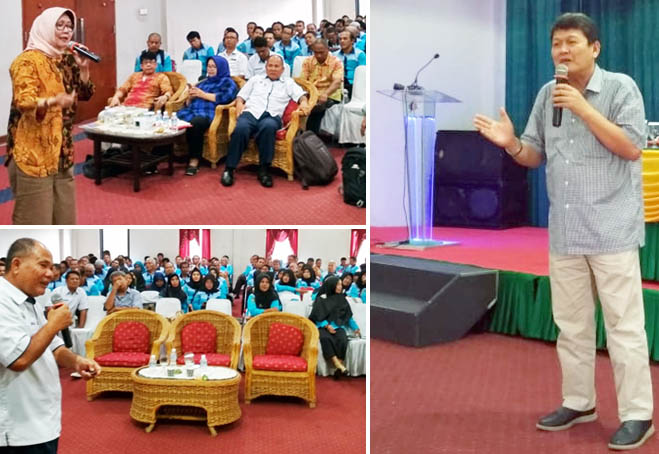 UU SISTEM PENYULUHAN: Kabid Penyelenggaraan Penyuluhan Pertanian, Zahron Helmy (kanan), Kabid PHPP Pemprov Sumsel Dwiritakesuma W (kiri atas) dan Asda II, Amrullah J (Foto2: Humas Pusluhtan/ Purnomojati A)
Muara Enim, Sumsel (B2B) - UU Pemerintah Daerah No 23/2014 tetap mendukung eksistensi kelembagaan penyuluhan pertanian di daerah seperti termuat pada Pasal 15 ´sebagai urusan bersama antara pemerintah pusat dan daerah yang dilaksanakan secara konkurensi". UU Sistem Penyuluhan No 16/2006 pada Pasal 8 dan 15 mengamanatkan balai penyuluhan pertanian tingkat kecamatan (BPP) merupakan Satuan Administrasi Pangkal (Satminkal) apabila lebih dari satu dinas yang menyelenggarakan fungsi penyuluhan pertanian.
Fungsi dan peran kelembagaan penyuluhan pertanian di daerah tersebut mencuat pada ´temu teknis sosialisasi penumbuhkembangan korporasi petani´ di Kabupaten Muara Enim, Provinsi Sumatera Selatan yang dihadiri 120 penyuluh pertanian dari seluruh kabupaten, belum lama ini.
Narasumber dari Badan Penyuluhan dan Pengembangan SDM Pertanian (BPPSDMP) Kementerian Pertanian mengingatkan hal itu pada temu teknis yang dibuka oleh Asisten Daerah II, Amrullah J di Muara Enim. Mereka adalah Kepala Bidang Penyelenggaraan Penyuluhan Pertanian - Pusat Penyuluhan Pertanian (Pusluhtan), Zahron Helmy; dan Kepala Subbidang Kelembagaan Penyuluhan Pertanian - Pusluhtan, Purnomojati Anggoroseto.
"Fokus gerakan penyuluh membangun korporasi petani berada di BPP, perannya diarahkan untuk menguatkan fungsinya sebagai pos simpul koordinasi pembangunan pertanian, perencanaan pembangunan pertanian di kecamatan. Juga menjadi pusat data dan informasi, konsultasi agribisnis, pembelajaran dan pengembangan kemitraan," kata Zahron H.
Dia mengingatkan penyuluh pertanian harus memahami program dan kegiatan pembangunan pertanian, menguasai data potensi wilayah dan selalu update pada informasi terkini pertanian.
Kebijakan pemerintah pusat di Jakarta pasca UU Pemerintah Daerah No 23/2014, mendorong terintegrasinya kelembagaan penyuluhan pertanian pada dinas di tingkat provinsi hingga kabupaten/kota yang menyelenggarakan urusan pertanian dan pembentukan unit pelaksana teknis daerah (UPTD) penyuluhan pertanian, dengan nomenklatur BPP menjadi penekanan keluarnya Surat Edaran Menteri Dalam Negeri Nomor 520/9340/OTDA, 8 November 2017.
Surat edaran Mendagri menekankan bahwa BPP adalah unit kerja non struktural yang melaksanakan kegiatan penyuluhan pertanian di kecamatan dan dipimpin oleh seorang koordinator," kata Zahron H.
Sementara Purnomojati A kembali menekankan tentang Satminkal untuk mempermudah pembinaan dan peningkatan kompetensi penyuluh, maka bupati/walikota harus menetapkan dinas yang pengembangan komoditas dominan untuk menjadi Satminkal, khususnya apabila lebih dari satu dinas yang menyelenggarakan fungsi penyuluhan. (liene)
Muara Enim of South Sumatera (B2B) - Local Government Law Number 23/2014 continue to support the existence of Indonesian agricultural extension institutions in the region as ´the common concern of central and local government are implemented concurrency´. Extension System Law Number 16/2006 on Articles 8 and 15 stated the agricultural extension center at the sub-district level or the BPP is the Base Administrative Unit or the Satminkal if more than one service office organizes extension activities.
The function and role of agricultural extension institutions in the area is sticking out in the socialization of farmers´ corporate development regionally based and economically scale´ in Muara Enim district of South Sumatra province which was attended by 120 agricultural extensionist across the districts, recently.
Keynote speakers of the Directorate General of Extension and Agricultural HR Development in Indonesian Agriculture Ministry are the Zahron Helmy as Head of Division for Organizing Agricultural Extensionin Agricultural Extension Center of Pusluhtan and and Head of the Agricultural Extension Institution Subdivision, Purnomojati Anggoroseto.
"Focus of farmers´ corporate development in the BPP, to strengthen its function as a post for coordinating agricultural development, agricultural development planning in the sub-district. It is also a data and information center, agribusiness consultancy, partnership learning and development," Mr Helmy said.
He reminded that agricultural extensionist must understand agricultural development programs and activities, find out the potential data of agriculture in the area, and always update on the latest agricultural information.
Jakarta´s policy after the Regional Government Law Number 23/2014, encouraged the integration of agricultural extension institutions at the provincial level to district / city offices that organize agricultural affairs and the establishment of regional technical implementation units or UPTD agricultural extension, with BPP nomenclature after issuance of instructions of the interior minister per November 8, 2017.
The minister of interior´s letter stressed that the BPP was a non-structural work unit that carried out agricultural extension activities in the sub-district, led by a coordinator," Mr Helmy said.
While Mr Anggoroseto stated the Satminkal for fostering and improving competency of agricultural extentionist, so that the regent or mayor must establish service office as the Satminkal, especially if more than one office has an extension function.