Akreditasi A, BBPP Ketindan Raih Nilai 93,81 dari LAN
Indonesia`s Ketindan Agricultural Training Center Got A Accreditation
Reporter : Kevin Cesario
Editor : Cahyani Harzi
Translator : Dhelia Gani

PUBLISHED: Senin, 26 November 2018 , 00:44:00 WIB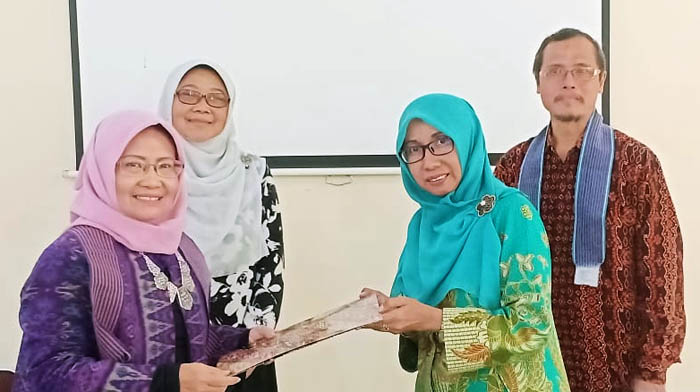 TIM ASESOR LAN: Pimpinan BBPP Ketindan menerima Akreditasi A dari Tim Asesor LAN (Foto: Humas BBPP Ketindan)
Malang, Jatim (B2B) - Balai Besar Pelatihan Pertanian - BBPP Ketindan meraih Akreditasi A dengan perolehan 93,81 atau Skor A yang berlaku lima tahun ke depan, dari Lembaga Adminsitrasi Negara (LAN) untuk melaksanakan program pendidikan dan pelatihan (Diklat) teknis pertanian.
BBPP Ketindan sebagai unit pelaksana teknis (UPT) penyelenggara pelatihan Badan Penyuluhan dan Pengembangan SDM Pertanian (BPPSDMP) Kementerian Pertanian RI bertanggung jawab merumuskan, menyusun dan melaksanakan norma standar, prosedur dan kriteria (NSPK) menerima mandat dari LAN untuk melaksanakan akreditasi program diklat teknis pertanian.
Pernyataan tertulis BBPP Ketindan menyebutkan ´capaian hasil memuaskan akreditasi´ dilaksanakan melalui beberapa tahapan dari pengajuan surat secara resmi kepada Pusat Pelatihan Pertanian (Puslatan) di BPPSDMP Kementan, kemudian proses pemberkasan dokumen serta upload data kelengkapan akreditasi, lalu dilanjutkan dengan penilaian oleh Tim Asesor yang juga dilaksanakam beberapa tahap sampai kepada visitasi, dilanjutkan dengan rapat tim penilai untuk menetapkan hasil penilaian akreditasi.
Dari semua unsur, mulai organisasi kelembagaan, program dan pengelolaan pelatihan yang disertai bukti fisik BBPP Ketindan meraih nilai A atau 93,81 dari Tim Assesor untuk ´pelatihan pengolahan hasil ubi kayu dan ubi jalar.
"Keberhasilan ini tidak lepas dari peran serta semua pihak di BBPP Ketindan yang telah sinergi untuk mendapatkan akreditasi A."
Dengan capaian ini, BBPP Ketindan ke depan akan memaksimalkan peran sebagai lembaga pelatihan terakreditasi agar lebih meningkatkan pelayanan, mutu serta kualitas pelatihan dan semua fasilitas yang dapat dimanfaatkam dengan baik oleh peserta pelatihan maupun pengguna jasa lainnya. (Yen)
Malang of East Java (B2B) - East Java´s Ketindan Agricultural Training Center or the BBPP Ketindan got A Accreditation score 93.81 valid for five years of the Institute of Public Administration to carry out agricultural education and technical training.
BBPP Ketindan as a training technical implementation unit of the Directorate General of Extension and Development of HR Agriculture or BPPSDMP at the Indonesian Agriculture Ministry responsible to formulate, develop and implement standard norms, procedures and criteria to carry out accredited agricultural technical training programs.
BBPP Ketindan´s written statement mentions ´satisfying accreditation results´ after going through several phases, starting from submitting an official letter to the Agricultural Training Center or Puslatan in BPPSDMP Kementan, then the process of filing documents and uploading complete accreditation data, continued assessment by the Assessor Team.
Starting from institutional organizations, programs and training management accompanied by proof of BBPP Ketindan reaching a score of 93.81 from the Assesor Team for training in processing cassava and sweet potato products.
"Success because of the support of all parties at BBPP Ketindan to get A Accreditation."
In the future BBPP Ketindan will maximize its role as an accredited training institution to improve services and the quality of training.