Sayuran di bawah Kelapa, Kiat Penyuluh Aceh Barat Daya Manfaatkan Potensi Lahan
Indonesia`s Acehnese Farmers Grow Vegetables under the Coconut Trees
Editor : M. Achsan Atjo
Translator : Dhelia Gani

PUBLISHED: Minggu, 05 Agustus 2018 , 01:13:00 WIB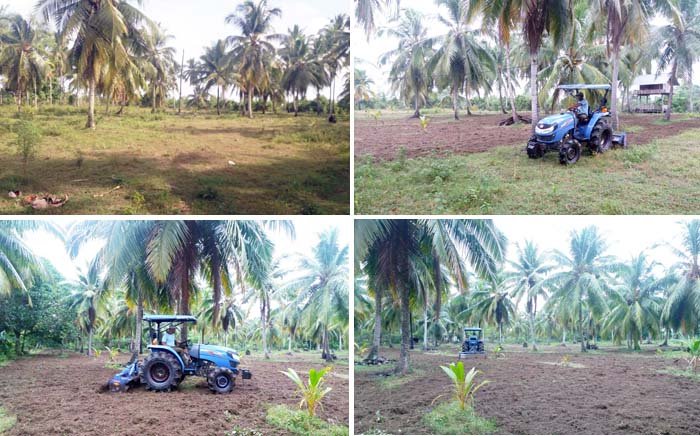 "Tanaman sela di antara kelapa akan meningkatkan pendapatan petani minimal 30 persen dari tanaman sela atau ternak, meningkat 30 persen dari tanaman kelapa (Foto2: istimewa)
Aceh Barat Daya, Aceh (B2B) - Tanaman sela di antara pohon kelapa tergolong menguntungkan, karena sebagian besar lahan di bawah kelapa dapat dimanfaatkan untuk tanaman pangan seperti jagung dan tanaman hortikultura khususnya sayur-sayuran, tergantung pada kondisi lahan dan iklim setempat.
Hal itu pula yang mendorong para penyuluh pertanian di BPP Kecamatan Setia, Kabupaten Aceh Barat Daya, Provinsi Aceh mendorong para petani dari Poktan Setia Budi di Desa Ujung Tanah memanfaatkan potensi lahan seluas 30 hektar, untuk tanaman hortikultura dengan menanam sayur-sayuran di bawah pohon kelapa.
Dinas Pertanian dan Perkebunan Pemprov Aceh mengurai luas kebun kelapa di Aceh pada 2015 mencapai 106.293 hektar yang menghasilkan 63.307 ton kelapa, dan 1.004 ton kelapa dihasilkan dari Aceh Barat Daya dari potensi lahan seluas 2.079 hektar.
Sementara Pusat Penelitian dan Pengembangan Perkebunan (Puslitbangbun) melalui jurnalnya melansir bahwa pemanfaatan lahan di antara kelapa dengan tanaman sela maupun ternak dapat meningkatkan efisiensi pemanfaatan lahan pada pertanaman kelapa.
"Tanaman sela di antara kelapa akan meningkatkan pendapatan petani minimal 30 persen dari tanaman sela atau ternak, meningkat 30 persen dari tanaman kelapa," lansir Puslitbangbun, salah satu unit pelaksana teknis (UPT) dari Badan Penelitian dan Pengembangan Pertanian di Kementerian Pertanian RI.
Penyuluh pertanian dari BPP Kecamatan Setia mengawali langkahnya dengan melakukan olah tanah memanfaatkan traktor roda empat (TR4) yang merupakan bagian dari Alsintan bantuan pemerintah untuk petani setempat, sehingga kegiatan tersebut turut mendukung optimalisasi Alsintan (Opsin).
Southwest Aceh of Aceh (B2B) - Intercrops under the coconut trees quite profitable because it can be used to grow food crops like corn and horticultural crops, especially vegetables, although it depends on the condition of the land and local climate.
Potential land is push agricultural extensionist in Setia subdistrict of Southwest Aceh district in Aceh province invite farmers of the Setia Budi farmer group in Ujung Tanah village use 30 hectares of land to grow vegetables under coconut trees.
Aceh provincial agricultural and plantation offices unravel the area of Aceh coconut plantations in 2015 reached 106,293 hectares produce 63,307 tons of coconut, and 1,004 tons from the Southwest Aceh province of the potential area of 2,079 hectares.
Meanwhile the Indonesian Center for Estate Crops Research and Development or the Puslitbangbun through its journal report that land use between coconut and intercrops or livestock can improve the efficiency of land use in coconut plantations.
"Intercrops between coconut will increase farmers´ income by 30 percent from intercrops or livestock, 30 percent increase from coconut," said the Puslitbangbun, one of the technical implementing units at the Indonesian Agriculture Ministry.
Agricultural extensionist of the Setia subdistrict began their steps by cultivating the land with a four-wheeled tractor engine.