Website dan PPID Terbaik, BPPSDMP Kementan Proaktif Kelola Informasi Publik
Indonesia`s Information Management for Agriculture Development
Editor : M. Achsan Atjo
Translator : Dhelia Gani

PUBLISHED: Kamis, 15 November 2018 , 01:26:00 WIB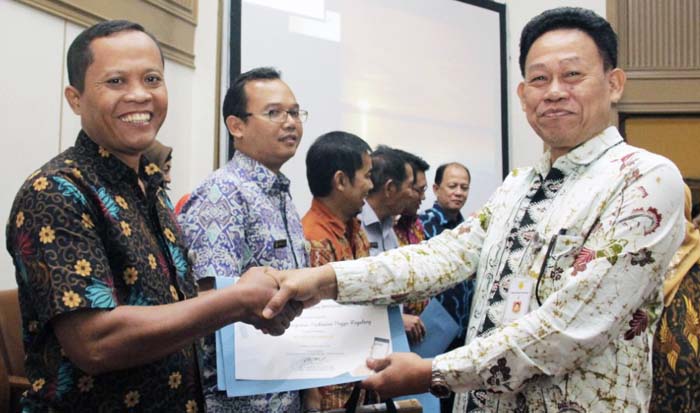 PEMENANG LOMBA: Kepala BPPSDMP Kementan, Momon Rusmono menyerahkan plakat dan sertifikat pemenang kepada Direktur Polbangtan Yogyakarta - Magelang, Rajiman MP (Foto: Humas BPPSDMP/Pito)
Jakarta (B2B) - Kementerian Pertanian RI khususnya Badan Penyuluhan dan Pengembangan SDM Pertanian (BPPSDMP) mendorong Pejabat Pengelola Informasi dan Dokumentasi (PPID) dan website di lingkup Badan SDM Kementan untuk meningkatkan kinerjanya meski telah meraih kategori terbaik dengan predikat informatif dan ´menuju informatif´ seperti diraih Polbangtan Yogyakarta - Magelang.
"Mendapatkan informasi merupakan perwujudan hak asasi manusia yang juga tercantum dalam Undang-Undang keterbukaan informasi publik. PPID wajib menyediakan informasi publik yang dituntut pelayanan secara cepat, tepat, akurat, ketat dan terbatas," kata Kepala BPPSDMP Kementan, Momon Rusmono usai menyerahkan plakat dan sertifikat pemenang website dan PPID terbaik BPPSDMP Kementan di Jakarta, Selasa (13/11).
Dia mengingatkan, harus ada perubahan karakter dan pola pikir dari PPID terkait keterbukaan informasi publik yang tidak bisa dicegah, sehingga perlu dilakukan reformasi birokrasi agar PPID menjadi terdepan dalam penyebarluasan informasi publik, dan responsif dalam memenuhi hak informasi publik.
Pemenang dengan predikat ´Informatif´ adalah Balai Besar Pelatihan Pertanian - BBPP Ketindan, Pusat Pelatihan Manajemen dan Kepemimpinan Pertanian - PPMKP Ciawi, Balai Besar Pelatihan Peternakan - BBPP Kupang, Balai Pelatihan Pertanian - BPP Lampung. Sementara Balai Besar Pelatihan Kesehatan Hewan - BBPKH Cinagara dan Politeknik Pembangunan Pertanian - Polbangtan Yogyakarta - Magelang masuk kategori pemenang ´Menuju Informatif´.
Hadiah laptop berikut sertifikat dan plakat diserahkan oleh Momon Rusmono kepada Kepala PPMKP Ciawi, Heri Suliyanto; Kepala BBPP Kupang, Adang Warya; Kepala BPP Lampung, Dadan Sunarsa; Kepala BBPKH Cinagara, Wisnu Wasis; dan Direktur Polbangtan YoMa, Rajiman MP.
"PPID memiliki peran yang sangat penting mencapai terwujudnya keterbukaan informasi publik. PPID harus mengusung paradigma baru, proaktif menyebarkan informasi sesuai pedoman dan peraturan yang ditetapkan," kata Momon Rusmono pada rangkaian acara rapat pimpinan BPPSDMP.
Kepala Bagian Evaluasi dan Pelaporan (Evalap) Titin Gartini mengatakan tim juri lomba telah bekerja sejak Oktober 2018 dan menetapkan pemenang lomba pada 2 November 2018.
"Penentuan pemenang dilakukan berdasarkan hasil penilaian tim juri secara self assesment, visitasi, dan wawancara," katanya. (Cha)
Jakarta (B2B) - Indonesian Agriculture Ministry through the Directorate General of Agricultural HR Development or the BPPSDMP encourages information and documentation management officers, or PPID to improve the performance of the PPID and website despite being the best website and PPID at the BPPSDMP.
"Information is a human right as stated in public information disclosure law. The PPID is obliged to provide public information quickly, accurately, and limited," said Director General of BPPSDMP, Momon Rusmono after handed over the winner´s plaque and certificate here on Tuesday (November 13).
Mr Rusmono reminded, there must be changes about character and mindset of the PPID related public information disclosure, so the need for bureaucratic reform to disseminate information to the public.
The winners are East Java´s Ketindan Agricultural Training Center or the BBPP Ketindan, West Java´s Ciawi Agricultural Management and Leadership Training Center (PPMKP Ciawi), East Nusa Tenggara´s Kupang Livestock Training Center (BBPP Kupang), Lampung´s Agricultural Training Center (BPP Lampung), West Java´s Cinagara Animal Health Training Center (BBPKH Cinagara) and Yogyakarta - Magelang´s Agricultural Development Polytechnic (Polbangtan Yogyakarta - Magelang).
Prizes include laptops and certificates and placards was handed over by Mr Rusmono to Director of PPMKP Ciawi, Heri Suliyanto; Director of BBPP Kupang, Adang Warya; Director of BPP Lampung, Dadan Sunarsa; Director of BBPKH Cinagara, Wisnu Wasis; and Director of Polbangtan Yogyakarta - Magelang, Rajiman.
"The PPID plays an important role to support public information disclosure. The PPID with new paradigm should be more proactive in disseminating information in accordance with the guidelines and rules," Mr Rusmono said.
Spokeswoman of BPPSDMP Titin Gartini said the jury worked since October 2018 and determined the winner on November 2, 2018.
"The winner is determined based on the judges´ judgments in self assessment, field trip and interviews," she said.