Petani Milenial dan Smart Green House Tumpuan Masa Depan Pertanian
Millennial Farmers are the Target of Developing Indonesian Agricultural HR
Editor : Kemal A Praghotsa
Translator : Dhelia Gani

PUBLISHED: Kamis, 07 Oktober 2021 , 00:14:00 WIB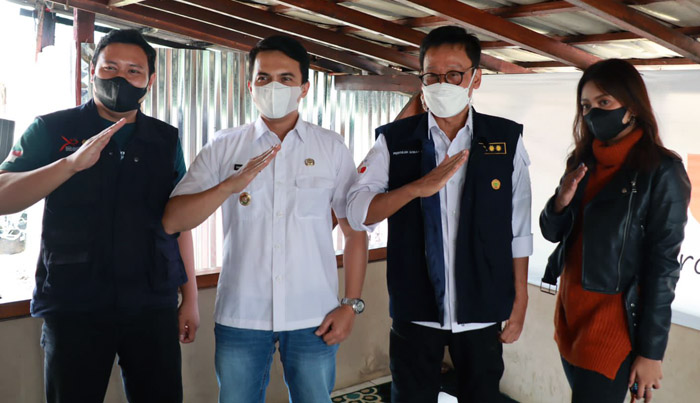 KABUPATEN BANDUNG: Kepala BPPSDMP Kementan, Dedi Nursyamsi [ke-2 kanan] dan Wakil Bupati Bandung, Syahrul Gunawan [ke-2 kiri] hadir sebagai narasumber pada live talkshow Ngobras di Pengalengan, Bandung [Foto: BPPSDMP]
Bandung, Jabar [B2B] - Petani milenial dan Smart Green House [SGH] merupakan tumpuan masa depan pertanian Indonesia, mengingat sektor pertanian berkembang ke arah maju, mandiri dan modern, mengandalkan inovasi teknologi dan mekanisasi pertanian bagi pengembangan budidaya pertanian.
Menteri Pertanian RI Syahrul Yasin Limpo menegaskan Kementerian Pertanian RI bertumpu pada peran petani milenial dan SGH yang menjadi penentu pengembangan pertanian Indonesia semakin maju, mandiri dan modern.
"Tentu petani milenial merupakan ujung tombak pada era 4.0. Merekalah pemegang tongkat estafet sekaligus harapan dan tumpuan masa depan pertanian kita," kata Mentan Syahrul.
Komitmen tersebut dipertegas oleh Kepala Badan Penyuluhan dan Pengembangan SDM Pertanian [BPPSDMP] Kementan, Dedi Nursyamsi bahwa ujung tombak pengembangan SGH adalah petani milenial, karena mereka faham dan adaptif terhadap teknologi.
"Ciri pertanian maju ditandai penggunaan varietas berpotensi hasil tinggi, pemanfaatan Alsintan dan inovasi teknologi," kata Dedi pada live talkshow Ngobrol Bareng on the Spot [Ngobras] di Smart Green House Nudira Fresh, Rabu [6/10] yang digelar BPPSDMP Kementan di Desa Warnasari, Kecamatan Pengalengan, Kabupaten Bandung, Provinsi Jawa Barat.
Menurutnya, SGH sejauh ini diimplementasikan dengan biaya cukup ringan, dengan memanfaatkan Kredit Usaha Rakyat [KUR] pertanian yang diperuntukkan sebagai stimulus bagi pengembangan budidaya pertanian.
"Manfaatkan KUR, yang memang program pemerintah. Manfaatkan teknologi untuk mengembangkan pertanian semakin maju. Petani milenial itu harus menguasai pertanian dari hulu hingga hilir," kata Dedi.
Wakil Bupati Bandung, Syahrul Gunawan yang hadir sebagai narasumber mengakui wilayah pertanian di Kabupaten Bandung potensial dikembangkan. Pemerintah daerah mendukung pembinaan kelompok tani [Poktan] bagi 3.500 Poktan, dengan pendekatan korporasi untuk fasilitasi kegiatan panen raya.
"Kami siap mendukung petani milenial Kementan. Kami siapkan 27 hektar, kami ingin mereka yang kelola. Ke depan, kita sinergi dengan sektor lain," kata Syahrul.
Syahrul mengaku ingin anak muda Bandung menjadi 'tuan rumah' sektor pertanian di wilayahnya sendiri. "Di sini ada berbagai macam komoditas pertanian sayuran. Kami juga kolaborasikan dengan sektor lainnya seperti pariwisata. Kami buat program jelajah kopi. Kolaborasi pariwisata dengan perkebunan. Banyak hal lain bisa kita combine menjadi agrowisata." [Cha/Mac]
Bandung of West Java [B2B] - Indonesian government in the next five years prioritizes the development of human resources that are ready to face globalization in the era of industrialization 4.0, carry out its role to develop millennial farmers who understand information and communication technology, according to the senior official of the agriculture ministry.