Rp23 Ribu per Kg, BKP Kementan Pangkas Rantai Pasok Telur di Jabodetabek
Indonesian Govt Direct Distribution of Eggs for Consumer`s Price Stabilization
Reporter : Gusmiati Waris
Editor : Cahyani Harzi
Translator : Dhelia Gani

PUBLISHED: Sabtu, 29 Desember 2018 , 02:04:00 WIB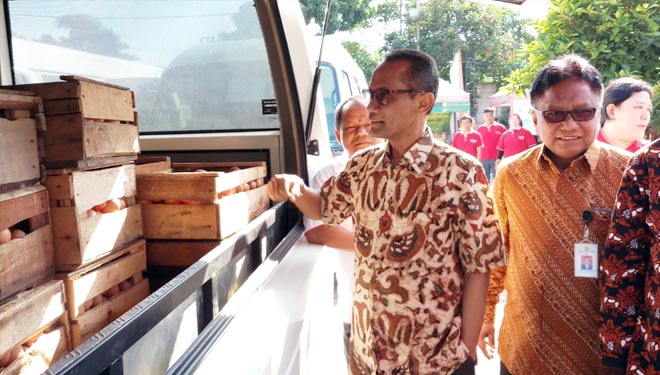 PELEPASAN TTI: Kepala BKP Kementan, Agung Hendriadi didampingi Kapus Distribusi dan Cadangan Pangan, Rishaferi (kanan) dan Sekretaris BKP Riwantoro (belakang) melepas armada TTI (Foto: Humas BKP)
Jakarta (B2B) - Harga telur ayam ras di Jabodetabek kembali melonjak menjelang Tahun Baru 2019 ke Rp28.000 per kg melampaui harga acuan pemerintah (HAP) Rp23.000 per kg, yang diantisipasi oleh Badan Ketahanan Pangan (BKP) di Kementerian Pertanian RI untuk memangkas rantai pasok dengan distribusi langsung 21,5 ton telur ayam ras kepada konsumen melaui ´operasi pasar´ yang dinamai Gelar Telur Murah (GTM) pada 11 pasar di Jabodetabek.
Kepala BKP Kementan, Agung Hendriadi menyikapi dengan bijak melalui kolaborasi dengan Ditjen Peternakan dan Kesehatan Hewan (PKH), sejumlah perusahaan dan asosiasi peternak ayam yang mendistribukan langsung produksinya didukung TTI menuju 11 pasar di Jabodetabek.
"Kegiatan GTM yang digelar BKP Kementan didukung perusahan, produsen dan asosiasi peternak ayam melakukan stabilisasi harga agar kembali stabil jelang tahun baru," kata Agung H kepada pers di Jakarta, Jumat (28/12) saat melepas armada Toko Tani Indonesia (TTI) mendistribusikan telur ayam ras seharga Rp23.000 per kg.
Ke-11 pasar yang dibidik BKP Kementan untuk memangkas rantai pasok adalah TTI Center di Pasar Minggu, Taman Bona Indah, Pasar Pulogadung, Pasar Tebet Barat, Pasar Grogol, Pasar Cijantung, Pasar Mampang, Kecamatan Mampang, Pasar Jatinegara, Pasar Cibubur, Pasar Lenteng Agung.
Suplai 21,5 ton telur ayam ras didukung Ditjen PKH Kementan, PT Food Station, PD Pasar Jaya, PT Puri Farm, PT Atung Farm, Perhimpunan Insan Perunggasan Indonesia (Pinsar) dan Paguyuban Peternak Rakyat Nasional. dengan harga satuan Rp23.000 per kg.
"Kegiatan GTM juga bertujuan sosialisasi kepada konsumen bahwa BKP Kementan memiliki instrumen untuk stabilisasi telur ayam, dan Kementan hadir di tengah rakyat yang membutuhkan pangan pokok dengan harga terjangkau," kata Agung H didampingi Kepala Pusat Distribusi dan Cadangan Pangan BKP Kementan, Rishaferi.
Rishaferi menambahkan TTI Center sebagai pusat kendali stabilisasi harga pangan pokok, dibentuk oleh BKP Kementan menjadi distribution center. Aktivitas utamanya menyalurkan bahan pangan pokok ke konsumen langsung atau via TTI dengan harga terjangkau di bawah harga pasar karena disuplai langsung dari produsen untuk memangkas rantai pasok yang terlalu panjang.
Jakarta (B2B) - The egg prices rise ahead of 2019 New Year in Jakarta surrounding areas to IDR28,000 per kg above the government´s reference price or the HAP of IDR23,000 per kg, anticipated by the Food Security Agency at the Indonesian Agriculture Ministry or the BKP Kementan by direct distribution to the consumers.
Agung Hendriadi as the Director General of BKP Kementan respond quickly by cooperating with Directorate General of Livestocks and Animal Health at the ministry and stakeholders such as Jakarta´s local enterprise market manager or the PD Pasar Jaya, Indonesian broiler breeders association or the Pinsar and PLN supply eight tons of chicken eggs for IDR 23,000 per kg.
"The BKP activities are supported by companies, producers and associations of chicken farmers for stabilization the price of chicken eggs ahead of the new year," Mr Hendriadi told the press here on Friday (December 28).
The BKP Kementan mobilizes distribution and marketing networks for basic needs, Indonesian Farmers Stores or the TTI, to distribute chicken eggs to traditional markets in the Indonesian capital through the traditional markets namely Taman Bona Indah, Pulogadung, Tebet Barat, Grogol, Cijantung, Mampang, Jatinegara, Cibubur, and Lenteng Agung.
Supply of 21.5 tons of chicken eggs was supported by Director General of Livestocks and Animal Health; private companies such as Food Station, Pasar Jaya, Puri Farm, and Atung Farm; and the Indonesian Broiler Breeders Association or the Pinsar.
"The direct distribution strategy to consumers is a proof of the government´s commitment to care about consumer needs," Mr Hendriadi said accompanied by some 2nd echelon officials of his office.
Director of Distribution and Food Reserves of BKP, Rishaferi said the TTI Center as a control center for staple food price stabilization, formed by the ministry into a distribution center. The main activity is to distribute staple food to consumers directly or via TTI at affordable prices below the market price because it is supplied directly from producers to cut supply chains that are too long.