Bentuk Satgas: Mentan Sebut Ketahanan Pangan Identik Ketahanan Negara
Food Security is the Country`s Defense: Indonesian Agriculture Minister
Reporter : Gusmiati Waris
Editor : Cahyani Harzi
Translator : Dhelia Gani

PUBLISHED: Selasa, 13 Agustus 2019 , 20:32:00 WIB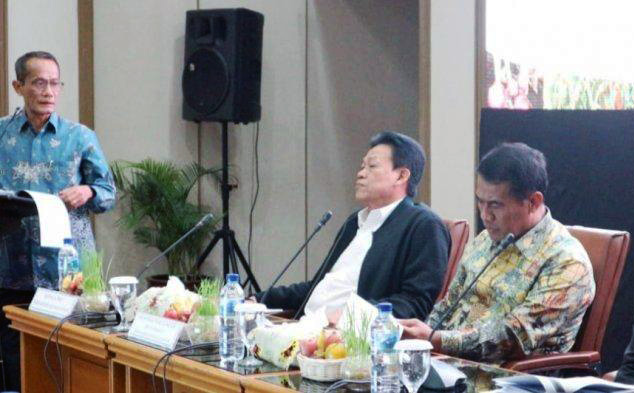 RAKOR PANGAN: Kepala BKP Kementan Agung Hendriadi [berdiri] paparkan program ketahanan, Mentan Amran Sulaiman [kanan] dan Sekjen Kementan Momon Rusmono [tengah] Foto: B2B/Mya
Jakarta [B2B] - Dewan Ketahanan Pangan [DKP] segera merumuskan kebijakan strategis ketahanan pangan dan gizi, sebagai salah satu upaya mendukung Presiden RI Joko Widodo merumuskan kebijakan pangan, karena ketahanan pangan identik dengan ketahanan negara.
"Pertemuan ini sangat penting. Berbicara masalah pangan, pangan kita harus kuat. Ketahanan pangan identik dengan ketahanan negara," kata Mentan Amran Sulaiman selaku Ketua Harian DKP dalam arahannya pada rapat koordinasi [Rakor] di Jakarta, Selasa [13/8].
Masalah pangan sangat urgen, maka Pemerintah RI membentuk Satgas Pangan sebagai bukti komitmen kesungguhan pemerintah pada sektor pangan. "Saya mengingatkan jangan main-main dengan sektor pangan. Kalau pangan terganggu, Satgas Pangan akan turun tangan."
Menurut Mentan, perkembangan pertanian Indonesia lima tahun terakhir, menunjukkan trend positif dalam empat tahun terakhir [2015 - 2018].
"Inflasi pangan berhasil dijaga di bawah 2 persen dan PDB naik dari target pemeritah 3,5% dengan capaian 3,7%. PDB pertanian Indonesia menduduki peringkat 5 dari 224 negara. Penurunan inflasi bahan makanan Indonesia dari 11,71% menjadi 1,26% pada 2013 hingga 2017," kata Amran Sulaiman.
Sekretaris DKP Agung Hendriadi melaporkan tujuan Rakor untuk merumuskan kebijakan strategis ketahanan pangan dan gizi, serta rencana aksi di tingkat pusat maupun daerah sesuai amanat PP No 17 Tahun 2015 tentang Ketahanan Pangan dan Gizi.
"Forum ini mensinergikan kelompok kerja DKP yang terdiri dari Pokja Teknis, Pokja Ahli, dan Pokja Pemberdayaan serta perwakilan dari kementerian/lembaga untuk memberikan saran dan masukan dalam penyempurnaan rancangan kebijakan strategis ketahanan pangan dan gizi," kata Agung Hendriadi yang juga menjabat Kepala Badan Ketahanan Pangan [BKP Kementan].
Rakor dihadiri sekitar 100 peserta dari perwakilan kementerian/lembaga, Pokja DKP dan perwakilan dari eselon satu lingkup Kementan.
Mentan menambahkan perencanaan pangan lima tahun ke depan harus melihat bagaimana Indonesia ke depan memasuki era Pertanian 4.0 - pertanian presisi melalui teknologi digital - transformasi pertanian tradisional ke pertanian modern dan penurunan inflasi komoditas pangan.
"Penggunaan bibit unggul, pengembangan SDM pertanian digital yang terintegrasi dengan kebutuhan milenial, dan menjadikan Indonesia lumbung pangan dunia harus kita wujudkan," katanya lagi.
Menurutnya, fokus pembangunan pertanian ke depan untuk mewujudkan ketahanan pangan dapat dilakukan melalui pengembangan lahan rawa dan pasang surut serta kelapa sawit sebagai ujung tombak pertanian.
Jakarta [B2B] - Indonesian Food Security Council [DKP] immediately formulate strategic policy of food security and nutrition, as one of the efforts to support President Joko Widodo in formulating food policy, because food security is identical to the country's security.