Data Base Simluhtan, Penyuluh Kalteng Ikuti Pelatihan SMIPP di Kementan
Indonesia`s Central Borneo Agricultural Extension Attend Training in Jakarta
Editor : M. Achsan Atjo
Translator : Dhelia Gani

PUBLISHED: Sabtu, 05 Oktober 2019 , 00:22:00 WIB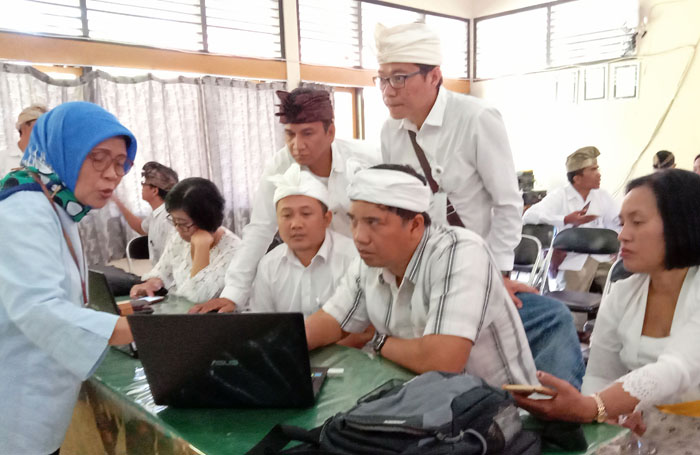 SOSIALISASI SIMLUHTAN: Penyuluh Kalteng seperti halnya penyuluh di Kabupaten Klungkung, Bali antusias mengikuti sosialisasi Simluhtan yang digelar maraton Pusluhtan di tiga provinsi pilot project [Foto: Pusluhtan/Bima PS]
Jakarta [B2B] - Kementerian Pertanian RI berupaya meningkatkan kemampuan penyuluh pertanian di seluruh Indonesia untuk mengelola dan memanfaatkan Sistem Manajemen Informasi Penyuluhan Pertanian [SMIPP] yang mencakup pengelolaan data base Simluhtan dan penyediaan materi penyuluhan pertanian, CyberExtension, berbasis website, yang dikembangkan oleh Pusat Penyuluhan Pertanian [Pusluhtan BPPSDMP Kementan].
Sejumlah pejabat dan penyuluh dari Provinsi Kalimantan Tengah menyambangi Pusluhtan di kantor pusat Kementan, Jakarta pada Kamis [3/10], yang diterima oleh Admin CyberExtention, Purwanto mewakili Kasubbid Informasi dan Materi, Septalina Pradini, karena berada di Tangerang, Banten mendampingi Kabid Penyelenggaraan Penyuluhan, I Wayan Ediana.
"Dengan adanya pemberian materi secara langsung kepada para peserta pelatihan, akan dapat membantu memberikan solusi dari permasalahan mengenai operasional penggelolaan SMIPP," kata Purwanto mengutip arahan I Wayan Ediana.
Materi utama pelatihan SMIPP adalah update data Simluhtan dan pemanfaatan CyberExtention sebagai media informasi penyuluhan pertanian, yang disambut baik oleh 'tamu penting' Pusluhtan dari Kalteng tersebut. Mereka merupakan perwakilan Dinas Tanaman Pangan, Hortikultura dan Perkebunan [TPHP] Pemkab Kotawaringin Barat; Dinas TPHP Pemkab Kota Baru; BPP Pangkalan Banteng dan BPP Arut Selatan.
"Diharapkan setelah mengikuti pelatihan SMIPP, peserta dapat memanfaatkan pengetahuan yang diberikan untuk kegiatan pelayanan data dan informasi penyuluhan khususnya membantu dalam memperlancar dan mempermudah fasilitasi bagi penyuluh pertanian PNS, swasta dan swadaya di Kalteng," kata I Wayan Ediana melalui pernyataan tertulis.
Menurutnya, penyuluh pertanian selaku fasilitator dalam proses pembelajaran petani, sebagai salah satu upaya yang ditempuh untuk meningkatkan pengetahuan dan keterampilan para penyuluh pertanian lapangan melalui dukungan penyediaan infromasi yang memadai sebagai bahan untuk memfasilitasi proses pembelajaran petani. [Liene]
Jakarta [B2B] - Indonesian Agriculture Ministry seeks to improve the ability of agricultural extensionist across the country to manage and utilize the Agricultural Extension Information Management System [SMIPP] includes data base management and provision of agricultural extension, CyberExtension, website-based, according to the senior official of the agriculture ministry.