Jambi Diintai Corona, Petani Sarolangun Tetap Semangat Panen Padi
Indonesian`s Agricultural Extensionists must Support Agriculture Modernization
Editor : M. Achsan Atjo
Translator : Dhelia Gani

PUBLISHED: Jum'at, 27 Maret 2020 , 00:02:00 WIB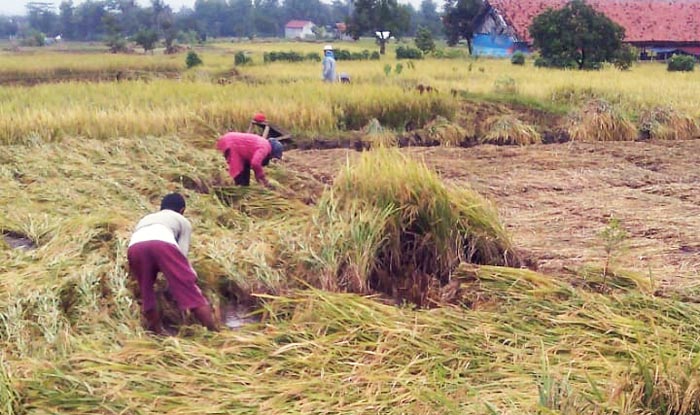 Penyuluh pertanian Kecamatan Sarolangun, Siti Anita mengatakan petani di kedua desa binaannya tetap turun ke sawah untuk panen padi, dengan menerapkan protokol kewaspadaan [Foto: Humas Pusluhtan]
Sarolangun, Jambi [B2B] - Tanpa mengabaikan 'protokol kewaspadaan' dengan menjaga jarak [sosial distance] mengantisipasi wabah corona pemicu Covid-19, petani di Kabupaten Sarolangun, Provinsi Jambi tetap ke sawah melakukan panen padi, mendukung pemenuhan kebutuhan pangan domestik menjelang Ramadan dan Lebaran 2020 seperti dilakukan petani di Desa Ujung Tanjung dan Desa Tingting pada Rabu [25/3].
Hingga hari ini [26/3] terdapat lima pasien dalam pengawasan [PDP] dan 13 orang dalam pemantauan [ODP] di seluruh Jambi yang diantisipasi pemerintah provinsi [Pemprov] dengan lima rumah sakit rujukan Corona.
Penyuluh pertanian Kecamatan Sarolangun, Siti Anita mengatakan petani di kedua desa binaannya tetap turun ke sawah untuk panen padi, dengan menerapkan protokol kewaspadaan seperti diinstruksikan Menteri Pertanian RI Syahrul Yasin Limpo [SYL] agar penyuluh dan petani tetap bahu-membahu mendukung produksi sektor pertanian. "Wabah Corona jangan menghambat aktifitas sektor pertanian."
"Harapan petani semoga wabah corona cepat berlalu, sehingga dapat memenuhi kebutuhan pangan pokok menjelang Ramadan dan Lebaran. Sementara di lapangan, tingkat serangan hama cukup tinggi, karena dekat kebun petani serta terkendala air saat tanaman masuk masa pertumbuhan tapi hasilnya masih cukup baik," kata Siti Anita.
Menurutnya, varietas padi gogo yang ditanam adalah varietas lokal antara lain pulut, segon, kabut, seni, karang bungo, silang dan kuning. Luas pertanaman padi gogo di lokasi panen mencapai 135 hektar.
Petani Jambi di Desa Rawa Medang melakukan panen padi di luasan lahan sekitar 900 hektar memanfaatkan lahan irigasi yang mengairi persawahan di Kecamatan Batang Asam, Kabupaten Jabung Barat. Kegiatan panen didukung alat mesin pertanian [Alsintan] seperti power tresher dan combine harvester, hasil ubinan sekitar enam ton gabah kering giling [GKG] per hektar.
Sebagaimana diberitakan, Mentan SYL dalam berbagai kesempatan meminta agar produksi pertanian tetap berjalan bahkan digenjot hingga berlipat ganda. Apalagi, sektor ini berperan vital mendukung pertumbuhan ekonomi nasional.
"Adanya musibah wabah virus Covid-19 ini tidak boleh membuat aktivitas pertanian berhenti. Kementan akan terus optimalkan SDM pertanian untuk menggenjot produksi dan produktivitas bahkan ekspor," katanya.
Mentan SYL mengharapkan wabah Corona dapat lebih cepat diatasi dan petani tetap semangat bercocok tanam. "Mari kita buktikan dengan optimisme. Jangan panik oleh Covid-19 di tengah masa panen raya padi ini." [Liene]
Sarolangun of Jambi [B2B] - Indonesian agricultural extensionist workers are expected to encourage farmers to do demonstration plotting through mentoring activities by training farmers, especially rice transplants, then reporting performance every day according to senior official of the ministry.