Kendalikan Harga Beras, Mentan Desak Bulog Segera Serap Gabah Petani
Indonesian`s Logistic Agency Urged to Purchase the Farmers` Grain
Reporter : Gusmiati Waris
Editor : Cahyani Harzi
Translator : Dhelia Gani

PUBLISHED: Rabu, 24 Januari 2018 , 02:36:00 WIB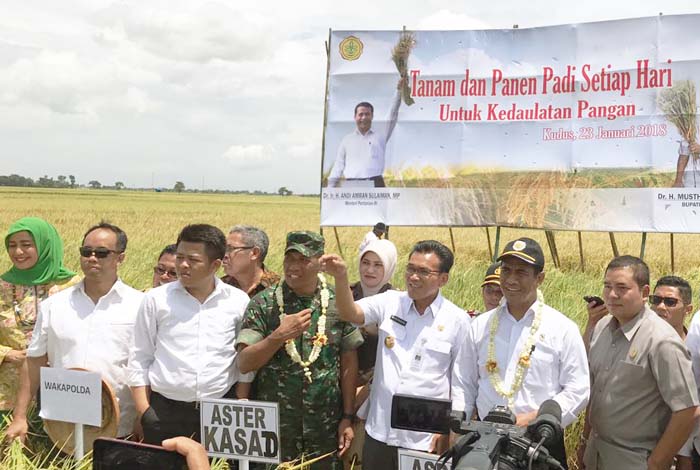 Sebelum panen padi, Mentan memantau lahan tanam padi dan luasan panen di Jawa Tenggah menggunakan helikopter didampingi Aster Kasad Mayjen TNI Supartodi dan sejumlah pejabat terkait (Foto: Humas Kementan)
Jakarta (B2B) - Menteri Pertanian RI Andi Amran Sulaiman mendesak Perum Bulog segera menyerap gabah petani, hal itu telah diinstruksikan Presiden RI Joko Widodo untuk mencegah petani merugi lantaran harga gabah jatuh di bawah harga pembelian pemerintah (HPP).

"Kita sudah dengar harga gabah mulai turun. Kami pemerintah bersama Bulog akan bekerja sama sehingga harga tidak akan jatuh di bawah HPP. Jangan sampai petani merugi. Itu arahan bapak presiden. Karena itu kami keliling jawa, dan lusa nanti ke Kalimantan untuk memantau kondisi di lapangan," kata Mentan Amran Sulaiman pada Selasa (23/1) usai panen padi di Kecamatan Undaan, Kabupaten Kudus, Jateng.

Harapan serupa dikemukakan Bupati Kudus Musthofa untuk mengantisipasi hasil panen raya pada Februari dan Maret mendatang. "Kami minta teman-teman di Bulog segera membeli gabah petani. Kesejahteraan petani tergantung niatan kita."

Sebelum panen padi, Mentan memantau lahan tanam padi dan luasan panen di Jawa Tenggah menggunakan helikopter didampingi Aster Kasad Mayjen TNI Supartodi dan sejumlah pejabat terkait.
Jakarta (B2B) - Indonesian government urged the National Logistics Agency to immediately purchase the farmers´ grain, it has instructed President Joko Widodo to prevent farmers from losing the price of grain below the government´s purchase price or HPP, according to Agriculture Minister Andi Amran Sulaiman.

"We´ve heard the price of grain began to fall. The government and Bulog will work together so that prices do not fall below the HPP. Do not let the farmers lose money. That´s the president´s instruction. We will monitor Java, and then to Borneo to monitor the conditions in the field," Minister Sulaiman said after the rice harvest in Central Java province´s Undaan subdistrict of Kudus district on Tuesday (January 23).

The same thing is said by Regent Kudus Musthofa to anticipate the harvest in February and March. "We ask Bulog to immediately buy grain farmers, the welfare of farmers depends on our intention."

Before the rice harvest, Minister Sulaiman monitored rice cultivation area and harvest area in Java Tenggah using helicopters accompanied by Major General TNI Supartodi and number of related officials.