Penyuluh Dukung Petani Jagung Sigi Sulteng Panen Perdana 14,5 Hektar
Indonesia`s Central Sulawesi Corn Farmers Extensify Agricultural Land
Editor : M. Achsan Atjo
Translator : Dhelia Gani

PUBLISHED: Kamis, 07 Maret 2019 , 00:23:00 WIB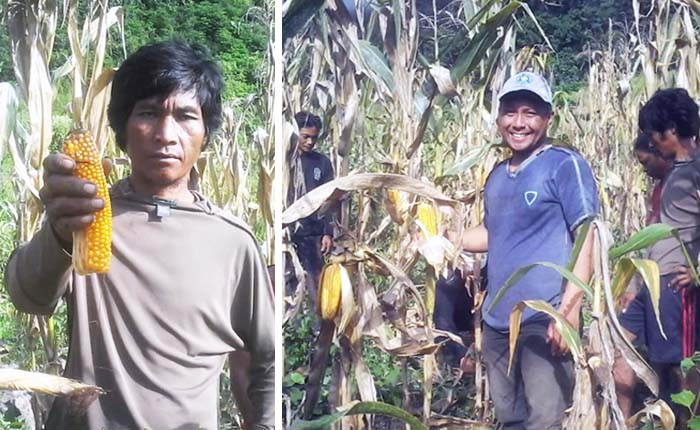 JAGA SEMANGAT: Petani dari Poktan Muria di Kecamatan Kulawi bangga menunjukkan hasil panen jagung perdana (Foto2: Humas Pusluhtan BPPSDM Kementan)
Sigi, Sulteng (B2B) - Petani dari kelompok tani Muria di Desa Lempelero, Kecamatan Kulawi Selatan pantas happy lantaran program penambahan areal tanam baru (PATB) di Kabupaten Sigi, Provinsi Sulawesi Tengah berhasil panen jagung perdana, belum lama ini, di lahan seluas 14,5 hektar, meski produktivitas rata-rata 3,307 ton per hektar pipilan basah dari varietas Bima 15 Sayang.
Penyuluh pertanian dari BPP Kulawi Selatan berkontribusi aktif mendukung kegiatan PATB, sebagai terobosan dari Kementerian Pertanian RI didukung pemerintah daerah di seluruh Indonesia, yang masih memiliki sumber daya lahan untuk dijadikan lahan baru jagung, seperti halnya di Kabupaten Sigi, Sulteng.
Siaran pers Pusat Penyuluhan Pertanian (Pusluhtan) BPPSDMP Kementan menyebutkan hasil panen dibeli oleh pengepul seharga Rp3.800 per kg.
Harga tersebut merupakan harga terbaik selama ini yang dirasakan petani, dan petani berharap harga tersebut tetap stabil dan program untuk peningkatan produksi tanaman jagung. (Liene)
Sigi of Central Sulawesi (B2B) - The corn farmers of Muria farmer group in Lempelero village, Kulawi Selatan subdistrict deserve to be happy because of the corn extensification program in Sigi district of Central Sulawesi province managed the first harvest, recently, on an area of 14.5 hectares, even though the average productivity is 3.307 tons per hectare of wet shelled rice.
Local agricultural extensionist actively contribute to support extensification programs, as the breakthrough of Indonesian Agriculture Ministry supported by regional governments across the country, who still have land for planting corn, as in Sigi district.
Press release of Agricultural Extension Center or the Pusluhtan BPPSDMP of the ministry said the corn harvest was bought by collectors for IDR 3,800 per kg.
The price is the best price so far, and farmers expect the price of corn to remain stable.