Pusluhtan Gelar Bimtek Pra Uji Kompetensi CAT di Banjarmasin
Indonesian Functional Agriculture Official Mandatory Competence Test in Banjarmasin
Editor : M. Achsan Atjo
Translator : Dhelia Gani

PUBLISHED: Rabu, 14 Agustus 2019 , 00:25:00 WIB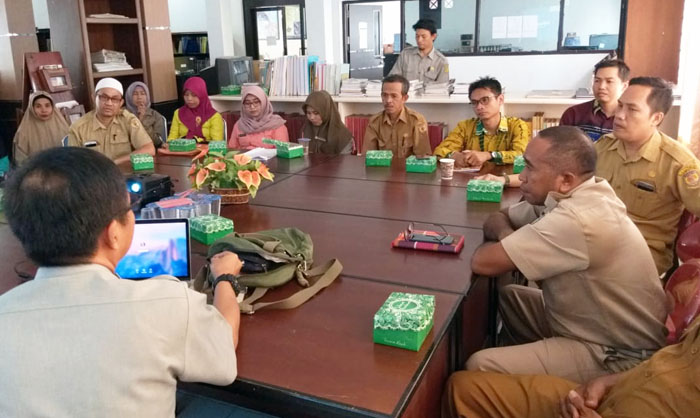 13 PENYULUH PERTANIAN: Kasubbid Ketenagaan Penyuluhan - Pusluhtan, Welly Nugraha mengadakan bimbingan teknis [Bimtek] pra uji kompetensi CAT di Banjarmasin [Foto: Humas Pusluhtan/Yulia TS]
Banjarmasin, Kalsel [B2B] - Sebanyak 43 pejabat fungsional bidang pertanian, 13 di antaranya adalah penyuluh pertanian di Provinsi Kalimantan Selatan mengikuti bimbingan teknis [Bimtek] pra uji kompetensi, yang digelar oleh Pusat Penyuluhan Pertanian [Pusluhtan BPPSDMP Kementan] sebelum mereka mengikuti uji kompetensi Computer Assisted Test (CAT) di Kantor Regional Badan Kepegawaian Negara [Kanreg BKN] Banjarmasin, belum lama ini.
"Tujuan Bimtek untuk memberi gambaran, pemahaman dan meningkatkan motivasi peserta sebelum mengikuti ´uji kompetensi´ yang digelar di Kanreg BKN Banjarmasin," kata Welly Nugraha, Kasubbid Ketenagaan Penyuluhan - Pusluhtan BPPSDMP Kementan yang memimpin Bimtek di Banjarmasin, belum lama ini.
Menurutnya, pelaksanaan uji kompetensi wajib diikuti oleh pejabat fungsional RIHP untuk kenaikan jenjang jabatan, inpassing, alih kelompok, sekaligus merupakan pertama kalinya pengangkatan dalam jabatan fungsional dari formasi calon pegawai negeri sipil [CPNS].
Kegiatan Bimtek yang diinisiasi oleh Kementan dilakukan tim penguji pusat. Khusus untuk fungsional penyuluh pertanian mendapat pembekalan terkait tugas dan fungsi penyuluh serta metodologi penyuluhan pertanian. Uji kompetensi merupakan amanat Peraturan Pemerintah [PP] No 11/2017 tentang Manajemen PNS.
"Peserta mendapat pembekalan tentang mekanisme dan tata cara mengoperasikan komputer dan pelaksanaan ujian, dari tim penguji pusat, yang bertindak sebagai pengawas pelaksanaan uji CAT dari Kanreg BKN Banjarmasin," kata Welly Nugraha.
Dia menambahkan, peserta Bimtek sangat antusias mengikuti Bimtek, khususnya 13 penyuluh pertanian CPNS yang hadir di Banjarmasin sesuai usulan dari pemerintah daerah masing-masing, dan telah dinyatakan memenuhi persyaratan secara administrasi.
Penyuluh pertanian CPNS diberikan hak dan kewajiban secara penuh oleh pejabat yang berwenang, dan agar terus ditingkatkan kompetensinya baik di pusat maupun daerah.
Sesuai amanah Peraturan Pemerintah [PP] Nomor 11/2017 tentang Manajemen PNS sebagai Aparatur Sipil Negara mengamanatkan penyuluh pertanian, PBT, POPT, Wasbitnak, medik veteriner, paramedik veteriner, pengawas mutu pakan [Wastukan], pengawas mutu hasil pertanian [PMHP], analis pasar hasil pertanian [APHP], pemeriksa perlindungan varietas tanaman [PVT] dan analis ketahanan pangan [AKP] mendapat hak dan kewajiban secara penuh oleh pejabat yang berwenang untuk terus ditingkatkan kompetensinya, salah satunya melalui uji kompetensi kenaikan jenjang jabatan baik di pusat dan daerah. [Yulia]
Banjarmasin of South Borneo [B2B] - At least 43 functional agricultural officials in South Borneo province followed pre-competency test technical guidance in Banjarmasin, the provincial capital which was initiated by the Indonesian Agriculture Ministry. The goal is to motivate the participants before joining the ´competency test´ which was held by the Regional Office of the National Civil Service Agency.